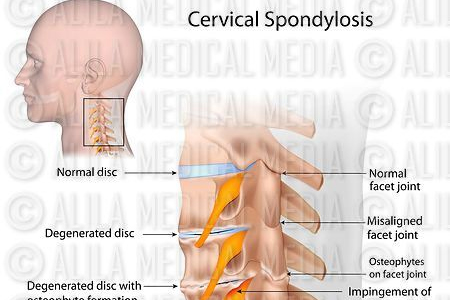 Due to our unhealthy lifestyle choices and over indulgence in electronic gadgets, there is a lot of strain on the neck and shoulder region of out bodies. This causes neck pain, back pain and other issues of the spine which usually go undetected. Over time, these get diagnosed as Cervical Spondylosis. Cervical Spondylosis generally occurs in people above 40 years of age but can affect people as young as 20-years old as well.
It is essential to get an X-ray or MRI scan if needed to ensure the pain isn't something to be too worried about.
Causes of Cervical Spondylosis
Some of the most common factors that cause cervical spondylosis are –
Ligament or muscle strain
A muscle strain on the cervical region or even stiffness in the ligaments in that area can cause a striking pain in the cervical spine making it difficult to even move your neck. This causes extra pressure on the spine when you try to move your neck which can further cause wear and tear of these tissues, ligaments and muscles.
Herniated Discs
Herniated disks are basically cracks in the spinal disks which causes a leakage of the cushioning material between each disk. This causes the disks to rub against each other and can put a lot of pressure on the nerves in that area. This causes a lot of pain in the neck region where the person needs to wear a collar for support.
Arthritis and Osteoporosis
These two diseases are some of the major factors that cause Cervical Spondylosis as well as other back and spine issues. These are mainly caused due to aging. Osteoarthritis is also a major factor in cervical and spinal backache especially in women around the menopause phase. In osteoporosis, the bones become brittle which causes compressions factures in the vertebrae of the spine that can cause severe cervical pain accompanied with backache.
Cervical injuries
If the person has had an accident where the cervical area got sprained or fractured, there are chances of cervical spondylosis in the future. In order to prevent this, reduce physiotherapy and neck exercises are crucial in order to remain fit and healthy and to reduce the chances and probability of developing cervical spondylosis.
Bone Spurs
When the human body attempts to grow extra bones to strengthen the spine, tiny bone spurs are formed on the spine. These put a lot of pressure n the nerves and the spinal cord which causes a lot of pain in the spine.
Unhealthy lifestyle choices
When you use the laptop or the PC, it is essential to use the laptop at the right angle that doesn't cause strain on the neck. Lack of physical exercises, muscle stretches of the neck, back and shoulders can also cause Cervical Spondylosis.
Ayurvedic View of Cervical Spondylosis
According to Ayurveda, Cervical Spondylosis is caused by the imbalance of VataDosha in the human body. By eating stale or gas forming food, the VataDosha gets disrupted which causes a lot of backpain and muscle pain all over the spinal region. Unhealthy lifestyle habits such as overindulgence is sexual activities, mental and physical activities as well can cause an imbalance in the VataDosha. Regular physical exercises along with a healthy diet is crucial for maintaining good cervical health.
The experienced and highly qualified doctors of Chandigarh Ayurved Centre have formulated a special cervical relief kit to help you get rid of cervical pain and other muscle tensions around the cervical spine. This Cervical Relief Kit contains –
VishtindukVati – 90 Tablets
These tablets contain purified Vishtinduk which is an excellent Ayurvedic herb for treating nerve disorders. These tablets boost the nervous system in order to make it function properly and more effectively. The excellent formulation of these tablets helps you get rid of terrible cervical pain in just a few minutes! 1 tablet to be taken thrice a day after meals.
VaathGajKesari – 60 Tabets
These tablets are excellent for the regulation of the central nervous system. The ingredients of VaatGajKesari and VishtindukVati might be slightly similar but the overall composition Is completely different which is why you need to take both these tablets as a combination for effective and immediate results. You need to take 1 tablet twice after meals daily for quick results.
Cervical Relief Oil – 200ml
This oil is specially formulated with Ayurvedic herbs that are highly effective in reducing inflammation and providing instant relief when you ave intense pain in the cervical region. This oil provides a soothing and relaxation treatment to the cervical area and you will notice the pain vanish in just a few minutes after application. This can be applied as and when needed to reduce cervical pain,
Pain-O-Kill Syrup – 200ml
This syrup is formulated for reducing the inflammation in the muscles and improve the overall condition of the cervical pain. With regular usage, your cervical pain will reduce considerably, and you will feel the stiffness also disappear. You need to take 2tsp twice daily before meals.
This Cervical Relieft Kit costs INR 1799 which is incredibly affordable for the excellent quality of medicines as well as oils in this kit!
Benefits of Using This Cervical Relief Kit
With regular usage of this Cervical Relief Kit, you will notice an incredible reduction in the inflammation around your cervical region as well as an instant reduction in the cervical pain. This kit is super effective and costs half the amount that you would spend at expensive Allopathic medicines that will not treat the problem from the grass root level at all. This Cervical Relief Kit from Chandigarh Ayurved Centre is made with 100% Ayurvedic and herbal medicines which don't even cause any side effects to the body! So, what are you waiting for? Buy this super affordable and effective Cervical Relief Kit to get rid of your cervical pain issues right away!