Herbal Remedies for Cataract, Ayurvedic Treatment – Causes & Symptoms
Cataract is defined as the cloudiness of the eye lens. With age, the eye lens loses its transparency and becomes opaque and hard. In case of cataract, the lens of the eye is clouded due to the deposition of proteins which prevents the light from passing through the lens and leads to loss of vision.
CAUSES
The cataract is caused due to following factors:
With progressing age there is gradual decay of the lens
Any trauma or injury to the eye lens
The person may be born with cataract of the eye
Radiations
Toxins
Exposure to ultraviolet radiations
In certain diseases like diabetes
SYMPTOMS
Foggy or blurred vision
Near sightedness
Problems with driving especially at night
Problems with glare of the day time
Double vision may be noticed in one or two eyes
Unable to differentiate between different colors
Inability to focus on objects
Dark spots
Gradual loss of vision
Grayish white discoloration of the pupil
TYPES
Senile Cataract: When a person grows older, the eye lens becomes opaque and cloudy.
Complicated Cataract: Some diseases like diabetes or asthma are also one of the causes of cataract.
Traumatic Cataract: Injury, entry of any foreign particle into the eye or exposure to intense heat may cause a lot of damage to the eye lens.
Irradiation cataract: X-rays, radium and nuclear energy can also cause cataract
Electric Cataract: When electric current passes through the body, then I may also cause cataract
Congenital Cataract: During pregnancy, if the mother suffered from German measles then there are chances that the baby born might have cataract at birth.
Toxic Cataract: Many eye drops when used for a long period of time, smoking or intake of tobacco may lead to cataract.
AYURVEDIC VIEW AND TREATMENT ACCORDING TO CHANDIGARH AYURVED CENTRE
In Ayurveda, the eye disorders can be co-related with Timira or Lingnasha. Drishti dosha or the vision problem is caused due to nervous debility and also due to long lasting ailments of constipation and common cold.
For eye disorders, Netra Kriya Kalpa or ocular therapy is done. This includes:
Aschyotana – Medicated drops are instilled into the eyes.
Seka – This is mainly indicated in pitta dosha imbalance. Liquid is poured in thin stream over the closed eye from a height of four inches.
Bidalaka – In this therapy, paste is applied over the eye lids.
Pindi – Drug tied in cloth is kept over the eyes. This type of therapy is indicated in kapha dosha imbalance.
Tarpana Unctuous substance is kept on the eyes for a defined period of time by constructing the wall around the eyes with flour.
Putapaka – This is same as tarpana, the difference is that the medicine is extracted bya special method called putapaka.
Anjana – In this method the medicine is applied to the internal surface of the lid margin.
Following panchkama therapies are found to be beneficial in cataract:
Nasya
Netra tarpana or netra basti
Netra Dhara
Ayurvedic formulations beneficial in cataract are:
Maha Triphala Ghrita
Jeevantayadi Ghrita
Sapta Amrita Loha
Chandrodya Varti
Yashtimadhu Churna
Triphala Churna
DIET AND LIFESTYLE
Wash your eyes daily with rose water.
Apply medicated anjanas to keep the eyes clean and eye vision sharp.
Have adequate sleep.
Rub the palms together and press gently on eyes. This helps the eyes to relax.
Diet rich in Vitamin A & C is helpful in improving the eye condition.
Avoid bitter, pungent and sour foods.
Avoid refined cereals, potatoes, bread, strong tea and coffee, sauces and pickles.
Consume milk and its products.
Take fruits such as oranges, apples, grapes, bananas and pomegranates in your diet.
Include vegetables such as spinach, lady finger, fenugreek and drumsticks in your diet.
Avoid excessive exposure to heat and sunlight as this may damage the eye lens.
Avoid direct contact with toxic fumes.
Avoid excessive use of eye medications for a prolonged period of time.
Have your eye check up on regular basis.
HERBAL REMEDIES
Take one glass lukewarm water and add 7-8 finely crushed almonds to it. Add a pinch of black pepper powder and one teaspoon honey. Mix well and drink it once a day.
Chop and boil 500 grams of spinach leaves in one glass of water for 10-15 mints. Separate the spinach leaves and crush the spinach finely to a paste. Press the paste on a sieve and extract the juice. Have this juice at least three times a day.
Take two tablespoon aniseed powder and add two tablespoon coriander powder. Add one tablespoon brown sugar to it. Have this two times a day.
Carrot juice is quite beneficial in controlling cataract.
Boil cardamom in the milk and take it at night.
Garlic has a unique property of cleaning the lens of the eye and so it should be included in the diet.
Soak raisins and dates in the water overnight. Have them in the morning.
Prepare a paste of almonds, pepper, water and sugar. Taking this is also useful in curing cataract.
NOT SATISFIED?
Click Here to consult Vaidya Jagjit Singh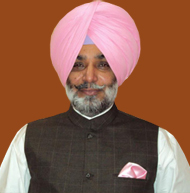 Vaidya Jagjit Singh is a 3rd generation Ayurved physician from his family and is the remarkable person responsible for setting up of the Chandigarh Ayurved and Panchkarma Centre in sector 32 and 22, Chandigarh and Zirakpur and he is also the first founder member of Guru Ravidas Ayurved University. He has done his B.A.M.S. from Shri Dhanwantri Ayurvedic College, Chandigarh. He is an admirable ayurvedic physician with specialization in Chronic ailments.
Article by Dr. Karanvir Singh (M.D in AYURVEDA, PANCHAKARMA FAGE) and reviewed by Vaidya Jagjit Singh (B.A.M.S)