How to Treat & Prevent Tension Headaches?
The constant pursuit of 'more' in our life, having more things, doing more work and achieving more success has resulted in more diseases and health menaces as well. Tension headache is one such health hazard that we keep experiencing so often. The real problem is not having occasional headaches; but the way we treat them. Popping a Disprin or Aspirin or any painkiller whenever headaches strikes won't solve the problem; rather this is one habit that will make tension headaches recurring! That's why it is important to understand Tension Headaches with respect to Ayurveda and cure it from within.
Understanding Tension Headaches
Headaches are common, in fact very common with all of us. It is important to understand the difference between Migraine headache and Tension headache if you wish to cure this problem. Tension headaches happen due to stress, anxiety, lack of sleep or because of your recurring habit of worrying. Migraine headaches are however caused due to the problem of migraine and such headaches bring along nausea, stomach pain and sensitivity to smell, sound or even light. Whether it is students or adults or even children these days, they all complain of headaches.
Talking about Tension headaches, these headaches signify an imbalance in our body. The most common causes of these mind numbing waves of pain are stress and tension. These do not usually point to a serious illness but we see that even a mild headache is enough to disrupt your daily activities. And that's precisely the reason why you should consider meeting an Ayurvedic consultant for Ayurveda is the best approach to restore the balance within your body with a focus on a hale and hearty lifestyle.
So, what actually does happen in our body that causes headache?
Tension headache can also be defined as the tightening of muscles of your face and neck which is often characterized by a dull ache in your forehead or at the back of your head. It may also cause pain in your neck and shoulders which then may travel to your head.
Our skull bones and brain tissues lack pain sensitive nerve fibers but the muscles of our face, mouth, areas around the eyes, throat and neck, scalp and the network of blood vessels on the surface and base of our brain are very much sensitive to pain. The tips of these nerve fibers get highly stimulated by stress, muscle tension, and even lack of sleep if we are not careful. These stimulated nerve tips send signals and messages up our nerve fibers to the linked nerve cells in our Brain. Then the Brain locates the region of the stimulated nerve tip based on place from where these signals are being received and thus we feel the pain or ache pulsating through us in waves or constantly in many cases.
Tension headaches are very common and may be mild, chronic or severe depending on how much stress you take or for how long you have been under such stressful situations. Endorphins are our body's natural pain killers and we all depend on them for relieving us of any pain. Some theories suggest that people who have low endorphin levels may be prone to more episodes of severe tension headaches and other chronic pains as compared to people who have high endorphin levels in their body.
Some Common Triggers of Tension Headache
In simplest form, once again, it is how a person responds to a situation creates health problems. Tension headache, as the name suggests, is caused by our tendency to worry and take unnecessary tension of work or family or sometimes for nothing. A hurried and always worried attitude is so very common these days; so are these tension headaches. You can watch out your behaviour and look for these reasons whenever you feel a throbbing pain in your head which is nothing but a tension headache:-
Anger
Muscle tension
Vigorous exercise
Missed meals
Sexual excitement
Systemic or metabolic conditions
Hypertension (high blood pressure)
Before, during, or after menstruation
Hunger
Medications
Alcohol and caffeine withdrawal
Not getting enough sleep
Reading or working on a computer for long periods of time
Doing repetitive work
How to prevent Tension Headaches with Ayurveda?
Prevention of tension headaches is something that everyone seeks and the only natural way to go about it is through yoga, meditation and adapting a healthy lifestyle. Avoid stress and everything that causes stress which is almost impossible to achieve in this time and age.
If you are suffering from chronic headache, you should consult an expert Ayurvedic practitioner who can help to uproot the problem from within through Ayurvedic medicines and Panchakarma treatments. Two most effective Panchakarma treatments for curing tension headache are:-
Shirodhara – Under this treatment, warm oil is poured over the head. The treatment is meant to calm your mind and release toxins created by anxiety, tension, anger or sleeplessness.
Nasyam – Another very effective Panchkarma treatment is a nasal administration whereby medicated oil is put in the nostrils and the patient is asked to do breathing for a while. Nasyam helps the nervous system to relax and is used extensively to treat headaches of all types.
Ayurveda also brings a few remedies that will relieve you of your tension headaches once and for all through some home remedies like:-
Take a few drops of peppermint oil and massage it gently on your temples.
Same can be done with eucalyptus oil and you can find relief from tension headaches.
Warmed sesame oil can also be used to massage the scalp as it quickly relieves tension headaches and even induces sleep.
Again, if you practice regular exercise and yoga along with meditation, it will reduce stress levels and keep tension headaches at bay.
If you are a Vata type, use hot water bags on aching parts or go for a warm soak or a hot shower.
If you are a Pitta type, use a cold compress or ice packs on your aching parts instead.
Make a fine powder out of some cinnamon sticks and add some water to make a paste. Apply it on the forehead and temples and rest for about 30 minutes. Wash it off with lukewarm water and you will feel much better.
Mix ginger juice and lemon juice (equal parts) and drink up. Consuming this once or twice a day will provide quick relief.
Stress is going to be there no matter what. It has become a part of us. But you can still live a longer and healthier life by averting all the negativity and illnesses that it brings. And how can you accomplish that? The answer is simple – By making Ayurveda your friend!
However, you must ensure changing your lifestyle and learning to let go the worrying habit if such headaches are troubling you more than twice a week! If you wish to take expert help in curing your tension headaches, you can visit Chandigarh Ayurved and Panchakarma Centre which is North India's leading Ayurvedic destination and take consultation from award-winning Vaidya.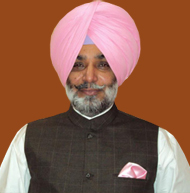 Vaidya Jagjit Singh is a 3rd generation Ayurved physician from his family and is the remarkable person responsible for setting up of the Chandigarh Ayurved and Panchkarma Centre in sector 32 and 22, Chandigarh and Zirakpur and he is also the first founder member of Guru Ravidas Ayurved University. He has done his B.A.M.S. from Shri Dhanwantri Ayurvedic College, Chandigarh. He is an admirable ayurvedic physician with specialization in Chronic ailments.
Article by Dr. Karanvir Singh (M.D in AYURVEDA, PANCHAKARMA FAGE) and reviewed by Vaidya Jagjit Singh (B.A.M.S)