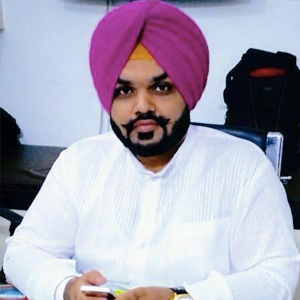 Early Life:
Vaidya Karanvir Singh is MD in Panchakarma and a proficient Ayurved consultant from Chandigarh. He is the fourth generation in his family practicing Ayurved.
He had completed his B.A.M.S (Bachelor of Ayurvedic medicines and surgery) from DAV College, Jalandhar in 2012.
From Rajiv Gandhi University of Health Sciences Karnataka he had completed his M.D Ayurveda in (Panchakarma).
Current position:
Right now, Vaidya Karanvir is the Chief Consultant Panchakarma at Chandigarh Ayurved & Panchakarma Center.
He is currently handling three branches of Chandigarh Ayurved Panchakarma Center.
He also owns a manufacturing unit under the name of Manav Sewa Trust.
He has presented various research papers in National & International seminar:
Basti Karma: implications in health and diseases held at Rashtriya Ayurveda Vidyapeeth.
SDM College of Ayurved and hospital, India on the 6th Global Diabetes Summit and Medicare Expo he had a certificate of participation.
As a delegate, Vaidya Karanvir Singh had attended a National Seminar & CME Program on Neuro-Degenerative conditions & Neuro-Lesions held at Bangalore on 15th August 2014.
He had got a Certificate of recognition from OMICS international for his phenomenal & worthy oral presentation held in Dubai UAE on 2nd March 2015.
Vaidya Karanvir Singh presented a seminar on Lifestyle disorders held in AVK College for women, Hassan.
He had also got a certificate from KAUP (Karnataka Ayurveda & Unani Practitioners) for presenting the best oral & poster presentation at the international seminar held on 26-28 Feb 2016.
Past Achievements:
Vaidya Karanvir Singh is a member of the All India Ayurvedic Congress (New Delhi).
He is also trained under Mananam, in 2014 as a hypnotherapist.
Vaidya Karanvir Singh had treated most of the chronic disease patients with ayurvedic medicines as well as panchakarma therapies.
He is a member in a charitable trust known as "Manav Sewa Trust".
Vision:
Vaidya Karanvir Singh uses to attend various patients in his clinic as well as provide free online consultation. He believes in helping as many patients as he can to give them a healthy life through the practice of Ayurved. His main aim is to educate people about Ayurved & its health benefits. His vision is to promote healthy living with the help of herbs present in nature.
Vaidya Karanvir handles OPD at Chandigarh Ayurved and Panchakarma Centre for 7 days a week.

Along with treating patients with classical Ayurvedic formulations, he also prescribes Panchakarma therapies to his patients in order to treat them successfully. Vaidya Karanvir Singh has successfully treated patients of Asthma, Brain tumor, Eczema, Hemiplegia, Insomnia, Low immune system, Neurological disorders, Menkes, Paraplegia, Paralysis, Psoriasis, Piles, Psoriatic arthritis, PCOD, PCOS, Rheumatoid Arthritis, Stress, Sarcoidosis, and numerous auto immune diseases, which are practically untreatable in Allopath.