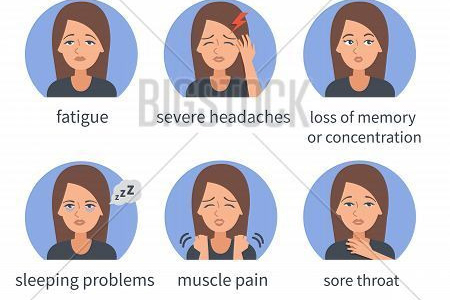 Chronic fatigue syndrome is one of the most complicated disorders in the human body. In this type of condition, the chronic fatigue doesn't reduce with rest and tends to get worse with mental or physical activity. The most common symptoms of chronic fatigue syndrome are constant headaches, extreme exhaustion, loss of memory as well as lack of concentration abilities, unexplained soreness in the body and the muscles and unrefreshing sleep. In this condition, the patient becomes quiet helpless which in turn, worsens his/her condition
Causes of Chronic Fatigue Syndrome –
Chronic Fatigue Syndrome has a number of causes which can either be direct or indirect. Some of the most common cause of chronic fatigue are –
Excessive stress
Every person responds to stress in a different way. Some people are hyper sensitive to stress and will tend to get extremely worked up even about the smallest issue. Excess stress can cause a rise in the anxiety levels as well as in the blood pressure of the body which can cause chronic fatigue.
Hormonal conditions
Abnormal hormone conditions can cause excessive fatigue to the mind and body because of the fluctuating hormones in the body. Women suffering from PCOS are at a higher risk of Chronic Fatigue Disorder.
Weakened Immune System
One of the major factors that contribute to Chronic Fatigue Syndrome is a weakened immune system. A weak immune system causes multiple health problems such as viral infections, constant sickness, weakness in the body, sore muscles and other conditions which further aggravate the CFS condition.
Ayurvedic View of Chronic Fatigue
According to Ayurvedic research and studies, Chronic Fatigue is cause by an imbalance in the VataDosha of the human body. Vatadosha is a combination of air and ether as per Ayurvedic studies. When the VataDosha goes out of balance in the body due to the above factors, it can cause a lot of depression, anxiety, exhaustion, memory loss, irritability and tiredness which are the top symptoms of Chronic Fatigue Syndrome.
The bet way to balance out this dosha in the body is by taking the necessary medications along with deep breathing exercises and yoga exercises which will help to regulate the blood flow in the body. Body massages with Ayurvedic treatment oils also help with improving the condition of a person suffering from Chronic Fatigue Syndrome 
Ayurvedic Stress Go Kit for Battling Chronic Fatigue Syndrome
The highly skilled and experienced doctors and scientists at Chandigarh Ayurved Centre have specially formulate this Stress Go Kit which helps in battling Chronic Fatigue Syndrome as well as other stress related issues in the body.  This kit contains –
ManasamitraGulika – 120 Tablets
The herbs in these tablets help in the treatment of severe fatigue depression, anxiety, epilepsy and also psychosis. Patients suffering Chronic Fatigue Syndrome also suffer from memory loss which is where these tablets help in memory retention and healthy functioning of the brain. These tablets also work for improving neurological disorders. 2 tablets to be taken twice daily.

Aswal Capsule – 60 Capsules
Aswal is an Ayurvedic medicine that helps to relieve the body of stress, chronic fatigue and tension. These capsules help in the overall improvement of the brain functioning and help to improve the concentration levels of the person. 1 capsule to be taken twice daily.
Brodley Syrup – 400ml
Brodley syrup helps in improving the memory power and also reducing the stress and over thinking of the mind. It calms the mind and provides overall relaxation. You need to take 2tsp of this syrup twice daily.
Brahma Rasayana – 200gms
This syrup is a great rejuvenator for the mind and body. The anti-oxidant properties of this syrup help to reduce the degenerative process of the body. These also improve the memory retention of the brain. It is an excellent remedy for reducing anxiety, chronic fatigue and stress in the body. 1tsp to be taken twice daily.
This Stress Go Kit costs INR 3000 which won't even make a hole in your pocket considering the superb quality of the medicines as well as their high effectivity. This kit is 100% Ayurvedic and chemical free so you won't face any side effects either!
Benefits of Using This Kit
With regular usage of this kit, you will notice a boost in your overall energy for day to day functioning and activities. Your mind and body will automatically feel more relaxed than before and your concentration levels will improve as well. Most of the medicines in this kit are formulated to improve memory retention and also to improve the brain capacity and brain development. Do note that you need to maintain a strict and healthy diet and decent amount of physical exercises along with these medicines for better effectivity of this Kit.It is never too late to start an Ayurvedic journey of self-improving for your mind and body. Purchase this kit today and you will notice the effects in just two weeks from using this!