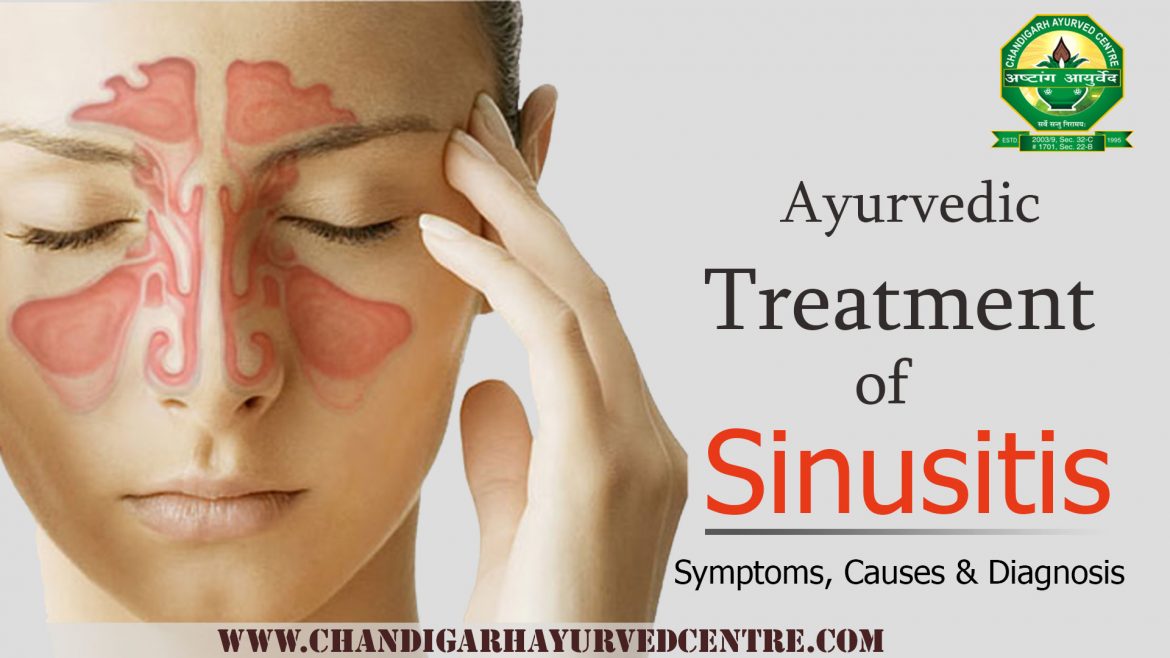 Ayurvedic Treatment of Sinusitis – Symptoms, Causes & Diagnosis
Sinusitis also known as "Sinus Infection" is a very common condition that affects 16-20% of adults and children in which mostly diagnosed patients are women. The overall range of people suffering from sinus is 20%. It's a painful inflammation caused by a viral, bacteria, or fungal infection. In sinusitis, the swelling or inflammation of the tissue lining take place in sinuses. The sinuses are air-filled, small cavities that are found behind your cheekbones and forehead. Hurdles faced by sinus patients are problem in breathing, cough, cold, and congestion.
The sinusitis is of two types acute and chronic. Acute sinusitis clear up within few weeks & chronic sinusitis may last three months or more.
Symptoms of Sinusitis
There can be distinct symptoms but certain commonly seen symptoms are:-
Headache, pain or pressure in the face or around eyes, greenish nasal discharge
Pain and headache may get worse when bending over or lying down
Fatigue, stiff neck, sore throat
In some cases fever may also occur
Facial tenderness
Facial swelling
Toothache
Bad breath
Causes of Sinusitis
The cause of untold stitch strikes about 5 million people in a year in which 1 out of people are in India.
Virus – Most of the sinus infections start with cold that occurs due to viral infections.
Allergies – As inflammation can block the nasal passages and prevent evacuations; allergies are often associated with sinus infection.
Troublesome – Dust, external air pollution, & strong essence like perfumes may play a vital role in coughing, irritation in nose that leads to inflammation enabling the risk of sinusitis.
Swimming and Diving – Swimming in a pool where water is chlorinated can harm the nasal tissue and increase the chance of nasal blockage.
Tissue irritants- Sinus gets irritated due to cocaine, cigarette smoke, & nasal sprays.
Diagnosis of Sinusitis
First and the foremost precaution for diagnosing chronic sinus is:-
Evaluation through blood tests– Blood samples are taken in order to indentify underlying situations such as Cystic Fibrosis, Viral, & Bacterial infections. However mucus samples may also be obtained.
Computed Tomography (CT) Scan – Various scan images from various angles of the facial area with the help of special X-RAY appliances to identify tumors, cysts, inflammatory disease.
Membrane Biopsy – It involves removing tissue and examining it under a microscope to see deeply the infection.
Ayurvedic View On Sinusitis
Ayurveda attack the root cause of sinus therefore one can say that the treatment vanishes the diseases completely. When the three doshas (Vata, Pitta, Kapha) gets imbalance in the body it causes weak immunity. Sinusitis is due to the result of weak immune-system as the bacteria & virus the body. The sinus exercitation again, you not only feel better but mucus membrane is stopped too and the immune system goes back to normal. This sinus infection is very divergent from cold infections, which can be generally caused by changing weather and virus. Ayurveda, the ancient "Science of life" is not only one of the oldest methods of health care in the world but one of the most efficient ways of treating diseases. Ayurveda has been given a specific place in the world of diseases and has successfully obtained good outcomes. In case of allergies, Ayurveda has a holistic approach. From Ayurveda point of view, allergy occurs in reaction to a certain food or type of environment.
Ayurvedic Treatment of Sinusitis
For proper treatment of sinusitis ayurvedic treatment is the best as it act on the root cause. CAC provides best ayurvedic treatment for sinusitis along with few panchakarma procedures. In CAC "Sinus care pack" is recommended to the sinusitis patients. This pack comprises of four products Cold & Cough sachet, Kapha Ketu Ras, Shwas Kuthar Ras, & Trikatu Syrup.
1. Sinusitis Sachet
This sachet comprises of following ingredients like Sitopaladi churna, Abhrak bhasma, Godanti bhasma, Laxmi vilas ras, Yashtimadhu churna, & Ushira surkh that removes cough & cold. The inflammation related to sinus is treated with the use of this sachet.
Recommended Dosage: Take one sachet twice daily with plain water.
2. Kapha Ketu Ras
This is an ayurvedic preparation that contains ingredients like Shuddha tankan, Shuddha Vatsnabh, Shankha bhasma, Long pepper, & Ginger juice. It reduces fever, cough, cold, phlegm related to the sinusitis patients.
Recommended Dosage: Take 2 teaspoonfuls twice daily with plain water.
3. Shwas Kuthar Ras
This is the best ayurvedic medicine for sinusitis. The ingredients in this are Pippali, Maricha, Shunthi, & Purified sulphur powder. These herbal tablets give good results in cough, cold, anorexia, bronchitis etc related to sinusitis.
Recommended Dosage: Take 1 tablet twice daily with plain water.
4. Trikatu Syrup
This herbal syrup contains ingredients like Pippali, Maricha, & Ginger that will maintain the metabolism in the body. It is beneficial for sinusitis patients.
Recommended Dosage: Take 1 teaspoonful twice daily.
CAC Panchakarma Procedure for Sinusitis
The ayurvedic medicines along with panchakarma procedures give very good results. To sinusitis patients Nasya and Shirolepam relieve all signs and symptoms.
1. Nasya
In this procedure medicated herbal oil mixed with herbal powders & herbal extracts are inserted in each nostril. All the impurities from head, sinus cavities, eyes, ear, & throat are removed out. The signs and symptoms related to sinusitis patients are managed with the nasya procedure.
2. Shirolepam
n this procedure a medicated paste is prepared and applied over forehead. It gives good result in sinusitis problem.
Healthy Tips for Sinusitis Patients
Steam Inhalation – The most effective way to cure sinus is by inhaling steamed Holy Basil (TULSI) 5-6 times a day. It is genuinely effective. Doing Yogic breathing in form of forced exhalation can help extract nasal pollutants.
Avoid intake of milk, sugar, coffee, oily eatables made of gram flour. Also soft drinks, bread, meat, liquor, cigarette must be avoided. Improvement in diet chart is the permanent treatment of the disease.
Another remedy to cure sinusitis is the intake of ginger with honey. The mixture of ginger powder and jiggery should make the tablets weighing 5 grams (approx).
Oil Massage with herbal oils – It provides a broad soothing and proper balanced effect not only for sinusitis but for entire immune system. The motion of massage creates heat and friction which sets off circulation and help to rejuvenate the tissue that has been affected by sinusitis.