Ajmod, Celery (Apium Graveolens) – Medicinal Usage & Properties
Celery is grown all over in India, especially in west Bengal at the onset of winter season. It grows very well in the northern and western areas of Himalayas and Punjab. Plants bear flowers in FEB –mar and fruits in mar –Apr After which the plant dies. Celery is known as Ajmoda in Sanskrit. It is a famous Indian spice, used to improve digestion strength. Its leaves, petiole etc are used as vegetable. Its botanical name is Apium grave lens.
APPEARANCE
Celery plants are small herbs like Ajowan. They are 1-3 ft tall. Leaves are separate with graded margins. Flowers are umbrella like in bunches little white flowers grow and change into seeds. They are commonly known as celery seeds.
MEDICINE USAGE & BENEFITS OF AJMOD
BRAIN:-
Decoction of celery root is useful for brain.
TOOTH ACHE:-
Burn celery and inhale its fumes. It cures toothache.
DRY COUGH:-
Keep celery seeds inside a betel leaf and suck it. It relieves dry cough.
BREATHLESSNESS:-
Celery is energizing and causes anxiety. It is used in curing breathing problems.
HICCOUGHS:-
In case of hiccough after meals, take 5-10 celery seeds and keep it in mouth. It immediately stops hiccoughs.
VOMITING:-
Herbs which have taste, take 1-3 gm celery powder with such herbal medicines. It controls any vomiting sensation.
Take 1-3gm celery with 1-2 clove buds. Grind the two and take the mixture with 1 teaspoonful of honey. Lick the mixture. It controls vomiting.
FLATULENCE:-
Take 2-4 gm celery powder with 5gm jiggery, 2-3times a day. It eradicates all types of gastric problems.
ABDOMINAL / STOMACH PAIN:-
Take 1gm black salt with 2gm celery seeds orally. It relieves stomach pain.
Take 1-2 drops of celery extract with 1gm ½ gm shunti powder. Take this mixture with warm water. It cons. Trolls abdominal Abdominal pain.
DIARRHOEA:-
Take equal quantities of 3-6 gm of celery, ginger root powder with butter milk, 3-4 times a day. It controls loose motions.
URINARY INFEETION:-
Take 1- 3gm celery root powder, every morning and evening it is beneficial in curing urinary infections.
PILES, HEMORRHOIDS:-
Tie Celery seeds in a cloth and apply on the affected area. It controls pile pain.
CALCULUS:-
Take 1-2.5 gm celery powder, 5gm radish leaves juice and 400 mg yavshar. Mix them all and take this mixture every morning and evening for a few days. It helps dissolve the stones which then get easily removed from the body.
GASTRIC PROBLEM:-
In case of gas in urinary bladder, take celery and salt in a cloth and then apply. It reduces the impact of gas.
INTESTINAL WORMS:-
For children who have worms in intestine , put celery seeds on fire and let the child inhale the fumes. It can also be applied as a paste.
OEDEMA:-
In all kinds of gastric problem, take equal quantities of celery, small peepal, guduchi, rasna,ginger root, ashwagandha (winter cherry), and aniseed . Grind them all to form powder. Take 2 gm of this powder with 09 gm of medicated ghee, twice a day.
ARTHRITIS:-
Take celery, vayabidang , devdaru, chitrak, root of pipalla, aniseed, black pepper 8 gm each. Also take harad, vidhara and shunthi, 95 gm each. Grind them all to from fine powder. Mix 5 gm of this powder wioth old jiggery. Give this to the patient three times a day. This helps in curing oedema, rheumatoid arthritis, back and thigh pain and all kinds of gastric disorders.
PAIN:-
Take 5-15 gm decoction of celery roots or 1-3 gm powder, 2-3 times a day. It is beneficial in curing oedema and pain.
DERMATOSE:-
In case of dermatoses , take 1-3 gm celery powder with jiggery, 2-3 times a day for seven days.
FEVER:-
Swallow 2gm celery seeds with cold water every morning. It cures fever and cold.
BOILS:-
To burst the boils, mix celery seeds with jaggery and cook in mustard oil. Apply this on the boils.
CONTRAINDICATIONS
Celery causes burning sensation in the chest. It is also uterine stimulant. Hence pregnant women must consume it.
Patient of hysteria should not consume it.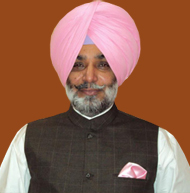 Vaidya Jagjit Singh is a 3rd generation Ayurved physician from his family and is the remarkable person responsible for setting up of the Chandigarh Ayurved and Panchkarma Centre in sector 32 and 22, Chandigarh and Zirakpur and he is also the first founder member of Guru Ravidas Ayurved University. He has done his B.A.M.S. from Shri Dhanwantri Ayurvedic College, Chandigarh. He is an admirable ayurvedic physician with specialization in Chronic ailments.
Article by Dr. Karanvir Singh (M.D in AYURVEDA, PANCHAKARMA FAGE) and reviewed by Vaidya Jagjit Singh (B.A.M.S)