Amenorrhoea – Types, Causes, Symptoms & Ayurvedic treatment
INTRODUCTION OF THE DISEASE
Amenorrhoea is the absence of menstrual period in a woman of reproductive age. A woman usually menstruates after every 23 to 35 days. Women who have missed atleast three menstrual periods in a row have amenorrhoea. It is a normal feature in prepubertal, pregnant and post menopausal females. Physiological state of amenorrhoea is seen,most commonly, during pregnancy and lactation. Apart from the reproductive years there is absence of menses during childhood and after menopause.
For a woman to have regular menstrual cycles, her hypothalamus (that stimulates the pituitary gland), pituitary gland (that releases luteinzing hormone and follicle stimulating hormone which influence the production of estrogen and progesterone that control cyclic changes in the lining of the uterus), ovaries and uterus must be functioning properly. Her cervix and vagina must also have a normal anatomy.
TYPES OF AMENORRHOEA
THERE ARE TWO TYPES OF AMENORRHOEA
1. Primary Amenorrhoea:-
When a woman has not had her first menstrual period by the age of 16 years, it is known as primary amenorrhoea or delayed menarache. This is common in teenage girls who:
Are very thin or very athletic
Are underweight
Have not experienced the normal puberty related rise in body fat
Have genetic problem
Have abnormal female reproductive organs
2. Secondary Amenorrhoea is seen in:-
Pregnancy
Breast feeding
Menopause
Emotional or physical stress
Rapid weight loss
Strenuous exercise
Polycystic ovarian syndrome
Premature ovarian failure
Hysterectomy
SYMPTOMS OF AMENORRHOEA
AMENORRHOEA IS A SYMPTOM IN ITSELF. ASSOCIATED FEATURES ARE
Excess body and facial hair
Acne
Lowering of the voice
Altered sex drive
Changes in the breast
Breast milk secretions
Weight gain or weight loss
Constipation
Dry skin and hair
Worry and anxiety
Headache
Muscular and neural pains
AYURVEDIC VIEW AND TREATMENT ACCORDING TO CHANDIGARH AYURVEDA CENTRE
According to Ayurveda, imbalance of sharirik dosha mainly Vata and Kapha and mansik dosha Raja and Tama are responsible for amenorrhoea.
Normally, the food we eat is digested by the digestive fire and is converted into rasa dhatu. This rasa dhatu nourishes the successive dhatus and other tissues of the body. Artava or menstrual blood is a part of this rasa dhatu. But when the digestion is impaired, instead of the healthy rasa dhatu, ama or toxins are produced. This ama accumulates in rasavahi srotas (which carries the nutrient plasma) or aartavavahi srotas (which carries the menstrual flow) and blocks them stopping the flow of menstruation, which leads to amenorhoea.
SINGLE HERBS USEFUL IN AMENORRHOEA
GhritKumari or Aloe Vera
Kakmachi
Bhumi Amalaki
Punarnava
Kutki
Shatavari
Triphala
Vidari kanda
Wild Yam
AYURVEDIC FORMULATIONS RECOMMENDED IN AMENORRHOEA
Punarnava Mandoor
Kumari Asava
Loha asava
Dashmoola Arishta
Aarogya Vardhini Vati
Raja Pravartini Vati
Pushyanuga Churna
Ashoka Arishta
Shatavari Kalpa
Dhatri Rasayan
Saubhagya Shunthi Pak
DIET AND LIFESTYLE
Take plenty of milk, fresh fruits and vegetables.
Strive for balance in work, recreation and rest.
Avoid hard to digest and junk foods.
Avoid ice creams, cold drinks and lots of raw vegetables.
Eat warm, nutritious and easily digested foods like khichadi and soup which give the gastrointestinal tract a rest and facilitate cleansing.
Drink filtered or boiled water.
Avoid taking alcohol.
Avoid salty and dry foods.
Sweet, sour and salty tastes nourish vata dosha.
Regular meditation and relaxation techniques are important to reduce mental stress.
Daily oil massage can be helpful in maintaining the imbalanced dosha.
Take deepana dravyas like cinnamon(is a good choice because of its demulcent and stimulating properties ), dried ginger( works as an emmenogogue), turmeric( helps to regulate menses by decongesting the liver).
Abhyanga, shirodhara, svedana therapies are beneficial as they pacify Vata dosha and provides nourishment to the system.
Apart from above therapies, anuvasana and uttara bastis help to encourage healthy downward movement.
HOME REMEDIES
Boil a teaspoon full of saffron in half a cup of water and reduce it to about a table spoon and this should be taken in a day by dividing it into three parts. Saffron is a powerful antioxidant that can treat chronic inflammatory conditions as well as reduce stress that may be causing amenorrhoea
Fomentation with hot and wet towel or hot water bag should be done around the pelvis to get relief from the pain and menstrual cramps
A cup of black beans should be boiled in 5 cups of water and a half cup of this juice should be taken before meals. This regulates the menstrual cycle.
Drinking 2 to 3 glasses of tomato juice is said to improve blood circulation and treat amenorrhoea.
Raw beetroot of fresh beetroot juice is considered an effective treatment for amenorrhoea.
Foods such as papaya, seasame seeds, ginger and bitter gourd can increase the internal body temperature and improve ovulation. This in turn can result in regular periods.
Mix half a teaspoon of cinnamon in a glass of milk and drink this everyday for weight loss. Weight loss is important to ensure regular menstruation
The herb pennyroyal is one of the best natural remedies for amenorrhoea. It stimulates the reproductive system and encourages menstruation.
Soak a teaspoon of fenugreek seeds in water overnight. Drink this water in the morning to get relief from amenorrhoea.
Unripe papaya is a great home remedy for the treatment of amenorrhoea. It helps in the contraction of the uterus and helps in getting rid of amenorrhoea.
One teaspoon of aloe vera juice with a pinch of black pepper is used for the treatment of amenorrhoea.
NOT SATISFIED?
Click Here to consult Vaidya Jagjit Singh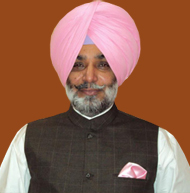 Vaidya Jagjit Singh is a 3rd generation Ayurved physician from his family and is the remarkable person responsible for setting up of the Chandigarh Ayurved and Panchkarma Centre in sector 32 and 22, Chandigarh and Zirakpur and he is also the first founder member of Guru Ravidas Ayurved University. He has done his B.A.M.S. from Shri Dhanwantri Ayurvedic College, Chandigarh. He is an admirable ayurvedic physician with specialization in Chronic ailments.
Article by Dr. Karanvir Singh (M.D in AYURVEDA, PANCHAKARMA FAGE) and reviewed by Vaidya Jagjit Singh (B.A.M.S)