Ankol (Alangium Salvifolium) –
Medicinal Usage, Properties & Harmful Effects
INTRODUCTION
Tiebid Alu retis is found as small as well as tall, big trees which grow typically in forests or dry and high land areas. These are found in Himalayan valley, Utter Pradesh, Bihar, Bengal, Rajasthan, South Indian and Burma.
APPEARANCE
Its tree is 5-15ft tall. Trunk is thick and round, bark is brown in colour. Leaves are 2-3inch long, alternate and are found in different shapes.With onset of summer season, leafless trees start bearing flowers. Flowers are white or yellowish white in color.
These are about an inch long and grow single flowers or in bunch. Calyx of the flower is soft, velvety, and porous. Flowers have a nice fragrance. Fruits are round or oval in shape with single compartment. Seeds are large and sticky.
PROPERTIES
It is purgative and anthelmintic in nature. It is beneficial in curing pain and swelling. It has a binding nature and cures erysipelas, cough, pitta, blood disorders. It also helps in curing the effect of snake and mouse bite.
FRUIT:-
Fruit is cool, tasty and heavy. It is purgative, promotes physical strength, and cures vata pitta and burning sensation. It is also beneficial in curing chest problems.
SEEDS:-
Seeds are cool, tasty, heavy, sweet and unctuous. They promote physical strength, and eradicate burning sensation, cold, cough.
MEDICINAL USAGE
ASCITES:-
Give 1 ½ 3 gm of its root powder, morning and evening to the patient. It helps cure liver function and benefits in as cites.
ASTHMA:-
Rub the root in lemon juice to from a thick paste. Give ½ teaspoonful of this paste to the patient 2 hours before meals. It shows magical results.
INCOMPLETE URINATION:-
Prepare decoction of its 3gm root and give to the patient. It causes complete release of urine and relieves the patient.
DIARRHEA:-
Take 7gm of fruit pulp and mix with 1teaspoonful honey. Give this mixture with rice water in morning, afternoon and evening. It helps cure diarrhea.
VOMITING:-
Take 2gm powder of root of white flowered tiebid plant. Give this powder orally to the patient. It helps release of vomit without any difficulty.
CONSTIPATION:-
Give 375 mg powder of its root orally to the patient. It cures constipation.
FEVER:-
Give 1-3gm of the root powder two times a day. It causes sweating which immediately controls the seasonal fever and the body temperature becomes normal.
DENGUE FEVER:-
Take 2gm powder of tie bid root and mix with 1 gm dry ginger powder and cook in rice water. Give this solution to the patient. It is beneficial in curing dengue fever and also in influenza.
During fever, heat its leaves and tie on the painful area.
HIGH FEVER:-
Grind its fruit in water and apply the paste on the body. It cures the pain during fever.
Grind its root and ginger root in water and apply the paste on the body. It cures the pain during fever.
EXCESSIVE PERSPIRATION:-
Take 1-2 gm powder of its fruits. Give this to the patient orally and then give its decoction kept overnight. Give this treatment regularly.
BLEEDING:-
Take 4 gm powder of its fruits and 9 gm sugar candy. Grind then and give to the patient. This helps control the bleeding.
Cook  the bark of its root in oil and medicate it. Apply this oil on the painful area. It cures the severe pain in arthritis.
ULCERS, WOUNDS:-
In case of a cut by a sharp object, soak a piece of cotton in the tie bid seed oil and apply on the cut. It immediately stops bleeding.
SKIN PROBLEM:-
Prepare paste of its roots bark and apply on the skin. It cures all types of skin problems.
TUMOUR:-
In case of blocked knot of nerves, rub its root with water and apply the paste on the blocked knot. It brings immediate relief.
POISON:-
In case of a spider bite, rub its root with water and apply the paste on the bitten area or mix mustard oil in the paste and put a few drops in the ears.
POISON OF MICE BITE:-
Rub its root with water and give this mixture to the patient 1-2 times. It neutralizes the poison.
SNAKE OR POISONOUS INSECT BITE:-
Take 12 gm root and prepare its decoction in 2 liter water. Strain the solution and at an interval of 10 minutes, give 40 gm decoction with 40 gm heated ghee to the patient. It causes vomiting and stools which eliminate the poison from the body. This helps in mellowing down the impact of poison. After this, prepare decoction of neem inner bark and add 1 gm tie bid root powder in it. Give this decoction to the patient.
HARMFUL EFFECT
Its usage in excess quantities is harmful.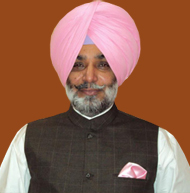 Vaidya Jagjit Singh is a 3rd generation Ayurved physician from his family and is the remarkable person responsible for setting up of the Chandigarh Ayurved and Panchkarma Centre in sector 32 and 22, Chandigarh and Zirakpur and he is also the first founder member of Guru Ravidas Ayurved University. He has done his B.A.M.S. from Shri Dhanwantri Ayurvedic College, Chandigarh. He is an admirable ayurvedic physician with specialization in Chronic ailments.
Article by Dr. Karanvir Singh (M.D in AYURVEDA, PANCHAKARMA FAGE) and reviewed by Vaidya Jagjit Singh (B.A.M.S)