Bakuchi (Psoralea corylifolia) –
Benefits, Medicinal Usage and Properties

INTRODUTION
Bakuchi (Psoralea corylifolia) tiny plants grow naturally in the rainy season all over India. In many places they are also cultivated. Typically plants have a life of one year but with due care they can survive for 5-7 years. For medicinal purpose its seeds, and the oils extracted from the seeds are used. Plants bear flowers in winter and the flowers turn into fruits in summer.
APPEARANCE
The plants are 2- 7 ft. tall, straight and soft. The branches are relatively hard and have knots. The leaves are normal with a mid-vein and are 3-5 inch long and round. They are oily and have black spots on the upper and lower surfaces. The flowers are bluish which grow from a light purple joint of the leaf and the main stem.
CHEMICAL COMPOSITION
The seeds have a volatile oil, a resin, a stable oil and two crystalline chemicals known as psoralen. The peel of fruit contains psoralidin chemical. Its anti-dermatoses and anthelmintic properties are due to these two chemicals only.
PROPERTIES
It is sweet, bitter and pungent when cooked. It is a purgative, cool, tasty and dry in nature. It is beneficial for curing heart related problems and cough, bleeding diathesis, bronchial asthma, dermatoses, urinary disorders, fever and is anthelmintic. Fruits enhance pitta and are beneficial for hair and skin.
MEDICINAL USAGE & BENEFITS
TOOTH INFECTION:-
Grind its root to form a paste and add a little amount of roasted alum in it. Use the mixture to brush the teeth every morning and evening. It cures any infection in the teeth.
BRONCHIAL ASTHMA:-
Take ½ gm. seed powder with ginger juice, 4-7 times a day. It gives relief from cough. The phlegm loosens and is easily released.
DIARRHOEA:-
Cook and eat the leaves, every morning and evening regularly for a few weeks.
JAUNDICE:-
Take 20 ml juice of spreading hogweed, ½ gm psoralea seeds powder and mix them well. Give this mixture to the patient every morning and evening.
PILES:-
Take 3 gm harad, 3 gm ginger root and 1 gm psoralea seeds. Grind them all. Give ½ teaspoonful of this mixture with jiggery every morning and evening.
STERILITY, INFERTILITY:-
After the menstrual cycle is complete, grind the seeds in oil and apply in the vagina. It reduces the potential for conceiving.
DERMATOSES:
Take 5 parts of psoralea seeds, 1 part arsenic sulphide. Grind them all in cow urine and apply the paste on the white patches. It cures white patches.
Take equal quantities of psoralea seeds and ringworm plant, and grind them in vinegar. Apply this paste on white patches.
Grind equal quantities of psoralea seeds, sulphur, and gudmar. Soak 13 gm of this powder in water overnight . Next day morning, strain the solution and give to the patient. Apply the sediment part on white patches. It cures leucoderma.
Take 2 parts psoralea seeds oil, 2 parts turak oil and 1 part sandalwood mix them and apply. It cures skin problems and leucoderma.
Take 1gm psoralea seeds powder and 100 ml decoction of Indian gooseberry or kbair. Give these together to the patient it cures vitiligo.
Soak psoralea seeds in curd for 3 days and then let it dry. Extract its oil and store in a bottle mix nausadar in it and apply on patches.
Take equal quantities of psoralea of psoralea seeds, kalaunji and poppy seeds and grind them with madar leaf extract apply this paste on white patches
Take equal quantities of amounts of psoralea seeds, tamarind, borax and anjeer roots. Grind them with water and apply the paste on white patehes it cures vitiligo.
Take equal quantities of psoralea seeds, ringworm plant, and geru. Grind them and kbaral with ginger juice. Apply it on white patches and let dry in the sun it cures leucoderma.
Take equal quantities of psoralea seeds, geru and gandhak. Grind them and kharal with ginger juice. Prepare tablets of 15 gm each. Soak 2 tablet in 35 ml water at night. Next day, give this solution to the patient, followed by fresh water.
Take equal quantities of psoralea seeds, celery seeds, ringworm plant seeds, and lotus stem. Grind them and mix with honey. Prepare small tablets. Give 2 tablet in the morning with decoction of anjeer root.
Take 2 gm pure psoralea seeds, 3 gm sesame seeds, and 3 teaspoonful honeys. Give this to the patient every morning and evening. It cures vitiligo (white patches).
Take 150 gm psoralea seeds, 30 gm geru and 60 gm ringworm plant seeds. Grind them all and sieve through a soft cloth. Store the powder in a cloth and dry over the fumes of extract of trailing eclipta alba. Store this powder and every morning and evening take little amount with cow urine and apply.
Take 2 parts psoralea seeds, 1 part each of neela thotha and borax. Grind them and sieve through fine cloth. Mix it with trailing eclipta juice and keep it for a week. Mix lemon juice in it and apply. It cures white patches. This treatment is quite bitter for skin. In case of acne or boils, stop this treatment.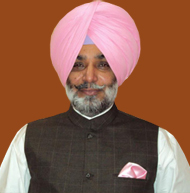 Vaidya Jagjit Singh is a 3rd generation Ayurved physician from his family and is the remarkable person responsible for setting up of the Chandigarh Ayurved and Panchkarma Centre in sector 32 and 22, Chandigarh and Zirakpur and he is also the first founder member of Guru Ravidas Ayurved University. He has done his B.A.M.S. from Shri Dhanwantri Ayurvedic College, Chandigarh. He is an admirable ayurvedic physician with specialization in Chronic ailments.
Article by Dr. Karanvir Singh (M.D in AYURVEDA, PANCHAKARMA FAGE) and reviewed by Vaidya Jagjit Singh (B.A.M.S)