Best Herbal Shampoo for Long, Strong & Shiny Hair – Royal Look Herbal Shampoo
With increasing people turning up to us, both men and women, with complaints of hair thinning, hair loss, grey hair, hair fall and dandruff; our first suggestion is to stop using harsh chemicals and shampoos on your hair.
Compare your hair problems with the problems faced by your elderly or older generation. They never complained of hair fall or hair loss in young age simply because they use herbal ingredients or herbal soaps for washing their hair. It's time for us to go back to our roots and adopt in our life, the age-old goodness of Ayurveda. Like this Royal Look Herbal Shampoo which is enriched with Amla (Phyllanthus emblica), Shikakai (Acacia concinna) and Reetha (Sapindus mukorossi). This shampoo is totally chemical-free so that your hair stay shiny, healthy and problem-free!
Goodness of Amla (Phyllanthus emblica)
Amla or Indian gooseberry is a wonder fruit for the hair. Amla as a fruit can be eaten, added as an ingredient to the vegetables or consumed as a juice as well. We have used its juice as a main ingredient in the shampoo.
Amla is a rich source of Vitamin C and antioxidants, both playing a major role in keeping the hair healthy, black and strong. Due to heat exposure and dust, most of the children also face premature graying problem of the hair. This shampoo is recommended to them as well. All your problems relating to hair like dull or frizzy hair, shine-less hair, hair fall, hair loss, hair thinning, dandruff, scalp infection. Amla is the most reliable natural product that can help you regain healthy hair and scalp.
Royal Look Herbal Shampoo is enriched with the goodness of Amla and will stimulate hair growth owing to richness of iron and vitamin C.
Goodness of Shikakai (Acacia concinna)
Problems like hair fall or dandruff occur because of inflammation in the scalp. Most of us, in our ignorance, keep using chemical products and keep getting hair settings done in Parlours and salons which make the hair roots weak and invite various hair-related problems. Shikakai, by nature, is cool and antiseptic. So regular application of Shikakai-based Royal Look Herbal Shampoo will keep infection and heat away from your scalp! The shampoo brings the goodness of Shikakai which is considered a rich source of Vitamin A, C, K, and D. All these vitamins are important for healthy hair.
Goodness of Reetha (Sapindus mukorossi)
Reetha or Sapindus Mukorossi does to your hair what you think a hair conditioner does – it gets shine and softness effect in the hair, that too naturally. Reetha is found in India and has been used traditionally to wash hair owing to its cleansing and soothing properties.
Ayurveda recommends Reetha as a natural remedy for hair problems like itching on the scalp, hair loss due to infection, hair thinning, dry and dull hair and to wean away the harsh effects of chemicals.
Reetha is one of the under-estimated hair care ingredients; in fact Reetha plays a significant role in curing the hair fall or hair loss if you are experiencing one. Using a reetha based shampoo means no need to use any chemical-rich conditioners; reetha brings a natural shine and supple to the hair.
Most of the women often complain of split ends and hair breakage. We recommend this Royal Look Herbal shampoo to them as well. This shampoo cleanses the hair, keeps the scalp free from infection, fights dandruff, brings shine and bounce to the hair while strengthening the hair from the root. It is like one shampoo with multiple benefits and ZERO side effects.
How to use Royal Look Herbal Shampoo?
Wash your hair thrice a week or even more if hair is dirty. Using Royal Look Herbal Shampoo will not bring any side effects.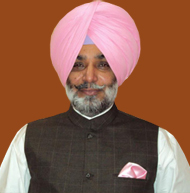 Vaidya Jagjit Singh is a 3rd generation Ayurved physician from his family and is the remarkable person responsible for setting up of the Chandigarh Ayurved and Panchkarma Centre in sector 32 and 22, Chandigarh and Zirakpur and he is also the first founder member of Guru Ravidas Ayurved University. He has done his B.A.M.S. from Shri Dhanwantri Ayurvedic College, Chandigarh. He is an admirable ayurvedic physician with specialization in Chronic ailments.
Article by Dr. Karanvir Singh (M.D in AYURVEDA, PANCHAKARMA FAGE) and reviewed by Vaidya Jagjit Singh (B.A.M.S)