Herbal Remedies for Diarrhoea, Ayurvedic Treatment – Causes & Symptoms
Diarrhoea is a condition in which there is a frequent passage of watery unformed stools. It can lead to dehydration and in the extreme cases can also lead to death. Diarrhoea can be acute or chronic. It has a sudden onset and lasts less than two weeks but sometimes takes longer.
CAUSES
Diarrhoea is caused due to following reasons:
Viral or bacterial infections
Due to certain intestinal disorders such as celiac disease, inflammatory bowel disorder, crohn's disease, irritable bowel syndrome, intestinal allergies, intolerance to lactose or gluten and hyperthyroidism.
Due to body's reaction towards certain food items or medicines such as antacids
Incomplete digestion of the food
Over eating
Irregular eating habits
Eating a meal before the previous meal has been digested
Due to certain food allergies
Due to bowel disorders and putrefaction in the intestinal tract
SYMPTOMS
Uncontrollable bowel movements
Increased frequency of loose and watery stools
Cramps in the abdomen
Pain in the stomach
Blood in stools which often lead to reddish or black colored stools.
Reduction in the quantity of the urine
Burning sensation in the anus
Low blood pressure
Nausea or vomiting
Fever along with chills
Weakness in the body
Cold and dry skin
AYURVEDIC VIEW AND TREATMENT ACCORDING TO CHANDIARH AYURVED CENTRE
According to ayurveda, diarrhoea is compared with atisara. Atisara is caused due to weakened digestive power or due to malabsorption of the food material in the colon which is further caused due to the imbalance of different doshas in the body. When food is not digested or absorbed properly, it is excreted out from the body in the semi liquid or watery form. This is known as atisara.
As per ayurveda, vitiated vata dosha pulls down the fluid part from various tissues of the body and bring it into the intestine. This fluid then mixes with the stool and leads to loose and watery stools.
Atisara has been classified into 6 divisions depending upon the vitiated dosha:
Vataja Atisara – Patient passes painful loose motions with sound and foam.
Pittaja Atisara – Patient passes green, blue or red colored stools with offensive odour.
Kaphaja Atisara – Patient passes sticky, oily and white colored motions with bad odour.
Sannipatika Atisara – Patient passes mixed stool.
Bhayaja Atisara – This is caused due to extreme fear
Shokaja Atisara – This is caused due to extreme grief.
Single herbs useful in diarrhoea are:
Arjuna
Babool
Bael
Banyan
Bahera
Kakmaachi
Harad
Methi
Shatpushpa
Amalaki
Ayurvedic formulations beneficial in diarrhoea are:
Kutajarishta
Kutaj bilwa syrup
Kutaj ghan parpati vati
Bilwadi churna
Gangadhar churna
Jatiphaladi vati
DIET AND LIFESTYLE
Avoid eating food from outside.
Avoid eating uncooked vegetables.
Avoid eating peeled and stored fruits.
While travelling, drink only bottled mineral water.
Drink plenty of fruit juices and water.
Take light, easy to digest foods such as khichadi.
Soup made from lentils is highly beneficial in curing diarrhoea.
Have fruits such as sweet lime, oranges, apple and lemons.
Avoid eating heavy, spicy and fried foods.
Avoid sugarcane and its byproducts.
Avoid eating non vegetarian foods.
HERBAL REMEDIES
Take two teaspoon of lemon juice. To this add half teaspoon of ginger paste. Add a pinch of black pepper. Mix well and consume it twice a day.
Take two teaspoon of cumin seeds and add two teaspoon of fenugreek seeds. Roast the mixture and crush the mixture to obtain the powder. Take four teaspoons of this mixture and add a bowl of yoghurt to it. Mix well and consume this three times a day.
Make a powder of Indian gooseberry and add some black chebulic myrobalan. Take this mixture at two times a day.
Add some mango nut powder to water. Drink this once a day. This is highly useful in curing diarrhoea.
Buttermilk with black salt is highly beneficial in diarrhoea.
Prepare a mixture of half teaspoon each of ginger juice, lemon juice and one fourth teaspoon of pepper powder and take this twice a day.
Take 50 grams of fresh pomegranate skin and soak it in 800 ml of water for about an hour. Boil until it is reduced to one fourth. Store this mixture in a clean vessel. Take 2-3 tablespoons of this mixture 4-5 times a day. This is highly beneficial in diarrhoea.
NOT SATISFIED?
Click Here to consult Vaidya Jagjit Singh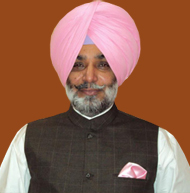 Vaidya Jagjit Singh is a 3rd generation Ayurved physician from his family and is the remarkable person responsible for setting up of the Chandigarh Ayurved and Panchkarma Centre in sector 32 and 22, Chandigarh and Zirakpur and he is also the first founder member of Guru Ravidas Ayurved University. He has done his B.A.M.S. from Shri Dhanwantri Ayurvedic College, Chandigarh. He is an admirable ayurvedic physician with specialization in Chronic ailments.
Article by Dr. Karanvir Singh (M.D in AYURVEDA, PANCHAKARMA FAGE) and reviewed by Vaidya Jagjit Singh (B.A.M.S)