Herbal Remedies for Sickle Cell Anemia, Ayurvedic Treatment – Causes & Symptoms
Sickle cell anemia is an autosomal recessive genetic blood disorder as well as an inherent blood disorder in which red blood cells become rigid and form crescent shape like a sickle cell. This causes blockage in blood supply and oxygen to the different parts of the body.
It occurs more commonly in people belonging to tropical and sub tropical regions. It causes severe anemia and various complications in the body that shortens the human life.
CAUSES
Sickle cell anemia is caused by an abnormal type of hemoglobin S. the normal type of hemoglobin is called hemoglobin a. Hemoglobin is a protein inside red blood cells that carries oxygen. The abnormal hemoglobin destructs the shape of the RBCs especially when the cells are exposed to low oxygen. As a result the RBCs shrink like crescents or sickles and fail to deliver oxygen in the body or delivers inadequate oxygen in the body. The irregular sickled cells can also block blood vessels causing tissue and organ damage and pain in various body parts.
As per Ayurveda, it is caused due to following reasons:-
Excessive intake of salt, alkali
Habitual intake of horse gram, black gram, legumes, sesame oil, tubers etc.
Intake of sour curd, vinegar and other sour fermented liquids
Use of incompatible food items like milk products and non vegetarian food
Sleeping immediately after having heavy meals
Excessive anger, exposure to direct sunlight or direct wind
Suppressing the natural urges of urination or defaecation
Having meal without the proper digestion of the previous meal
SYMPTOMS
Anemia or pale skin
Pain in chest, abdomen and joints
Swelling in hands and feet
Slow growth and development in infants and children
Delayed puberty in teenagers or delayed growth
Difficulty in breathing or breathlessness
Obstruction of blood flow to spleen and liver
Fatigue
Fever
Rapid heart rate
Ulcers on the lower legs
Yellowing of the skin and eyes
Excessive thirst
Frequent urination
People with sickle cell anemia are more prone to develop infections and other fevers
Weakness in arms and legs
Difficulty in walking and running
Problems in vision
AYURVEDIC VIEW AND TREATMENT ACCORDING TO CHANDIGARH AYURVED CENTRE
According to Ayurveda, sickle cell anemia is cased due to beejadosha that is due to abnormality in sperm and ovum. Beejadosha leads to blockage or impairment of raktavaha strotas which further leads to malfunctioning of the blood cells.
Ayurvedic line of treatment in this disease emphasizes on:-
Strengthening body tissues
Assisting in the formation of haemoglobin
Removing toxins from the body so as to ensure proper circulation within the channels of the body
Improving the energy of the body and maintaining overall health
Single ayurvedic herbs that are useful in this case are:-
Punarnava
Giloy
Haridra
Bhumyamalaki
Shallaki
Guggulu
Triphala
Trikatu
Yashtimadhu
Tulsi
Pippali
Ayurvedic formulations recommended in this condition are:-
Punarnava Mandoor
Loha Bhasma
Yograj Guggulu
Navayasa Loha
Shilajeet Vati
Triphala Guggulu
Punarnavadi Guggulu
Swarna Makshika Bhasma
Arogyavardhini vati
DIET AND LIFESTYLE
Have 7-8 glasses of water every day to prevent dehydration.
Do not climb high altitudes without extra oxygen.
Reduce stress.
Have sufficient rest and warmth.
Perform regular physical activity to stay healthy.
Avoid extreme hot or cold weather conditions.
Avoid smoking or avoid exposure to smoke conditions.
Avoid conditions such as crowded places as they increase the risk of infections.
HERBAL REMEDIES
Mix one cup of pomegranate juice, one fourth teaspoon of cinnamon powder and two teaspoons of honey. Drink this daily before breakfast.
Blend one medium sized beetroot, three carrots and half of a sweet potato. Drink this juice atleast once a day.
Soak two dry dates in a cup of milk overnight. Eat the soaked dates in the morning on an empty stomach. Also drink the milk.
Soak some sesame seeds in water for atleast two hours. Strain and crush the seeds to get the paste. Add honey to this paste and mix well. Have this paste atleast twice a day.
NOT SATISFIED?
Click Here to consult Vaidya Jagjit Singh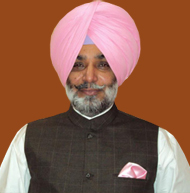 Vaidya Jagjit Singh is a 3rd generation Ayurved physician from his family and is the remarkable person responsible for setting up of the Chandigarh Ayurved and Panchkarma Centre in sector 32 and 22, Chandigarh and Zirakpur and he is also the first founder member of Guru Ravidas Ayurved University. He has done his B.A.M.S. from Shri Dhanwantri Ayurvedic College, Chandigarh. He is an admirable ayurvedic physician with specialization in Chronic ailments.
Article by Dr. Karanvir Singh (M.D in AYURVEDA, PANCHAKARMA FAGE) and reviewed by Vaidya Jagjit Singh (B.A.M.S)