Karela (Bitter Melon) – Usage, Dosage and Medicinal Properties
INTRODUCTION
Its many properties are well known to all diabetic patient, who especially consume its juice and its cooked dish. The following text details about its many more properties.
APPERANCE
Generally, it is grown all over India. Its stem is soft and hairy. Leaves are 1-5inch broad, round with deep serrated corner and are divided into 5-7 section. Flowers are shiny, yellow in colour. Fruits are 1-5 inch long and thick from middle and pointed towards both the ends.
PROPERTIES
According to Kaiydev Nighuntu:-
It is bitter and vata karak. It promotes digestive functions, is purgative, bitter and cold. It is aphrodiastic and light pittakarak. It cures cough anaemia infection of wound burning sensation dermatoses and is anti-pyretic.
According to Bhava Prakash:-
It is cool purifies excretory system purgative slightly bitter and does not cause vata. It cures fever blood disorders cough jaundice diabetes and is anthelmintic.
MEDICINAL USAGE
Headache:-
take 10-12 ml juice of its leaves and mix cow ghee and juice of pitta papada apply this paste on the forehead. It cures headache.
Eye Disorders:-
In case of haziness and night blindness take a rusting iron vessel. Rub the juice of its leaves and a black pepper in it and apply it as eyeliner in the eyes and also apply it around the eyes.
Ear Pain:-
warm the juice of its fresh leaves or fruits and put a few drops in the ear.
Stomatitis:-
Mix chalk powder in its juice and apply on the boil in mouth.
For Vomiting:-
Give 10-12 gm juice of leaves with little amount of vinegar or rock salt mixed in it. It causes vomiting and purgation and cures the disorders.
Swelling of Throat:-
Grind dried fruit in vinegar warm the paste and apply on throat. It cures the swelling of throat.
Galactogogue:-
Boil its 20 gm leaves and give to the lactating woman. It increases the production of milk and purifies blood.
Arthritis:-
Give 10-15 ml juice of its leaves or fruits with mustard seeds and salt mixed in it. It is beneficial in curing arthritis.
Ascites:-
Give 10-15 ml juice of its leaves with honey mixed in it. It is beneficial in curing ascites.
Jaundice:-
Give 10-15 ml juice of its leaves with black myrobalan grinded in it. It is beneficial in jaundice.
Nausea in Children:-
Give 6 gm juice of its leaves with turmeric mix in it it causes vomiting thus resulting in cleansing of the stomach.
Bleeding Piles:-
give 50 -100 ml decoction of the upper thick part its root with sugar mixed in it every morning and evening .
Piles:-
Grind its root and apply the paste on the boils of piles.
Menstrual Cycle:-
Take 10-15 ml juice of its leaves and mix powder of ginger root black pepper and peepal in it. Give this to the patient thrice a day. It purifies menstrual cycle.
Diabetes:-
It is very beneficial in curing diabetes. It activate the pancreatic cells and enhances the production of insulin. Shade- dry the fruits and prepare its fine powder. Give 3-6 gm of this powder with water or honey.
Give 10-12 gm juice of its fresh fruits regularly. The fruit can also be cooked and given to the patient.
Give the same treatment for blood purification also.
Calculus:-
Mix 30gm juice of its green leaves with 15gm curd and give this to the patient followed by 50gm butter milk. Continue this for 3days and then stop for next 3 days. Again continue this for 4 days and then stop for next 4 days. Similarly continue this for 5days.
Skin Problems:-
Mix its whole plant, cinnamon, peepar and rice in oil of wild almonds and apply this oil on affected area. It cures itching and such related skin disorders.
Apply the juice of its leaves on the head. It cures boils. Paste of its root is beneficial in curing small boils, acne and eruption.
Burning Sensation:-
Apply the juice of its leaves on the lower side of the foot. It relieves the burning sensation.
ADVERSE EFFECT
In case excess quantities, it causes dryness. Hence, in case of excessive intake, give rice and ghee.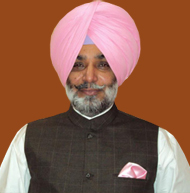 Vaidya Jagjit Singh is a 3rd generation Ayurved physician from his family and is the remarkable person responsible for setting up of the Chandigarh Ayurved and Panchkarma Centre in sector 32 and 22, Chandigarh and Zirakpur and he is also the first founder member of Guru Ravidas Ayurved University. He has done his B.A.M.S. from Shri Dhanwantri Ayurvedic College, Chandigarh. He is an admirable ayurvedic physician with specialization in Chronic ailments.
Article by Dr. Karanvir Singh (M.D in AYURVEDA, PANCHAKARMA FAGE) and reviewed by Vaidya Jagjit Singh (B.A.M.S)