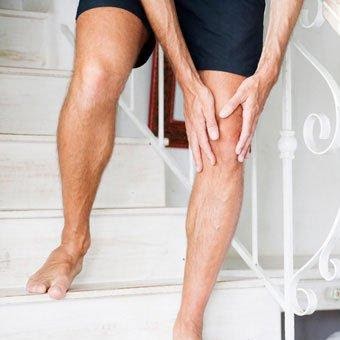 WHAT IS KNEE PAIN
Knee pain is a common knee problem  that affects people of all ages. Knee pain may be the result of an injury, such as a ruptured ligament or torn cartilage. Many medical conditions like  arthritis, gout and  many kind of infections — also lead to  knee pain. It is a condition which is related to our musculoskeletal system.  
SIGN & SYMPTOMS ASSOCIATED WITH KNEE PAIN
The location and severity of knee pain may vary, depending on the cause of the problem and structure involved people may notice following symptoms –
Difficulty in walking

Swelling and stiffness around knee joint

Inability to extend the knee

Unable to bend the knee
WHAT CAUSES KNEE PAIN
Knee pain can be due to any kind of injury to the knee joint , any kind of medical condition and other factors like overweight, age are also responsible for this.
INJURY

–
A knee injury can affect any of the ligaments, tendons or fluid-filled sacs (bursae) that surround your knee joint as well as the bones. Some of the more common knee injuries include:
ACL tear – In this injury tear of anterior cruciate ligament occur. This type of tear is commonly seen in players.
Fractures – Fracture of the bones  associated with  knee joint can be occur due to accidents , fall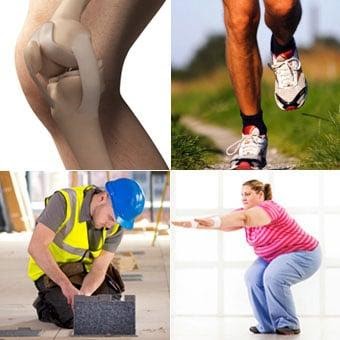 MEDICAL  CONDITIONS

– 
Osteoarthritis  is the most common form of arthritis, it is result of  the  degenerative changes in bones that occur with age   and the knee is one of the most common sites of osteoarthritis
Rheumatoid arthritis. Rheumatoid arthritis is an autoimmune condition that can affect almost any joint in your body, including your knees. Most commonly seen in people of middle age .
Gouty arthritis. In this type of arthritis , accumulation of  uric acid  occur in the joint .  Gouty arthritis most commonly affects the big toe, it can also occur in the knee.
Septic arthritis. Sometimes knee joint can become infected, leading to swelling, pain and redness. Septic arthritis often occurs with a fever.
RISK FACTORS FOR  KNEE PAIN –
Excessive weight 

Old age

Certain sports and occupation 

lack of strength
Diagnosis of knee pain –
Diagnosis of cause of knee pain is made by
– Examination of patient
– Imaging  techniques like  X-ray , CT – scan , MRI are commonly used and very helpful to diagnose the condition
– Blood investigations  – In any kind of medical condition like RA , gouty arthritis these are used to confirm the diagnose.
TREATMENT FOR KNEE PAIN-
MEDICATIONS – Medicines are usually given to relieve the cause and to treat the underlying cause.
INJECTIONS –  Injections of corticosteroids ,  hyaluronic acid are injected into the joint.
SURGERY – Knee surgeries involve-
Arthroscopic knee surgery 
Partial knee replacement surgery
Total knee replacement
KNEE PAIN MANAGEMENT  IN  AYURVEDA
Knee pain in ayurveda is described under vataj disorder which means it mainly occur due to the vitiation of vata dosha. Diseases described are  Sandhigat vat ( mainly due to vata dosha), Aamvat  ( due to undigested food i.e aama and vata dosha ), Raktgat vat ( due to vitiation of rakta and vata dosha ).
 Treatment of  knee pain in ayurveda is very specific and shown to be very  effective . Acc. to the cause treatment is done by panchakarma therapies with combination of medicines . Panchakarma therapies widely used in condition of knee are
Abhyangam  –  Abhyangam  refers to the massage of medicated oil  over the skin for a specific period of time . Medicated oil which are best in treating vata disorders like mahanarayan tail, Bala tail, dhanwantram tail , dashmool tail are commonly used for abhyangam .
Swedan –  In this procedure steam is given to the body by using decoction made up of medicated herbs. Swedan is done by many ways like by patra pind potli sweda, naadi swedan .
In cases of aamvat ( rhemutoid arhthritis ) oil aaplication is not done and ruksha potli sweda like baluka sweda is done.
Jaanu basti – Jaanu basti is widely used in treatment of knee pain. In this procedure oil is pooled over the knee joint for some period of time. This is very effective that lubricates the joints and provide the strength to the bones and muscles.
Matra basti – In this procedure, oil administeration is done through anal region to treat the root cause of the diseaese. 
Other ayurvedic procedure like AGNI KARMA is also very beneficial in knee pain management .
Ayurvedic herbs –  Many of ayurvedic herbs have anti-inflammatory properties without any side-effects . Medicinal herbs like haridra, rasna , bala, vidarigandha , rason , gugglu and many others are widely used in many forms for pain management.
Chandigarh Ayurveda Centre  offer you a simple knee pain treatment in Ayurveda without the hassle. Chandigarh Ayurved Centre provides you the most effective Ayurvedic and panchakarma treatment . 
 For knee pain treatment, CAC provides you the Knee pain releif kit.  This pack can be given in all type of pain like in  Rheumatoid arthritis, Osteoarthritis, and Gout problem. Knee pain relief kit contains five products 
KNEE PAIN RELIEF KIT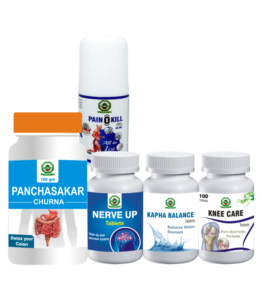 KNEE PAIN RELIEF KIT
DESCRIPTION OF MEDICINES
– 
Nerve up tablet
Nerve up tablet  is purely ayurvedic formulation.  CAC Nerve up tablets purely prepared for treating all kind of vata disorders help in balancing the vata doshas. It reduces kapha dosha, and acts as nervine stimulant. It shows effective results in improving the central nervous system. These contains natural vatahar properties and helps in curing vata diseases.
Knee Care Tablet
 The herbs present in this tablet provides good result in body pain, swelling, stiffness, & inflammation.  Anti-inflammatory & analgesic properties reduce inflammation & pain in the Knee
Kapha Balance Tablet
CAC Kapha tablet is a healthy blend of herbs formulated to balance Kapha doshas without aggravating Pitta and Vata doshas.. The main use of Kapha tablets is to remove excess Kapha doshas from the system and helps in the management of weight, healthy lungs, and the immune system.
Pain-O-Kill Oil
This   medicated oil made up of combination of ayurvedic herbs like rasna, kushta, vatasnabh , devdaru etc. provides good results in body pain, swelling, stiffness, & inflammation. Massage with this oil relieves the symptoms associated with knee pain .
Panchsakar Churna
It is a pure and classical preparation known as Panchsakar churna. This churna is used since ancient time for the detoxification of the body. As toxins are removed from the body knee pain will automatically subsides.
All the medicines used in these products are purely ayurvedic and free from any kind of adulteration to provide you the complete benefit of ayurveda .
For more details visit our website 
https://www.chandigarhayurvedcentre.com/product/knee-pain-relief-kit/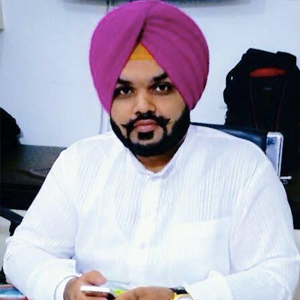 Vaidya Karanvir Singh is the younger Vaidya in Chandigarh Ayurved & Panchakarma Centre. He is the fourth generation in his family who is practicing as a general consultant in Ayurved & Panchakarma treatment at Chandigarh. In his practice, he had treated more than 1000 plus patients worldwide.
Article by Dr. Karanvir Singh (M.D in AYURVEDA, PANCHAKARMA FAGE) and reviewed by Vaidya Jagjit Singh (B.A.M.S)