Tulsi (Holy basil) – Medicinal Usage and Health Benefits
INTRODUCTION
Holy basil is known in India with several names, such as, visbnu ballabha, sukhballari, shiri Krishna ballabha, vrinda, vasibnavi etc. Explaining the importance of holy basil is like trying to describe the importance of sun.It is a medicinal herb which has capability to control any type of disorder. It is taken as a goddess. It is easily available , everywhere and is fragrant and beautiful. It is the cheapest of all herbs available . In addition to medicinal values, it is known for its religious values also and hence is grown in every household in India.
CHEMICAL COMPOSITION
From leaves, a yellowish green oil is extracted which when dries turns into crystalline form. It is also known as tulsi kapoor.
PROPERTIES
It is kapha vata shamak, kills insects, eradicates body odour,promotes digestive function and improves digestion. It is gets easily absorbed in the system, anthelmintic, cures cough, excites heart and purifies blood. It causes sweating and is anti- pyretic and cures swelling and oedema.
MEDICINAL USAGE OF TULSI
Dermatoses:-
Give 13-15 gm juice of holy basil, every morning to the patient. It is beneficial in curing dermatoses.
Grind its leaves in lemon juice and apply the paste on the affected area it helps cure eczema gout dermatoses etc.
Grind its juice with brick powder and cow's ghee and apply the paste on the affected area.
For Promoting Physical Strength:-
Mix 20 gm powder if its seeds with 40 gm sugar powder give 1gm of this mixture in winter season for a few days it protects from data and kappa disorders it eradicates weakness and enhances and strengthens the tendons and ligaments.
Headache:-
Give 1-2 gm powder of its shade dried manjari with honey.
Swallow 5 basil leaves with water every day it enhances intelligence memory power and promotes the brain development.
Put a few drops of its oil in nostrils it cures all types of headaches.
Apply its oil on hair it kills head lice.
Apply its oil on face it clears and improves the complexion of face.
Toothache:-
Keep basil leaves along with black pepper just below the aching tooth. It gives relief in tooth ache.
Mix its juice in lukewarm, water and use this water to gargle. It cures throat problem.
Night Blindness:-
Put 4-9 mg of the basil juice in eyes, several times a day. It cures night blindness.
Chronic Cold & Cough:-
Take 60 gm basil leaves along with the manjari, 35 gm ginger, 12 gm black pepper. Boil them in 600 ml water and prepare the decoction. Boil the mixture till water is reduced to ¼. Strain the solution, and add 14 gm powder of green cardamom seeds and 300 gm sugar. Cook the mixture again till it turns into thick syrup.
Give ½ to ½ teaspoonful of this syrup to children and 3-4 teaspoonful to adults. It is beneficial in cough, bronchitis, whooping cough and throat infections.
In case of old cough and asthma, take 20 basil leaves, 3 yellow leaves of vasa, 2 black pepper, and 6 -7 ginger pieces, and 6 inch of stem of tinospora. Grind them all solid and then cook them in 2 glass of water till water is reduced to ½ add 15-20 gm jiggery in it and divide the mixture into 4 doses. Give each dose after an interval of 5 hours. It is beneficial in curing old cough.
In case of cough, give 5-10 mg juice of its leaves mixed with powder of black pepper. It controls the intensity of cough.
Mix its manjari, ginger root, onion juice and honey. Give this to the patient to lick. It cures dry cough and is beneficial in case of asthma in children.
Self-tested Use by Swami Ramdev Ji:-
Take 7 basil leaves and 5 cloves and cook them in a glass of water. Break the leaves and cloves into pieces before cooking them in water. Cook the water till it is reduced to ½ add a little amount of rock salt in it and give this to the patient to drink it hot. Wrap the patient with cloth to enable sweating. It immediately cures fever and also cures cold, cough and running nose. Give this decoction twice a day for 3 -5 days.
In case of cold and cough in children, give 5-7 drops of basil and ginger juice with honey. It cures the cough and running nose in children. It can be given in very less quantities to new born baby.
Diarrhoea and Loose Motions:-
Grind 15 basil leaves with 1 gm cumin seeds. Mix honey in it and give this to and the patient 4-6 times a day it immediately cures the griping of stomach and controls the motions.
Prepare 50-60 gm hot infusion of basil and mix jaipbal powder in it. Give this to the patient, 4-5 times a day. It cures diarrhea.
Dyspepsia:-
In case of indigestion, weakened state of body fire, spleen and liver disorders in children, give hot infusion of basil leaves, thrice a day, before taking meals.
Inflammation in Urinary Bladder:-
Take 3 gm each of basil seed powder and cumin seed powder. Add 4 gm sugar in it. Give this to the patient with milk, every morning and evening. It cures burning sensation during urination, excretion of pus and nephritis.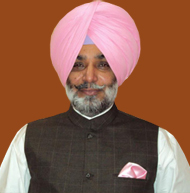 Vaidya Jagjit Singh is a 3rd generation Ayurved physician from his family and is the remarkable person responsible for setting up of the Chandigarh Ayurved and Panchkarma Centre in sector 32 and 22, Chandigarh and Zirakpur and he is also the first founder member of Guru Ravidas Ayurved University. He has done his B.A.M.S. from Shri Dhanwantri Ayurvedic College, Chandigarh. He is an admirable ayurvedic physician with specialization in Chronic ailments.
Article by Dr. Karanvir Singh (M.D in AYURVEDA, PANCHAKARMA FAGE) and reviewed by Vaidya Jagjit Singh (B.A.M.S)