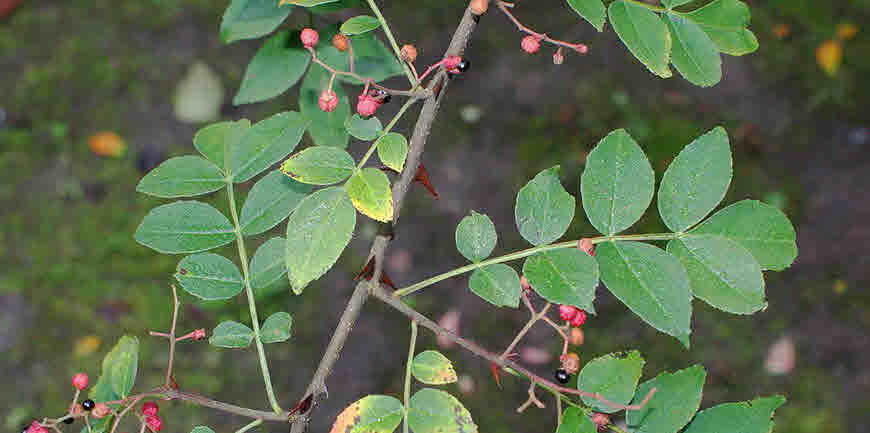 Tumbaru / is known by different names in different languages. In Ayurveda, it is called Tumbaru, Tikshafal, Mahamuni, Shulaghan, Andhak, Nepali coriander, Tejmal, Tejpal, Tejaphal, and in English it is called toothy tree. Its name in Latin is Xanthosylum ileatum or ermatum. This is a Rutaceae clan tree.
The Tumburu tree is found from the Himalayan hills, Uttaranchal to the hills of Nepal. It is also called Nepali coriander due to being found in Nepal.
Tumbaru is a small tree or thorny shrub. It is always a green tree. It has straight thorns on its branches and the leaves are trilateral. Fruits are long, round, and highly pointed. There is a seed in the fruit which looks like coriander (it has no relation with coriander).
The fruit of Tumburu is sweet, bitter and the seeds are fragrant. It is a medicinal tree and leaves, bark, seeds, and thorns are used by people as medicine. The main use of its seeds is nowadays for the care of teeth. To make dentistry, the powder of its seeds is used. The teeth are cleaned by using its soft twig like a toothbrush. Massaging the gum with the powder of its bark is beneficial in bleeding gums, pyorrhea etc.
Common names / Synonyms
Latin name: Zanthoxylum alatum, Zanthoxylum armatum DC., Zanthoxylum planispinum Siebold & Zucc
Sanskrit: Tumburu, Tejovati (Bark), Tejovali, Tejohva, Tejbatee
Assamese: Tejovati
Bengali: Tejovati, Nepali Dhania, Gaira
English: Tooth ache tree, Nepal Pepper
Gujarati: Tejbal
Garhwal: Tezbal, Tezmal
Hindi: Tejbal, Nepali Coriander, Timura, Darmar
Kannada: Tejapatri, Tumburu, Tejovanti
Malayalam: Thumboonal, Thumbooni
Marathi: Tejbal, Tejobalee
Oriya: Tejbal
Punjabi: Tirmira, Tundopoda
Tamil: Thejyovathi
Telugu: Tumburl
Urdu: Kabab-e-Khanda (Miswak) Kababeh
Greek: Faaghir, Kabaab-e-Khandaan
Arabic: Fagrieh Faghireh
Ayurvedic properties and functions
The fruits and seeds of Tumbaru are hot in Taseer and their internal use brings sweat. They reduce gout from the body, but increase bile. It is an antidote, appetite enhancer, anthelmintic, and stimulant.
Ras (taste on tongue): bitter, hard
Properties (Pharmacological action): Small / mild, pungent, harsh
Virya (Strength): Heated
Vipak (altered state after digestion): bitter
Karma: Sweet, Bitter, Hot, Digestive, Deepan, Recipient, Air purifier, Aps enhancer, Worm, Kapha-Vatahar, Ruchi, Deodorant
Tumburu is beneficial in tuberculosis, ear diseases, skin diseases, asthma, urinary diseases, venereal cholera, chest diseases, and blood disorders.
Medicinal uses of Tumburu
In toothache, its seeds should be crushed and kept under the tooth.

To make teeth strong it should be toted.

Its seeds are used to make enamel. To make tooth enamel, keep the powder of Tumbaru seeds mixed with Triphala powder, turmeric powder and rock salt and use it to clean the teeth.

To remove the smell of the mouth, some of its fruits should be chewed.

To bring more perspiration, as in fever, its seeds are consumed.

Some of its seeds should be consumed when pitta becomes low.

Eating some of its seeds kills stomach worms.

Taking the juice of its leaves or decoction of the bark, drinking it, the contaminants of the body are removed from the body through sweat, which cleans the blood and provides benefits in skin diseases.

In case of fever, juice of its leaves should be drunk.

In the swelling of throat, its fresh leaves should be grinded, heated with rice flour and tied on the affected area.
Caution in use
Tumburu is warm by nature.

It should not be used during pregnancy.

It makes the bile more.

It can irritate the stomach.

Due to its use, the body gets increased dryness and heat.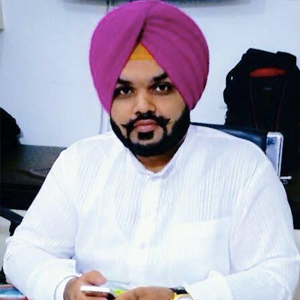 Vaidya Karanvir Singh is the younger Vaidya in Chandigarh Ayurved & Panchakarma Centre. He is the fourth generation in his family who is practicing as a general consultant in Ayurved & Panchakarma treatment at Chandigarh. In his practice, he had treated more than 1000 plus patients worldwide.
Article by Dr. Karanvir Singh (M.D in AYURVEDA, PANCHAKARMA FAGE) and reviewed by Vaidya Jagjit Singh (B.A.M.S)