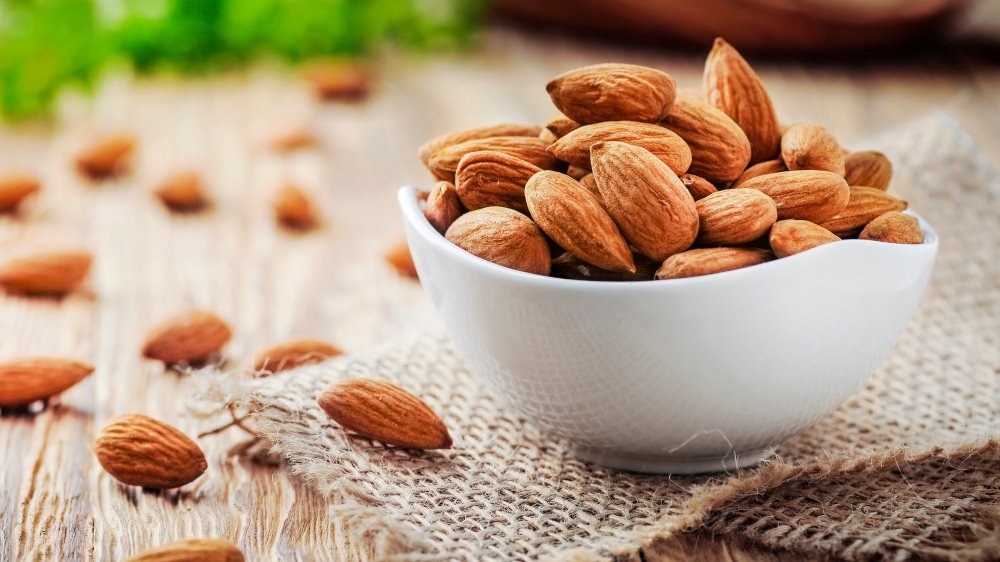 DESCRIPTION
Almonds are the most popular nuts. Almonds are famous for their versatility and health benefits. 

Almonds are good for heart health, diabetes, and weight management. 

Almonds are rich in plant-based protein, fiber, and monounsaturated fats, vitamin E, and magnesium help to make them a heart-healthy snack.
Nutrition facts
Almonds

Serving size: 28 g

Calories: 164

Total fat ————————14.2 g

Carbohydrate —————6.11 g

Fibers—————————3.54 g

Sugars————————–1.23 g

Calcium————————76.3 mg

Iron—————————–1.05 mg

Magnesium——————-76.5 g

Potassium———————208mg

Vitamin – E——————-7.27 

Riboflavin———————0.323mg 
BENEFITS
Almonds Reduce Cholesterol:
Consuming almonds increase the levels of Vitamin E in red blood cells and also reduces the risks of having cholesterol. 

By boosting the levels of vitamin E in your bloodstream antioxidants are formed that prevents cells from clogging developing cholesterol.  

Thus consuming a handful of almonds daily can generate more vitamin E into your bloodstream and save you from the risk of developing cholesterol.
Almonds are good for the Heart:
When almonds are consumed along with some other nuts, it is said that it is good for your heart.

Well, almonds are rich in antioxidants and helped to reduce blood pressure and improved the flow of blood to various parts of the body. 
Almonds Regulate Blood Sugar:
Almonds regulate blood sugar levels and stabilize them because almonds rich in magnesium, and magnesium intake may reduce a person's risk of developing type 2 diabetes.
Almonds have High Vitamin E:
Almonds contain higher levels of Vitamin E which is an antioxidant, protects cells from getting toxic. 

With higher amounts of vitamin E being pumped into your bloodstream, this reduces your risks of developing Alzheimer's disease cancer, and heart disease. 
Almonds Reduces Weight:
Almonds have higher contents of protein and fiber and lower levels of carbohydrates that control appetite and fulfill the stomach for a long time and help in reducing weight. 

Almonds reduce the number of calories on a daily basis. 
Almonds are good for the Eyes:
While carrots are said to be very good for your eyes, almonds have a high source of vitamin E that protects your eyes and prevents abnormal changes in the lens. 

Thus, consuming almonds will protect the eyes. Do not consume almonds in excess this can lead to weight gain.
Almonds have a Rich Source of Antioxidants:
Almonds have a rich source of antioxidants and protect against stress. 

Stress leads to molecule damage results in inflammation, cancer, and aging. 

The antioxidants present in almonds keeps skin healthy. 

Consuming 84 grams of almonds per day can increase the levels of antioxidants in your body that will protect the person from aging and various other diseases.
Almond Nourishes Skin:
Almonds contain flavonoids that also present in green tea and broccoli. 

This component nourishes the skin and has anti-aging properties for your skin.
Almonds Prevent Cancer:
Almonds contain certain amounts of fiber that help in detoxifying the body. 

Consuming almonds helps food to move through the digestive system easily. 

Almonds contain high-fiber content and reduce the risk of developing colon cancer. 

Almonds are also rich in vitamin E and flavonoids that regulate breast cancer.
Almonds Improve Your Brain Power:
L- carnitine, and riboflavin present in the almonds that help in the growth of brain cells. 

One major chemical that helps the brain in cognitive function. 

Consuming almonds every morning can help to boost your brainpower.
Almonds are best for Treating Anemia:
Anemia usually occurs when the red blood cells carry very less oxygen to the brain. 

Thus, almonds contain iron, copper, and vitamins that producing more hemoglobin in the bloodstream and prevent anemia.
Almonds are good for Your Nerves:
Almonds contain magnesium that is good for the nervous system, developing a healthy metabolic rate, and also helps in better bone tissue. 
Almonds Treat Acne and Blackheads:
Almonds help to prevent and fight acne, blackheads, and whiteheads through the fatty acids found in it. 

These fatty acids help to control the oil that clogged in the skin pores. Thus the almond oil help in reducing skin rashes.
Almonds Treat Stretch Marks:
Almond oil treating stretch marks by nourishing the skin and preventing skin tear. 

Heat the almond oil and apply it to the stretch marks and leave for an hour help to reduce stretch marks. 

Apply twice a day for better results.
Almonds Prevent Grey Hair:
Almond oil is very essential for treating hair problems like hair fall to preventing hair from turning grey, curing dandruff, and other types of hair problems. 

Almond oil gives a silky and shiny texture of hairs.
Almonds Help in Hair Growth:
Lack of magnesium in the body leads to loss of hair. 

Almonds contain high amounts of magnesium help in fast hair growth and develop a strong stand. 
Almonds are Natural Anesthetics:
Almond oil has a toxic compound called glycoside amygdalin that makes nerves insensitive and may feel numb once this is applied. 

Bitter almond oil has an aesthetic effect.
Almonds Increase Mental Alertness:
Almonds and milk combination are rich in potassium. 

This is one of the main minerals that boost the number of electrolytes in your body, thus providing more energy. 

When there is a boost in electrolytes, memory flow also increases and this can happen by consuming almond milk. 

In general almond milk makes memory sharper.
Almonds Prevent Birth Defects:
Almonds contain folic acids that protect the mother from any birth defects. 

Folic acid plays important role in the development of healthy cell growth and also helps in the life cycle of a growing fetus. 

Pregnant women who add almonds to their diet can protect their baby from developing any sort of birth defects.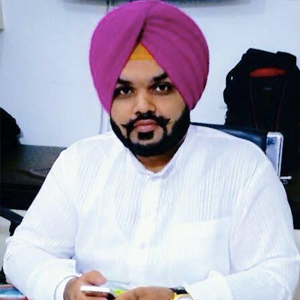 Vaidya Karanvir Singh is the younger Vaidya in Chandigarh Ayurved & Panchakarma Centre. He is the fourth generation in his family who is practicing as a general consultant in Ayurved & Panchakarma treatment at Chandigarh. In his practice, he had treated more than 1000 plus patients worldwide.
Article by Dr. Karanvir Singh (M.D in AYURVEDA, PANCHAKARMA FAGE) and reviewed by Vaidya Jagjit Singh (B.A.M.S)