Aloe Vera (Ghritkumari) – Benefits, Medicinal Usage and Properties
INTRODUCTION
Aloe Vera (Ghritkumari) is found all over India. Generally, it is grown in pots in houses.
APPEARANCE
The plant does not contain a stem. Thick, muscular leaves grow directly from root from all sides. Leaves are 2-4 ft long and 3 inch wide. The margins have small thorns which gives it a look of a chisel. From the center of the leaves grows a long flower pod in which grow red flowers. Plant bears flowers in winter season.
CHEMICAL COMPOSITION
Its extract contains glucosides. The main component alone is light yellow coloured glucoside, called barbiloine. In addition, it contains a resin and fragrant oil.
PROPERTIES
It is heavy in digestion, unctuous, sticky, pungent, cooling and bitter. It is dry, sour and warm. It is purgative, and beneficial for eyes, is a rejuvenator, and sweet. Its promotes physical strength, improves potency and cures vata, poisonous flatulence, liver disorders, spleen disorders, semen production, cough, fever and cyst. It is beneficial in curing burns. It cures pitta, blood disorders and skin disorders.
MEDICINAL USAGE & BENEFITS
Take pulp of Indian aloe and add little amount of powder of darubaldi on it. Heat the pulp slightly and apply on the painful area. It cures vata and kapha related headache.
Take the pulp of Red Indian aloe (plant which bears orange or red coloured flowers). Dilute it in spirit and apply the paste on hair. It turns the hair black. When applied on bald head, it promotes hair growth.
Apply the pulp of Indian aloe on eyes. It cures the redness of eyes and reduces the heat of eyes. It is also beneficial in viral conjunctivitis.
Take its 2 gm pulp and add 380 mg poppy in it. Tie this mixture in a piece of clout. Dip this cloth in water and apply the cloth on the eyes. Aloe put 2-3 drops of this mixture in the eyes. It cures pain in eyes.
Mix a little amount of turmeric in its pulp and warm it slightly. Tie this mixture on the eyes. It cures pain in eyes.
Otalgia:-
In case of pain in one ear, put 3 drops of warm juice of Indian aloe in the opposite ear. It cures the ear pain.
Ear Worms:-
In case of worms in ears due to excessive heart, grind Indian aloe in water and put 3 drops each in the ears. It kills the worms in ears.
Bronchitis:-

Prepare ash (bhasma) of its pulp and saindhava and evening to the patient. It cures bronchitis and severe bronchitis and also cure bronchitis due to kaphaja.
Take 5 gm of its pulp, 7 gm cow ghee, 2 gm Haritaki powder and 2 gm rock salt. Mix them all and give this to the patient every morning and evening. It cures flatulence.
Gastric Tumor:-
Tie its pulp on the stomach. It dissolves the stomach tumour. It softens the hard cures
Stomach Pain:-
Grind 15-20 gm of Indian aloe root and then boil it. Strain the solution, sprinkle a little amount of roasted asfoetida on it and give this to the patient. It cures stomach pain.
Bleeding Piles:-
Mix 60 gm pulp of Indian aloe with 3 gm grinded geru. Prepare its cake. Place it on a piece of cotton and them place the cotton on the anus region and then tie it with cloth. It cures the pain and burning sensation in the boils. The boils shrink and get cured. This treatment is useful in bleeding piles also.
Give 20-30 ml juice of Indian aloe,3-5 times a day. It cures disorders of pitta. It cures yellowness of eyes and also cures constipation. Its juice can be given to the patient as nasya to inhale through nose and cures nasal disorders.
Give 4-7 gm of its juice with butter milk. It cures spleen and liver enlargement, flatulence pain and also cures any disorders of digestive system. Take off the pulp from its leaves and fill the peel of leaves in an earthen pot and add a little amount of salt in it. Close the mouth of the pot and cook it on fire. When the internal material burns completely and turns black, grind it into a fine powder and store it in a bottle. This powder is used as medicine.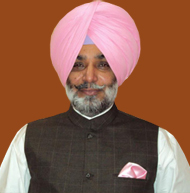 Vaidya Jagjit Singh is a 3rd generation Ayurved physician from his family and is the remarkable person responsible for setting up of the Chandigarh Ayurved and Panchkarma Centre in sector 32 and 22, Chandigarh and Zirakpur and he is also the first founder member of Guru Ravidas Ayurved University. He has done his B.A.M.S. from Shri Dhanwantri Ayurvedic College, Chandigarh. He is an admirable ayurvedic physician with specialization in Chronic ailments.
Article by Dr. Karanvir Singh (M.D in AYURVEDA, PANCHAKARMA FAGE) and reviewed by Vaidya Jagjit Singh (B.A.M.S)