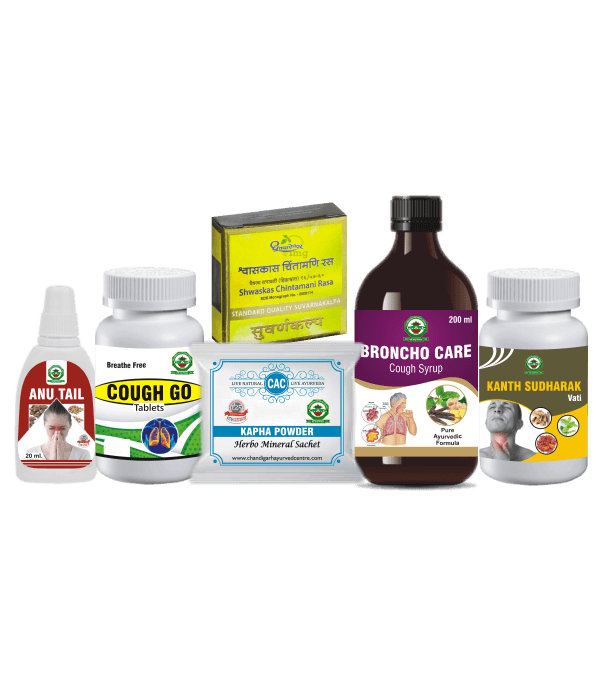 ASTHMA KIT- A GOOD COMBINATION OF HERB WHICH HEALS NATURALLY
DO YOU HAVE THESE SYMPTOMS?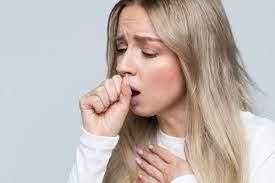 COUGH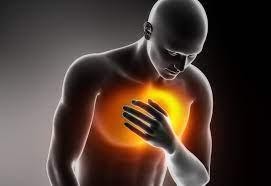 CHEST PAIN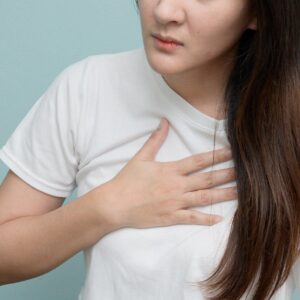 TIGHTNESS IN CHEST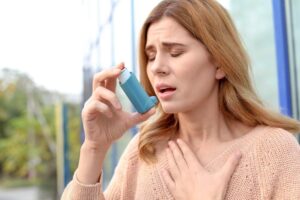 WHEEZING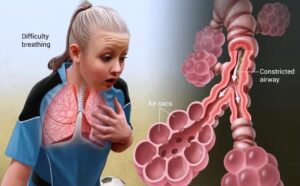 SHORTNESS OF BREATH
"DON'T IGNORE THESE SYMPTOMS GET TREATED ON THE RIGHT TIME IN A NATURAL WAY"…
CAC SPECIAL ASTHMA KIT consists of the following medication which shows positive result in the patients of Asthma and heals in a natural way.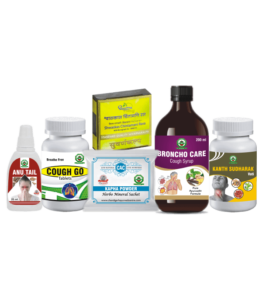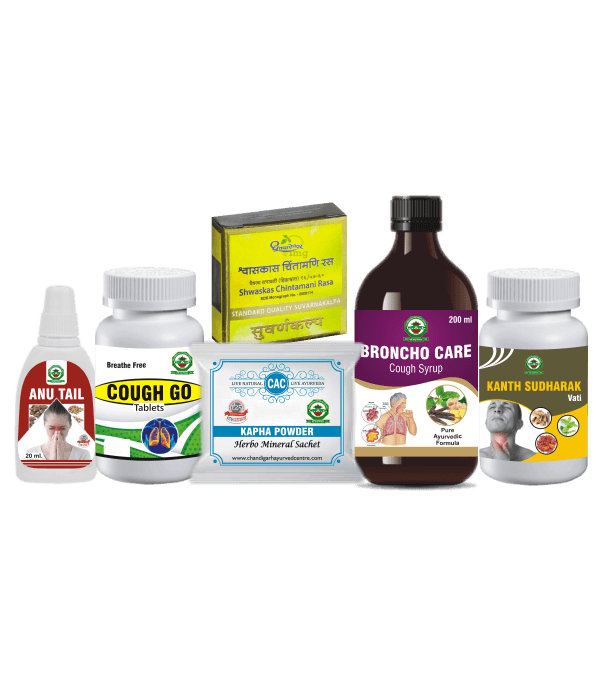 ASTHMA GO KIT
LIST OF MEDICATION
| | | |
| --- | --- | --- |
| S.NO. | MEDICINES | DOSAGE |
| 1. | ANU TAIL | *2-3 drops per nostril |
| 2. | COUGH GO | *1tablet twice daily |
| 3. | SHWASAKAS CHINTAMANI RASA | *1tablet twice daily |
| 4. | KAPHA POWDER | *1Sachet twice daily |
| 5. | BRONCHO CARE | *2 teaspoonful twice a day |
| 6. | KANTH SUDHARAK | *1 tablet two times a day  |
*It is advised to take these medications after consultation with the doctor. The dosage may differ as per the condition of the person. 
DETAILED DESCRIPTION OF THE MEDICATION
ANU TAILA-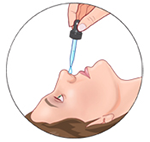 It is herbal oil used for curing various diseases.
Mode of Administration- It is administrated through the nasal pathway, it lubricate, protect and calm the mind.
Ingredients – 
Sesame oil

Jivanti

Devdaru

Shweta chandan

Cinnamon stem bark

Vidanga etc.
Benefits- 
Urdhvajatrugata Vikara-

It is beneficial in diseases of head, brain, face, nose, and eyes.

Anu tailam provides natural mask against dust, germs and pollens 

Congestion is the major issue associated with Asthma, the essential herbs present in it helps to decongest.

It is useful in chronic headache, problems of migraine, sinusitis, improves the voice, and vocal cords.
COUGH GO TABLET-
Ingredients-
CAC Cough Go Tablets contains the following-
Sonth (Zingiber officinale)

Kali mirch (Piper nigrum)

Mulethi (Glycyrrhiza glabra)

Pippali (Piper longum) etc.
Benefits-
It is useful in

Cough and cold, Bronchitis, Respiratory disorders and Asthma. 

It possesses antioxidant, anti-inflammatory, bronchodilator and expectorant properties.
SWASAKASA CHINTAMANI RASA-
It is a Herbo-mineral formula in the form of tablet useful in the treatment of various respiratory disorders. 
Ingredients- 
Swarna bhasma

Shuddha parad

Shuddha gandhak

Swarnamakshika bhasma

Abhraka bhasma

Loha bhasma

Yashtimadhu

Kantakari etc. 
Benefits-
It is useful in the treatment of cough, cold, bronchitis, asthma, allergic rhinitis, Bronchitis etc.

It acts on the respiratory system and removes excess amount of Kapha Dosha and make a balance of the three Doshas.

One should consume it under medical supervision. 
KAPHA POWDER-
It is a Herbo- mineral Sachet which is specially designed for healing Asthma in a natural way.
It pacifies the three Doshas especially balances the vata and kapha dosha. 
Ingredients-
Sitopladi churna

Abhrak bhasma

Laxmi vilas ras

Godanti bhasma, etc. 
Benefits-
It is beneficial in chronic cough, whooping cough and also helpful in difficulty in breathing.

It helps to relieve congestion of chest, sore throat. 

The herbs present in it helps to loosen the mucus accumulated in the chest thus making it easy to cough it out. 

Its main therapeutic effect is seen in lungs, pleura, and airways.
BRONCHO CARE SYRUP- 
Ingredients-
Vasa patra (Adhatoda vasica)

Kantkari (Solanum surattense)

Mulethi (Glycyrrhiza glabra)

Bharangi (Clerodendrum serratum)

Chitrakmool (Plumbago zeylanica)

Sonth (Zingiber officinale)

Pippali (Piper longum), etc. 
Benefits-
It is mainly used in chronic cough, bronchitis, whooping cough, common cold etc. 
KANTH SUDHARAK VATI-
Ingredients-
Mulethi (Glycyrrhiza glabra)

Karpura (Cinnamomum camphora)

Ela (Elettaria cardamomum)

Lavang (Syzygium aromaticum)

Javitri (Myristica fragrans)

Ajwain (Trachyspermum ammi)
Benefits-
This herbal tablet is prepared from soothing and expectorant herbs which helps to get relief from all throat problems. 

It gives very effective results in chronic laryngitis, bronchitis and asthma. 
HOW THIS MEDICINES WORK?
Works on the root cause

Ayurveda works on the root cause of the disease. Firstly helps to detoxify the body, by this act of detoxification the medicine work better and there is good absorption at the affected site.

On the other side Modern medication that jumps straight to the symptoms and work only symptomatically.

These medicines balance the three Doshas and act on the Prana vaha srotas or the vital channel of the body.
It is not just the medicine

It is more than just medicine as it benefits our overall health and enhances quality of life. Ayurveda also focuses in our diet and lifestyle.

It is 100% natural and has no side effects and safe to use.

 
"So heal yourself in natural way through Ayurveda"
Reduces Other Health risks in Future

It effectively reduces the risk of severe health complications arising out of untreated underlying cause as Ayurveda cures the root cause of the problem. 

After opting Ayurveda treatment you have a reduce risk of health complications later.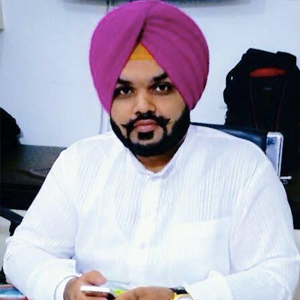 Vaidya Karanvir Singh is the younger Vaidya in Chandigarh Ayurved & Panchakarma Centre. He is the fourth generation in his family who is practicing as a general consultant in Ayurved & Panchakarma treatment at Chandigarh. In his practice, he had treated more than 1000 plus patients worldwide.
Article by Dr. Karanvir Singh (M.D in AYURVEDA, PANCHAKARMA FAGE) and reviewed by Vaidya Jagjit Singh (B.A.M.S)