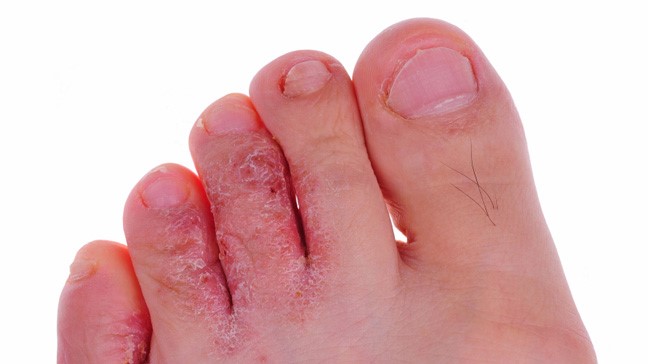 Athlete's foot – It is also called tinea pedis is a fungal infection and this usually begins between the toes. It affects the superficial layer of the skin of foot
It is common in the people with excessive sweaty feet and wearing tight fitting shoes.
Signs and symptoms includes a scaly rash with Itching, Stinging or Burning, cracked tender skin.
It is highly contagious in nature i.e. it can spread via contaminated floors, towels or clothing.
It is closely related to other fungal infections like ringworm and jock itch.
It can be treated with over-the-counter antifungal medications, but there is chance of reoccurrence.
Causes
1.Caused by fungus similar to ringworm and jock itch.
2.Warm humid conditions, Damp socks and shoes and favor the growth of the organism.
3.It is highly contagious i.e. spread by contact with an infected person or from contact with surfaces that are contaminated like towels, floors and shoes.
Symptoms
The following symptoms are
1.Itching
2.Redness
3.Scaling
4.Cracks & fissures
5.Thickened skin
6.Blisters
7.Tenderness
Subtype Specific Symptoms:
The clinical manifestations of tinea pedis vary based on the subtype:
1.Interdigital tinea pedis produces itchy and red erosions, fissures or scales between the toes. The most affected part is the third and fourth interdigital spaces.
2.Hyperkeratotic tinea pedis presents as redness and a diffuse eruption of thickened skin affecting the medial & lateral surfaces and the soles of the feet.
3.Vesiculobullous tinea pedis presents as an inflammatory vesicular or bullous eruption which is often itchy and sometimes painful. The medial foot is usually affected.
4.Ulcerative tinea pedis manifests as interdigital erosions and ulcers. This generally occurs due to a secondary bacterial infection and this is very rare.
Duration
This condition generally resolves after 2-4 weeks of treatment. In individuals with a weakened immune system or medical conditions such as diabetes, tinea pedis will take longer to resolve.
Risk factors
The following are the risk factors of Athletic foot-
1.Gender- Men are on the risk more than women.
2.Damp socks or tightfitting shoes
3.Sharing of foot mats, rugs, bed sheets, clothes or shoes with the person affected with fungal infection.
4.Barefoot walk in public areas where the infection can spread like room surfaces, sauna bath, swimming pools, baths and showers in hotel or hostels.
Complications
This infection can spread to other parts of your body like-
Hand- The people who scratch or pick at the infected parts of their feet may transfer a similar infection to their hands.
Nails- this fungi can also infect your toenails, a location that tends to be more resistant to treatment.
Groin- The fungus that results in athlete's foot is also often associated with Jock itch. The infection can spread from the feet to the groin as the fungus can travel on your hands or from a towel.
How to Cure Athlete's Foot
There are several ways you can treat and cure athlete's foot. If your case is not so severe, you can try some over-the-counter medications or even some at-home remedies. However, if your case of tenia pedis is too severe, you may have to seek out a medical professional for proper help on curing your athlete's foot.
Treatments
The goal of treatment is to treat the route cause, control and alleviate symptoms, decrease the risk of a secondary bacterial infection, and limit the spread.
CAC SPECIAL MEDICATION FOR ATHLETE FOOT
Description
1.Detox Premium Powder:
Detox premium powder is a very effective ayurvedic medicine to cure blemishes as it purifies the whole body by removing excess toxins from the body. The powder is composed of shukta pishti, giloy satv, gandhak rasayan, moti pishti, akik pishti, shankh bhasma, etc. The ingredient reduces all the signs and symptoms associated with the blemishes.
Recommended Dosage – Take 1 sachet twice daily with normal water.
2.Twak Churana:
This herbal powder is prepared from two herbs Manjistha (Rubia cordifolia) & Chopchini (Smilax malabarica) that in combination reduces uneven pigmentation. Manjishtha mainly helps in deep detoxification and blood purification. It can also be used for hand lotion to treat dry, cracked hands, or feet. This herbal powder is good for dry skin, rashes, acne. It has been used in psoriasis. Skin Glow powder removes toxins and impurities of blood. This powder helps to rejuvenate and promote the longevity. It helps to open the blocked sweat pores. This powder is used in infectious conditions like, eczema, pimples, and chronic skin disorders.
Recommended Dosage– Take 1 teaspoonful twice a day with normal water.
3.Twak Tailam:
Twak tailam is very effective for the skin as it deeply nourishes the tissues and improves the skin luster. The tailam is composed of yashtimadhu (Glycyrrhiza glabra), manjistha (Rubia cordifolia), etc. The tailam supports skin health, helps in reducing uneven pigments, improves complexion, and helps in deep detoxification and blood purification without any side effects.
Method of Application – Apply over the affected area of the skin.
4.Skin care tablet:
Skin care tablet is a pure ayurvedic formulation. It help to maintain the texture of your skin depending on the type of skin you have. It contains various herbs like Haridra khand, Panchnimb churna, Khadir chahal, Chirayta, Mulethi, Chopchini, Gandhak, Ajmoda that work very effectively on all skin types. Skin care is a blood purifying tablet. It cools and detoxifies the blood, increase blood circulation of the skin. It minimizes the blemishes, lighten sun tan, delay ageing of skin and heal skin problems.
Recommended Dosage – Take 1 tablet twice daily.
5.Itch Care Tablet:
It is pure herbal combination which is purely natural. Skin primarily protect our body from toxins present in environment. Itching is related to various skin problems like dermatitis or irritates such as nickel in jewelry, infected cut. Chronic skin condition like psoriasis, acne and due to internal conditions like blood, lungs, and liver. Mainly toxins in skin arises due to excess rakta dhatu and rasa or plasma nourishes the skin.
Recommended Dosage – Take 1 tablet twice daily.
6.Handmade Neem Soap:
NEEM capsules 100% Safe and purely Ayurvedic preparation. CAC NEEM CAPSULES is natural and herbal product prepared from the standard extract of herb Neem (Azadirachta indica). Neem herb is widely used to cure acute to chronic Skin problems such as Pimples, Itching, Dryness, Blemishes, Dark spots, Pigmentation, Scars etc. Neem leaves are rich in Vitamin-E, Fatty acids & emollients. It is such a wonderful herb that is easily available and shows Anti-bacterial, Anti-inflammatory, Antioxidant, Anti-microbial, Antifungal, Antiseptic properties. Neem cleanses the pores and protects the skin from various infections, Psoriasis, Eczema, Leprosy, Skin ulcers.
Dosage: 1 cap twice daily after meal with plain water
Prevention
The following tips can help you to in preventing athlete's foot or may ease the symptoms if you got infected-
1.Try to keep your feet dry especially between your toes. When you are at home let your feet air out as much as possible.
2.Change your socks regularly and at least twice a day if your feet get very sweaty.
3.Try out light, well-ventilated shoes. The shoes of synthetic material like vinyl or rubber should be avoided.
4.Wear different pair of shoes each day, don't repeat the same pair every day so that you give your other shoes time to dry after each use.
5.Wear waterproof sandals or shoes around public places like pools, showers and lockers rooms etc.
6.Take out time for your feet care, use powder like antifungal powder.
7.Apply coconut oil and massage daily before the bed time to avoid dryness of feet.
8.Sharing of shoes should be avoided as to decrease the risks spreading a fungal infection.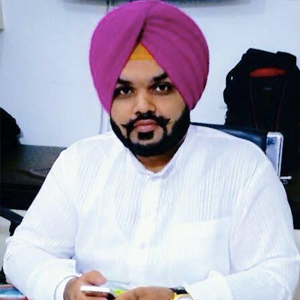 Vaidya Karanvir Singh is the younger Vaidya in Chandigarh Ayurved & Panchakarma Centre. He is the fourth generation in his family who is practicing as a general consultant in Ayurved & Panchakarma treatment at Chandigarh. In his practice, he had treated more than 1000 plus patients worldwide.
Article by Dr. Karanvir Singh (M.D in AYURVEDA, PANCHAKARMA FAGE) and reviewed by Vaidya Jagjit Singh (B.A.M.S)