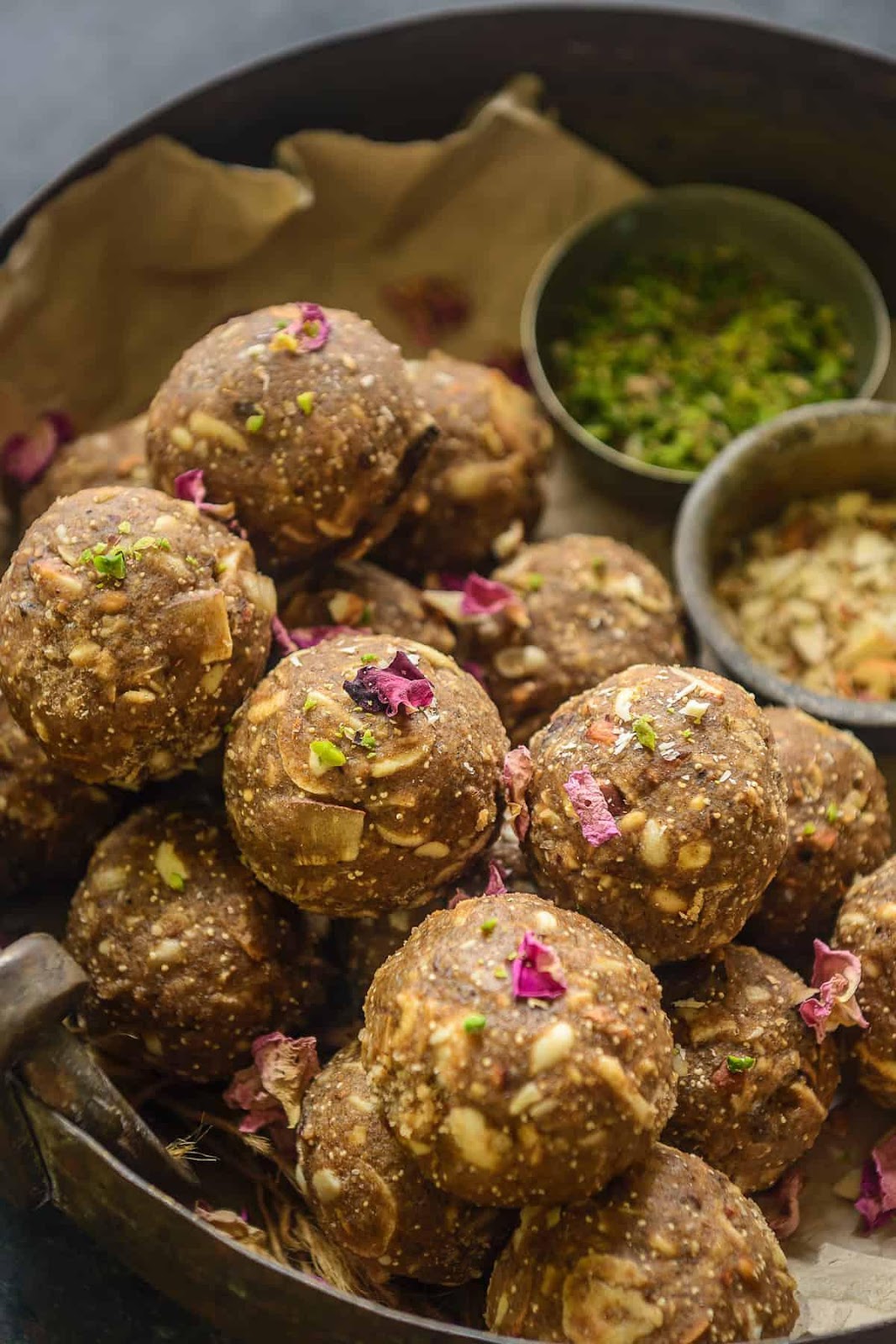 Ayurveda is a science of life and the ancient text keep the diet first priority. It also tell us some recipe blend in the form of Ladoos. 
The ladoos are the delicious mouthwatering dish ladoos are not only tasty but are very healthy especially for the new mother recovering after child birth and also for the new born.
All the ingredients that go in making these ladoos benefit the new mom from recovering from child birth. This helps in increasing not only the milk production but also the quality of milk. It provides benefits for overall health of an individual.
INGREDIENTS
S.NO.
Ingredients
Quantity 
Benefits
1.

Musali 

50 grams 

Increases lactation

2.

Ghondh/ Edible gum 

200 grams 

Benefits in gaining the strength of the body and helps the new mother to cope with the challenges of motherhood

3.

Pippali mool/Long pepper root 

50 grams

Increases lactation

4.

Pipali 

25 grams 

Purification of blood and increases appetite

5.

Kamarkas/ Sage Herb

50 grams 

fortifies the back

6.

Gur/ Jaggery 

500 grams

rich in iron and foliate which help prevent anemia.

7.

Whole wheat flour

1 Kg

8.

Almond

100gms

Good for brain health and strength

9.

Walnuts 

100gms

Good for brain health

10.

Cashews

100gms

Highly fibrous and good for heart health

11.

Alsi/Flax Seeds

100gms

Helpful in various diseases also helps in weight management

12.

Pista

100 grams

high in fibre, vitamin C, rich in antioxidants, omega 3, omega 6 essential fatty acids
13.

Handful of char magaz

mixture of dried pumpkin, melon and watermelon seeds grinded slightly

Pack of great antioxidants

Good for overall health and immunity.

14.

Ashwagandha

50grams

stimulates milk production, eases stress and rebuilds physical strength and vitality

15.

Sonth/Dry ginger

50 grams

Ss Good for bone Strength

16.

KhusKhus seeds

100 grams

Increases lactation and a good source of Omega-6 fatty acids, protein and dietary fibers. They also contain various phytochemicals , Vitamin B, Thiamin, Calcium and Manganese

17.

Grated coconut

200gms

Good for heart health, weight loss, and digestion

.

18.

Ghee

500 to 750gms

Good for gut health 

29.

CA

Cardamom or Elachi

6 to 7 pieces

Full of antioxidants and may protect from chronic diseases.
INSTRUCTIONS
Use Goond pieces of appropriate size, neither too large and break them into small pieces. Take a pan pour some Ghee and heat it. Then put little amounts of Goond at a time to the Ghee and it will puff up like popcorn, then fry it a low flame.

Fry the filtered flour it in the leftover Ghee till it turns pinkish, then take it out in a vessel.

Take a frying pan and dry roast the remaining items/herbs (Musali, Pippali mool, Pipali, Sonth, Kamarkas, Ashwagandha, KhusKhus seeds, Flax seeds) except the dry fruits and Mellon seeds. The roasting should be done on a medium flame for 5-1

Now crush/grind each one the roasted herb (Musali, Pippali mool, Pipali, Sonth, Kamarkas, Ashwagandha) except khuskhus seeds and flax seeds in a gringer to make a fine paste.

Cut the dry fruits almonds, pista, walnut and cashews into small pieces.Also Peel and crush Elaichi.

Take the jiggery or guda and break it into small pieces with your hand you can also crush it so that it can be mixed with the flour easily.

Mix well all the ingredients- the roasted wheat flour, gur, all the grinded herbs, Ghondh, flax seeds, melon seeds, khuskhus seeds, grated coconut, all the dry fruits, elachi powder and ghee. You can Mix more amount of ghee if the mixture is too dry. 

Take little amount of mixture in your hand at a time; roll it in round shape.

This is for 5servings and you can store these Ladoos for a month.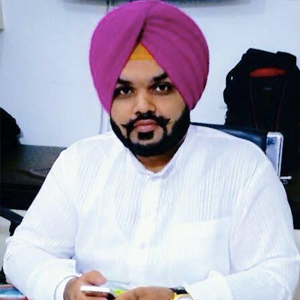 Vaidya Karanvir Singh is the younger Vaidya in Chandigarh Ayurved & Panchakarma Centre. He is the fourth generation in his family who is practicing as a general consultant in Ayurved & Panchakarma treatment at Chandigarh. In his practice, he had treated more than 1000 plus patients worldwide.
Article by Dr. Karanvir Singh (M.D in AYURVEDA, PANCHAKARMA FAGE) and reviewed by Vaidya Jagjit Singh (B.A.M.S)