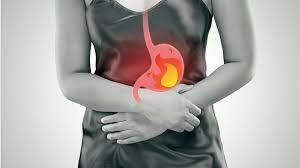 AYURVEDIC MEDICINE FOR ACID REFLUX TREATMENT
WHAT DOES HYPERACIDITY MEAN
Hyperacidity is a medical condition in which the amount of acid in the gastric juices is excessive or stomach secrets lots of acid, causing discomfort.
It is also known as "Acid Dyspepsia".
Everyone has specific triggers.
Common triggers such as tomato sauce, fatty or fried foods, alcohol, chocolate, mint, garlic, onion, and caffeine may make hyperacidity worse.
Hyperacidity often occurs after consuming spicy and processed foods.
If this problem is affecting a person for a long time, then the diagnosis and treatment should be done by contacting the doctor.
ACIDITY CAUSES HIGH BLOOD PRESSURE
Many factors are involved in the development of high blood pressure, but acidity has an increased risk of hypertension. It can trigger elevations in blood pressure (BP), especially at night.
HOW DOES ACID FEEL LIKE
Hyperacidity can develop in people of all ages. The stomach acid helps the break down and digest food items. Sometimes, a higher than normal levels of stomach acid can be produced. This can lead to symptoms such as nausea, bloating, abdominal pain, heartburn. It can cause problems swallowing, chest pain, and feeling of a lump in the throat, regurgitating food or liquids, and vomiting.
WHAT DOES BEING ON ACID FEEL LIKE
There is no single description of how an acid feels. However, experts know that the effects of acid reflux can cause some or all of the following:
Sore throat
Burping
Bloating– excessive gas formation
Hiccups that don't let up
Regurgitation: a sour or bitter-tasting acid backing up into the mouth or throat.
Nausea or bloody vomiting
Feeling of food being stuck in the throat (dysphagia)
Heartburn: a burning pain or discomfort that may move from the stomach to the chest, abdomen or even up into the throat
DOES ACID REFLUX CAUSE CONSTIPATION
Acid reflux is one of the most common problem of the gastrointestinal system. Acid reflux is also known as indigestion of acid. Its common symptoms are burning sensation, acidic burping, nausea, bloating and hiccups. If this problem is affecting a person for a long time, then can develop constipation.
Read Also: How To Treat Acid Reflux Disease Naturally?
WHAT IS ACID LIKE
Gastric acid or Stomach acid, is a watery, colorless fluid that's produced by the stomach's lining. It's highly acidic and helps break down food for easier digestion. This helps the body absorb nutrients more easily as food moves through the gastrointestinal tract. The normal levels of stomach acid doesn't cause any illness or health complications but low or high levels of stomach acid can be problematic.
Which Ayurvedic Medicine Is Best For Acid Reflux?
CAC provides the best ayurvedic medicine for acid reflux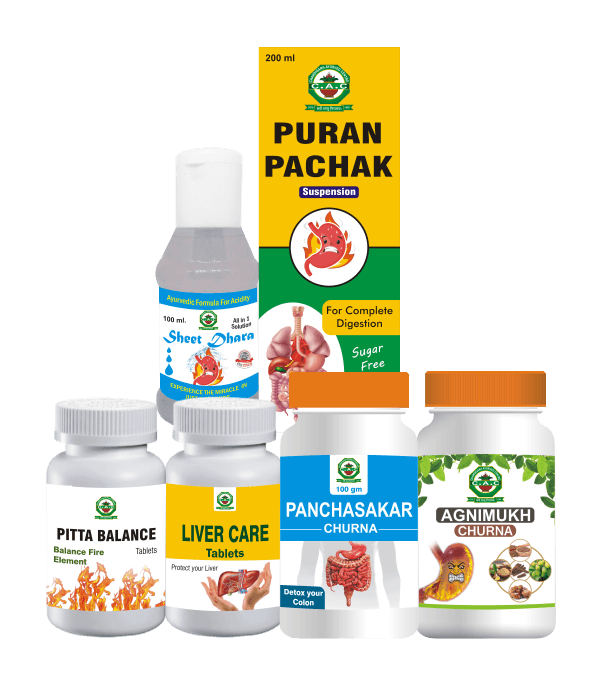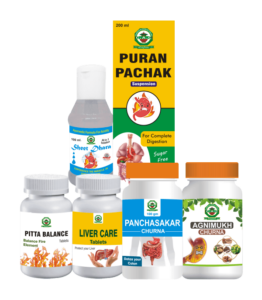 We at Chandigarh Ayurved and panchakarma Centre give you the best herbal remedies and ayurvedic medicines such as the "Acidity Care Kit" for natural and ayurvedic treatment of Acid Reflux. These remedies cure the disease of its root with no other complication on your body.
"Opt for Natural and safe Ayurvedic products for Acid Reflux" 
AGNIMUKHA CHURNA
This herbal churna is prepared from ingredients like Vacha (Acorus calamus), Pippali (Piper longum), Sonth (Zingiber officinale), Ajwain (Trachyspermum ammi), Haritaki (Terminalia chebula), etc that balances vata & kapha doshas in the body. It gives effective results in indigestion, anorexia, abdominal pain, constipation, loss of appetite, flatulence, bloating, intestinal gas, intestinal gas, etc.
Recommended Dosage: Take a half teaspoon of this churna twice daily with normal water.
PITTA BALANCE TABLET
Pitta doshas is responsible for digestion, metabolism, blood quality, thirst, appetite, eyesight, skin color and quality, body temperature, and mental abilities of intelligence and courage. Pitta doshas is composed of a fire element that digests almost everything that a person eats or drink. The eaten food is transformed into energy for the body to use in various functions of the body.
Recommended Dosage: Take 1 tablet twice daily with normal water.
PURAN PACHAK SYRUP
Puran Pachak is a herbo-mineral Syrup of 200 ml and is Purely Ayurvedic formulation. CAC Puran Pachak syrup helps in Digestion, Supports the Digestive system, and maintains the doshas in our body. It also helps to remove out impurities or ama from the body. This syrup reduce the Acidity, Detoxify the blood and also supports the body health. It shows Antacid, Digestive, Anti-inflammatory, Analgesic, Expectorant, and Antioxidant properties. This syrup is made up of pure ayurvedic herbs such as Mulethi, Saunf, Vasakha, Ajwayan, Prpati etc. that helps to maintain the Digestive system and in the body.
Recommended Dosage: Take 2 teaspoonful twice daily.
Read Also: Gastro-Esophageal Reflux Disorder
SHEET DHARA SYRUP
This herbal syrup is prepared from ingredients such as ajwain satav, mushak kapoor, peppermint, etc that naturally relieve the symptoms like bloating, blenching, nausea, vomiting, feeling of discomfort, etc. The regular use of this herbal syrup neutralizes the high acid content, reduces abdominal pain, & cramps.
Recommended dosage: Take half teaspoonful of this syrup in half a cup of water. Drink this mixture twice daily on an empty stomach.
PANCHSAKAR CHURNA:
This is a classical herbal churna prepared from ingredients such as Saindhavan Lavana (Rock Salt), Swarnapatri (Cassia angustifolia), Shatapushpa (Anethum sowa), Shunti (Zingiber officinale), Balaharitaki (Terminalia chebula). These all in combination deal with problems like loss of appetite, abdominal pain, bloating, flatulence, constipation, weak digestion, etc.
Recommended Dosage: Take a half teaspoon of this churna twice daily with normal water.
LIVER CARE TABLET
These tablet are 100% safe and purely ayurvedic formulation. It maintains the proper functioning of the liver and stimulate the growth of new liver cells. Liver Care Tablets contains Ingredients like Kalmegh (Andrographis paniculata), Kutaki (Picrorhiza kurroa), Bhumi amla( phyllanthus niruri), Giloy(Tinopora Cordifolia), Yavakshar( Hordeum vulgare), Imli Kshar( Tamarindus indica), Mukta Shukta pisti etc. These herbs balances excess Pitta Dosha and helps in problems like abdominal bloating,flatulence, abdominal pain, loss of appetite and indigestion.
Recommended Dosage: Take 1 tablet twice daily with normal water.
Does Ayurveda Help With Acid Reflux?
Yes, Acid Reflux can be treated with help of Ayurveda. Ayurveda identifies Acid reflux disease as Amlapitta. Ayurveda treatments aim is balancing the Pitta dosha that is responsible for acid reflux. The Dosha can be treated with systemic use of medicines combined with healthy Diet and Lifestyle. Panchakarma procedures such as Takra Vasti, Kashaya Vasti has tremendous results in acid reflux disease.
Diet & Lifestyle Advice:
In case of belching and acid reflux fasting or upvasa is very beneficial.
Avoid tea, coffee, and carbonated or alcoholic beverages.
Limit processed and spicy foods.
Avoid too much Snacking
Eat only when hungry.
Incorporate any kind of physical activity and exercise.
Eating meals in small proportions can help you.
Sipping warm water during a meal will help in digestion and absorption of food
Keep your head elevated with pillows while sleeping
Consume cumin or ginger herbal tea at least once a day.
Very cold drinks such as iced drinks should be avoided.
Avoid taking food items that are hot in nature.
Limit using spices such as garlic, onions, ginger, tomatoes, and vinegar in cooking.
Sour, salty, and spicy foods should be avoided
Curd should be strictly avoided.
Using some herbs and spices in the diets such as cumin, basil leaves, fennel seeds, turmeric, coriander, carom seeds, and hing (asafetida) can reduce acid reflux.
Yoga practice-
Vajrasana
Bhujangasana
Salabhasana
Bhastrika Pranayama
Shitali Pranayama
Shitkari Pranayama
How Do You Permanently Treat Acid Reflux?
Acid reflux problem can be treated with ayurvedic medicine and therapies. Best is to treat acid reflux with complete and proper herbal supplements to avoid any side effects. As per Ayurveda its lifestyle disease so along with ayurvedic treatment you also need to follow diet and healthy lifestyle. Consuming multiple allopath medicines will harm internal mucosa of stomach and intestines. And its temporary effective. So switch to ayurvedic, Ayurveda gives you a permanent cure for it.
Ayurveda treatment focuses on calming down the irritated Pitta Dosha lead to acid reflux. For this, certain ayurvedic herbs are used to get rid of the toxins that block these channels.
Amla (Emblica officinalis)
Elevated pitta is responsible for acid reflux. This natural herb helps in reducing pitta. It can be eaten raw or taken in the form of juice.
Mulethi (glycyrrhiza glabra)
Take half a spoon of mulethi root powder and add little honey to form a paste. Lick to consume this paste twice daily after meals. This paste neutralizes the acids quickly to give relief.
Cumin seeds (Cuminum cyminum) 
Consuming cumin seeds powder with water instead of normal water is quite an effective remedy for acid reflux.
saunf (Foeniculum vulgare)
Also known as aniseed, for quick relief from acidity you can chew them raw and slowly swallow with water.
 Mint leaves (Mentha piperita)
Mint leaves lower acid formation and cools the burning sensation in the stomach due to its cooling properties.
Cardamom (Elettaria cardamomum)
Elaichi is a multi-purpose remedy. It decrease stomach spasms, stimulates digestion and prevents excessive acid production.
Ginger (Zingiber officinale)
It also protects the stomach from ulcers by boosting mucus secretion, which reduces the damage to the stomach lining caused by acid reflux.
Banana (Musa acuminate)
Ripe bananas contains potassium that helps in reducing acid reflux.
This ayurvedic remedy for acid reflux, you can try for the boiled ash gourd with jaggery. This relieves the burning sensation in the stomach to a considerable extent.
Cold milk
Cold milk provides instant relief from the burning sensation owing to its coldness.
Buttermilk
Mix a pinch of each asafetida and turmeric in half a glass of buttermilk and consume it.
Tulsi (Ocimum sanctum)
How Do You Neutralize Acid Reflux Naturally?
People with acid reflux often reach for over-the-counter medications (anta acids) that neutralize stomach acid reflux. But consuming certain foods provide relief from symptom and can also Neutralize Acid Reflux naturally.
Whole grains such as oatmeal, couscous and brown rice.
Root vegetables such as sweet potatoes, carrots and beets.
Green vegetables like broccoli, asparagus and green beans.
To neutralize acid reflux naturally put a small amount of Apple cider vinegar in Luke warm water and consume it with meals.
Alkaline foods such as Bananas, Melons, Cauliflower, Fennel and Nuts helps neutralize acid reflux naturally.
Watery foods like Celery, Cucumber, Lettuce, Watermelon, Broth-based soups, Herbal tea that contain a lot of water can dilute and weaken stomach acid.
Milk provide immediate relief of acid reflux symptoms due to its soothing qualities.
Ginger- This herb is a great digestive aids due to its alkaline nature and anti-inflammatory properties. Ginger eases symptoms of acid reflux in the digestive tract.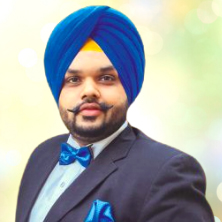 Dr. Vaidya Karanvir Singh is the younger Vaidya in Chandigarh Ayurved & Panchakarma Centre. He is the fourth generation in his family who is practicing as a general consultant in Ayurved & Panchakarma treatment at Chandigarh. In his practice, he had treated more than 1 Lakh Plus patients worldwide.
Article by Dr. Karanvir Singh (M.D in AYURVEDA, PANCHAKARMA FAGE) and reviewed by Vaidya Jagjit Singh (B.A.M.S)