Best Herbal Product for Hair and Skin Care – Aloe Vera Gel with Rose
The acne, pimples, blemishes and the pale look of your face needs no harsh chemicals. In Fact, you have created problems for your skin with over-use of creams, moisturizers, illuminators and foundation bases. All these give you a temporary glow but in the long run, they end up harming your skin. However, if you wish to see a complete and long-term change in your skin, get rid of blemishes and acne and get back your glowing skin which has been lost due to exposure to sun or dirt… Ayurveda is the way to go.
There is no denying the fact that Aloe Vera is the best herb for skin. You can see it as an ingredient in many beauty products as well. Aloe Vera as a plant is known for its anti-bacterial and anti-viral properties which are beneficial for the skin. At Chandigarh Ayurved Centre, we extract 100% transparent and chemical-free Aloe Vera Gel which is perfect for skin and hair application.
Aloe Vera – A Miracle Plant
Aloe Vera leaves are a rich source of essential nutrients that scrub, restore, and replenish your skin. First of all, Aloe Vera plant and its leaves are known for their cooling properties. We all know that acne and pimples reflect inflammation in skin and within. The cooling effect of Aloe Vera Gel soothes the skin and is an instant remedy for treating wounds, burns or scars.
Chemical-free 100% Natural Aloe Vera Gel with Rose by Chandigarh Ayurved Centre
Why expose your skin or hair to inferior quality products when you can get the best quality 100% Natural and chemical-free Aloe Vera Gel from Chandigarh Ayurved Centre home delivered! Our Aloe Vera Gel is produced under stringent quality control supervision that ensures an apt level of complex carbohydrate known as acemannan does not eliminated or diminished while making the gel. It is this complex carbohydrate or acermannan that is important for the nutrients to penetrate beneath the skin and provide them nourishment. The super soft texture of Aloe Vera Gel plus the additional goodness of Rose makes this Gel a must have for all those who wish to take care of their skin naturally. The dried and crushed leaves of rose combined with Aloe Vera juice are used to make this gel. Rose is another natural ingredient that is very good for the skin owing to its cooling properties.
Customers have reported remarkable improvement in their skin with continuous application of this gel every morning for 5 minutes on face as a facial massage routine.
Benefits of Aloe Vera Gel
Youthful glow – Both Aloe Vera and rose are known for keeping the skin fresh, young and supple. The very first application of this gel would give your skin a moisturized and pinkish feel. Though this change is temporary, people have experienced a huge betterment in their skin with regular use of Aloe Vera Gel.
No Acne – Say no to pimples and acne with regular use of Aloe Vera Gel. You need no creams or other home remedies in case you use Aloe Vera gel on a pimple-prone skin. Owing to its cooling and soothing nature, you will notice a reduction in acne appearance after 15 days.
No blemishes – Exposure to harsh sun or chemicals or dirt causes blemishes. Chandigarh Ayurved Centre offers complete care for blemished skin. You can order our Skin Glow Tonic as well. Aloe Vera Gel is also a very beneficial product for those who have tried all medicines and yet haven't been able to get rid of blemishes.
Postpone your aging – If worry lines or sagged skin makes you feel and look older than your age, we suggest you to try Aloe Vera Gel. Its natural properties restore the youthful look of the skin keeping wrinkles at bay. Rather than investing thousands of rupees in buying anti-wrinkle creams or botox treatments, religious use of Aloe Vera Gel twice a day would slow down the aging process.
Healing Scars, burn marks and wounds – Keeping Aloe Vera Gel handy is a wonderful idea as it is very effective in treating scars, burn marks and wounds. Women have found Aloe Vera Gel beneficial to get rid of the stretch marks on skin which appear post-delivery.
Nourishes the hair – Aloe Vera Gel is good for hair growth as well. It cools the scalp and removes any infections thus curing the problem of hair thinning or dandruff. You can apply Aloe Vera gel on the scalp before taking hair bath. Hair will be shinier and smoother than before.
How to Use Aloe Vera Gel?
This Aloe Vera Gel is an all-time use herbal and natural beauty care product. You can apply it on face in massaging manner or mix it with oatmeal to create your own scrub.
You can also mix with it with grated walnuts or almonds and scrub it twice a week. This would help your skin become totally acne-free.
For night time application, mix Aloe Vera gel with Olive Oil and apply it on your face. You will notice a younger and fresher skin after a few days application.
To order, click here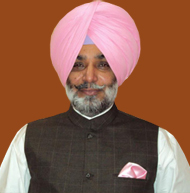 Vaidya Jagjit Singh is a 3rd generation Ayurved physician from his family and is the remarkable person responsible for setting up of the Chandigarh Ayurved and Panchkarma Centre in sector 32 and 22, Chandigarh and Zirakpur and he is also the first founder member of Guru Ravidas Ayurved University. He has done his B.A.M.S. from Shri Dhanwantri Ayurvedic College, Chandigarh. He is an admirable ayurvedic physician with specialization in Chronic ailments.
Article by Dr. Karanvir Singh (M.D in AYURVEDA, PANCHAKARMA FAGE) and reviewed by Vaidya Jagjit Singh (B.A.M.S)