According to Ayurveda, skin has seven layers. It is the external largest organ of the human body.  Skin is located not merely peripherally but extends itself to the deeper levels of the body.  Therefore, its remedies also have to be penetrative. That is, most skin diseases are, rooted deeply into various dhatus or tissues (such as fat, muscles, blood etc.) There are several herbal medicines and cleansing processes in Ayurveda which in combination makes the best Ayurvedic treatment for skin diseases.
Some of the common skin diseases and conditions include:
Acne
Allergic
Dermatitis
Eczema
Boil (furuncle)
Cellulitis
Cold sores
Impetigo
Neuro fibromas
Porphyrias
Psoriasis
Skin cancer
AYURVEDIC TREATMENT FOR SKIN DISEASES
Skin treatment in Ayurveda is probably the finest choice as the Ayurveda has given detailed description and analysis of the skin disorders and has narrated some of the best According to Ayurveda; lack of maintenance in any of the three bio-energies (Vata, Pitta, Kapha) can be the cause of skin disorders.
Vata skin disorders- this lead to dryness of the skin with a rough appearance of skin. It can cause cracks and fissures.
Pitta skin disorders – can cause burning sensation, redness, pus formation, ulceration, and can lead to fever.
Kapha skin disorders- can cause itching, white discoloration, swelling, retention of fluids, etc.
Correcting skin diseases requires a multi-prong approach.
CAC AYURVEDIC SUPPLEMENTS FOR SKIN DISEASES AND THEIR BENEFITS
Chandigarh Ayurveda Centre offers a number of supplements for skincare. Ayurvedic medicine for skin diseases works on the root cause behind the skin disease and eradicates it permanently. Some of the Ayurvedic suppliments for skin diseases can help manage skin problems include:
PANCHATIKTA GHRITA GUGGULU:
Panchatikta Ghrita Guggulu is holistic ayurvedic formulation chiefly used for various skin diseases.
This tablet promotes detoxification and rejuvenation.
It is helpful in managing skin infections.
Panchatikta Ghrita Guggulu tablet is a natural source of anti – oxidant.
It promotes engender vibrant and healthy skin.
Ingredients:

Patola(Cucumis acutangulus)
Nimba(Azadirachta indica)
Guduchi(Tinospora cordifolia)
Vasa(Adhatoda vasica)
Recommended Dosage: Take 1 tablet twice a day with plain water after meal.
Read Also: What are the Natural and Herbal Remedies for Treatment of Skin Diseases?
SKIN CARE PLUS TABLET:
This is a pure herbal and mineral Ayurvedic formulation.
Skin care plus helps to maintain the texture of the skin depending on the type of skin you have.
It contains several herbs such as Haridra khand, Panchnimb churna, Khadir chahal, Chirayta, Mulethi, Chopchini, Gandhak, Ajmoda that work very effectively on all skin kinds.
Skin care is a blood purifying tablet.
It cools and purifies the impure blood, increase blood circulation of the skin.
These tablets minimize the blemishes, reduce sun tan, delay ageing of skin and heal skin problems.
Recommended Dosage: Take 1 tablet twice daily with normal water.
BLOOD PURIFIER SYRUP:
This syrup is pure herbal ayurvedic formulation that consists of several natural ingredients like Manjistha (Rubia cordifolia), Khadir Chall (Acacia catechu) Neem (Azadirachta indica), Giloy (Tinospora cordifolia), Baheda (Terminalia chebula), Harad (Terminalia bellirica), Amla (Emblica officinalis), etc.
As the syrup detoxifies the blood by removing toxins it is very beneficial in maintaining proper circulation and improves the skin naturally.
Recommended Dosage – Take 2 tsp twice daily before meal.
STRAWBERRY FACE CREAM:
Strawberry face cream is a well-known skin care product that helps improve skin complexion.
This face cream Delays ageing, eliminates dead skin cells, cleanses the skin, improves complexion, and even tones your skin.
The antioxidants present in strawberries delay the signs of aging like wrinkles and sagging skin.
The Vitamin C fights free radicals that cause damage to cells and collagen resulting in fine lines.
Vitamin C in strawberries is essential for the production of collagen, which improves the skin's elasticity.
Recommended Dosage: Apply to the affected area twice a day.
Read Also: Skin Care Plus Tablet
DETOX PREMIUM POWDER:
This is a herbo-mineral preparation that contains ingredients like Parwal Pishti, Giloy satv, Shukta Pishti, Kamdudha Ras, Gandhak Rasayan, etc.
Parwal Pishti: This Pishti reduces inflammation, flaking, itching of the skin. The Pishti is composed of natural coral calcium processed with rose water.
Giloy Satv: This satv is prepared from the herb Giloy (Tinospora cordifolia). The anti-inflammatory, antioxidant, and analgesic properties of this herb deal with psoriasis easily.
Shukta Pishti: It helps to balance the Pitta dosha in the body. All signs and symptoms related to Psoriasis patients are managed with this article.
Kamdudha Ras: This herbal-mineral classical preparation balances Pitta dosha in the body.
Tal Sindoor: It contains ingredients like Shuddh parad, Aloe vera, Gandhak, etc that relieve redness in psoriasis patients.
Akik Pishti: This Pishti reduces all types of Pitta related disorder hence it gives good results in psoriasis.
Gandhak Rasayana: This herbal preparation is used since ancient times for all types of skin disorders.
Recommended Dosage: Take 1 sachet twice a day with plain water after meal.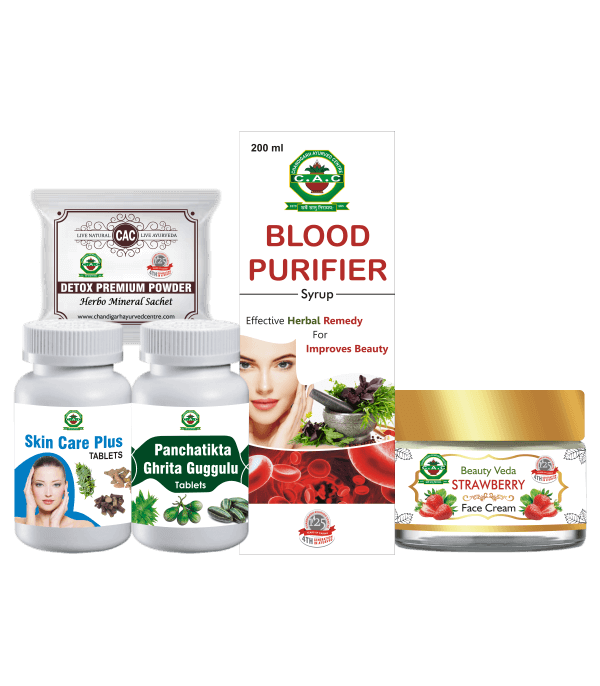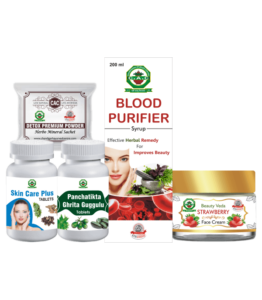 ADD THE FOLLOWING TO YOUR DIET:
Ayurveda recommends dietary changes to balance the aggravated Dosha. Good food can help strengthen the digestive fire. This in turn helps block the formation of toxins (Ama) that could harm the skin.
Food is one of the main factors which cause most of the Doshas in our body, therefore healthy and mindful eating is a must.
You must add healthy food and seasonal fruits in your daily diet such as
Ghee
coconut oil
dairy products
vegetables
nuts
whole grains
animal protein
Drink sufficient water to avoid dehydration of skin
Yoga and exercise are needed to maintain healthy skin.
Get enough sleep
Detoxification of the body needed for healthy glowing skin
Read Also: Skin Care Kit
REDUCE OR COMPLETELY AVOID THE FOLLOWING
Sour , salty and pungent food should be avoided
Limit excess use of milk and curd (dadhi)
Mutually contradictory food items should be avoided
Limits white newly harvested rice & its preparations
Avoid tobacco smoking and alcohol
Meat of animals, marshy lands should be avoided
Limit aromatic rice (basmati), black tila (sesame), masha (udad/ black gram) & its preparations