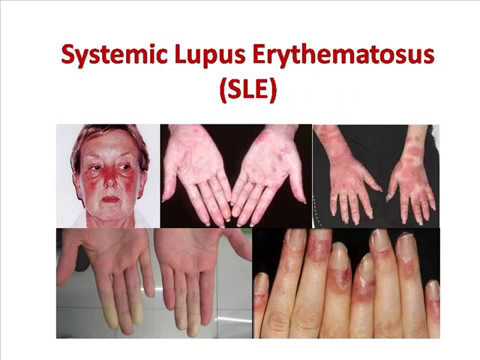 Better manangement of Systemic Lupus Erythematosis (SLE) with Ayurveda
Understanding SLE: Systemic Lupus Erythematosis is a chronic inflammatory condition which is autoimmune and affects multiple organs of the body. Normally our immune  system is built to fight against infection causing diseases but while talking about autoimmune disorder immune system fight against our own system called as self attack. SLE is a long term inflammatory condition degrade the quality of life. Women are more suffered than men. SLE belongs to the family of autoimmune rheumatic disorders characterized by joint disorder, skin rashes and lesion, nervous system disorder, altered mucus membrane. Various symptoms overlap each other. Mostly Vasculitis overlaps SLE.
Risk Factors involves:
Genetic
Exposure to sunlight (ultra violet radiations)
Certain bacterial and viral infections
Prolong use of certain medications
Environmental conditions
Certain eating habits
Physical and mental stress
Ayurveda and Systemic Lupus Erythmatosis:
Ayurveda revolves around theory of Doshas (body humours), dhatu (body tissues) and Agni (digestive fire). There are 3 doshas vata, pitta and kapha and 7 types of dhatus Rasa (plasma), Rakta (blood tissue), mansa (muscles), meda (fatty tissues), asthi (bones), maja (bone marrow) and shukras (semen) and when all the dhatus are formed completely it give rise to ojas (immunity) formation. When we talk about SLE there is vitiation of  Vata dosha, pitta dosha and rakta dhatu that leads to unhealthy tissue formation and at the end the ojas formation is hampered.
Pathogenesis of SLE according to Ayurveda:
Nidan (causative factors):  Excessive intake of Katu rasa and Lavana rasa , ratri jagran (waking up late at night)
Dosha dushti:
Vata- pain in joint, legs, shoulders, blackish discolouration, altered sleep
Pitta- fever, burning sensation
Dhatu Dhusti:
Rasa Dhatu- Fever
Rakta Dhatu- reddish skin lesion, blackish discoloration, itching and ulceration
Maamsa Dhatu- Blakish discoloration, fatigue, weakness
Asthi Dhatu- involvement of joints
AGNI:
Agni mandya (weak digestive fire)
Poorva rupa (prodromal symptoms):
Intermittent joint pain
reddishness over face
Rupa (Symptoms):
Joint pain
skin lesions
fever
pain in lower limbs
Vyadhi vinichya (diagnosis)– Vata rakta
Presentation of the patient With Systemic Lupus Erythematosus
A middle aged patient usually female present with the symptoms like
Burning sensation in both the legs
Pain in muscles
Pain in multiple joints like wrist, elbow, shoulder
Pain in lower limb
Increased pain on walking
Joints are stiff, swollen
Reddish rashes over face and neck (butterfly rashes)
Discoloration of the skin especially over toes which turns darker
Disturbed menses
Altered sleep cycle
Shortness of breathe
Chest pain
Loss of appetite
Fever
Confusion, memory loss, headache
Fatigue and weakness
Irregular heart beat
Complications of SLE
Stroke
Heart attack
Cataract
Deformed joints
Skin scarring
Kidney failure
Complications in pregnancy
Hip destruction (avascular necrosis)
Protocol of Managing SLE in modern medicine with its adverse effects:
Nonsteroidal anti-inflammatory drugs (NSAIDS) such as naproxen, ibuprofen may be used to overcome symptoms like pain, swelling, tenderness, fever etc. but prolonged use of these may rise to other symptoms like
stomach bleed
hyperacidity
gastric ulcers
risk of heart disease
kidney problems
Corticosteroids like prednisone, methylprednisolone are used to counter the inflammation due to lupus. Higher doses of corticosteroids are given to control some serious ailments of kidney, lungs or heart. But if taken for long time it leaves some adverse effect on the body:
Easy bruising
Thinning of bones
High blood pressure
Increased risk of infection because it decreases immunity
Risk of diabetes
Immunosuppressants such as methotrexate, cyclosporine, mycophenolate, azathioprine. As these agents suppress immune system to combat the symptom of the disease, on the other hand it leaves so many side effects like:
High risk of infections
Liver damage
Decrease fertility
Increased risk of cancer
Belimumab or rituximab are some drugs specific for Lupus given intravenously to reduce inflammation and combat symptoms. Side effects may include:
Nausea
Diarrhea
Prone to infections
Depression
Antimalarial Drugs like hydroxychloroquine have impact on immune system to decrease the flare up of the Lupus. As it affects the immune system it give rise to some other symptoms in the body:
Indigestion
Damage to the retina of the eye
Loss of appetite
Vomiting
Sleep disturbances
How Ayurveda manages SLE?
According to Ayurveda SLE is the Chronic disorder that affects muscles, joints and lowers the immunity. There are various factors for the vitiation of doshas and Dhatus. The Dhatus (tissues) and srotas (microchannels) are blocked with the toxins accumulated in the body resulting In Ama formation that results in serious illness. As Dhatus are intoxicated formation of Ojas (immunity) is also hampered. So Ayurveda to manage Lupus Focuses on Agni (digestive fire) and increase in ojas after detoxification of the body by Panchkarma procedures like Vaman (induced emesis by using herbal decoction), virechan (medicated purgation), Raktamokshan (bloodletting), basti (medicated enema) etc. Rasayana (rejuvenation) herbs can be given to the person to build up the immunity (ojas). All these procedures and herbs increase the body's self-healing mechanism the makes the body strong to fight against diseases.
 Some classical formulations and herbs:
Avipattikar churna
Trikatu churna
Maha manjistha khshaya
Vrihatvaatchintamani ras
Gandhak rasayna
Balaguduchyadi tail
Shiva gutika
Kaishoor guggul
Yastimadhu
Guduchi
Managing SLE with Chandigarh Ayurved Centre: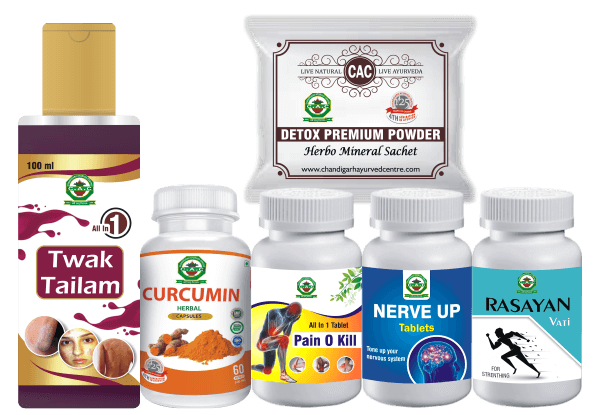 All products description in detail:
1. Brihat Vaat Chintamani Ras: These are classical herbal tablets prepared from ingredients like swarna bhasma, rajat bhasma, abhrak bhasma, mukta bhasma, rasasindoor, ghrit kumari, etc that balances the vata dosha in the body. As vata is the main dosha that is affected in systemic lupus erythematosus so these tablets give effective results to the patients.
Recommended Dosage: Take 1 tablet twice daily with normal water.
2. Trikatu Tablet: These herbal tablets are prepared from herbs like Black pepper (Piper nigrum), Long pepper (Piper longum), & Sonth (Zingiber officinale) that in combination shows antioxidant, anti-inflammatory, analgesic, etc properties. The use of these tablets reduces pain, inflammation, stiffness, swelling, etc related to systemic lupus erythematosus patients.
Recommended Dosage: Take 1 tablet twice daily with normal water.
3. Detox Premium Powder: It is a herbo-mineral preparation having ingredients such as parwal pishti, kamdudha ras, gandhak rasayan, giloy satv, shukta pishti, etc. These all ingredients in combination help in overall detoxification of the body. The signs & symptoms related to systemic lupus erythematosus (SLE) are treated with this herbal powder.
Recommended Dosage: Take 1 sachet twice daily with normal water.
4. Vaat Naashik Vati: These herbal tablets are basically used for balancing vata dosha in the body. Mainly vata dosha is imbalanced in SLE patients so these tablets provide good & effective results.
Recommended Dosage: Take 1 tablet twice daily with normal water.
5. Aloe Vera Juice: Pure & standardized extract of herb Aloe vera (Aloe barbadensis) is used for the preparation of this juice. The antioxidant, anti-inflammatory, analgesic, immuno-modulator properties of the herb used in it deals with all signs & symptoms related to SLE patients. This juice provides good results to SLE patients.
Recommended Dosage: Take 20ml juice with equal amount of water twice daily.
Panchkarma threapies for SLE in Chandigarh Ayurved Centre:
Patra potli pind sweda: In this process, a potli is wrapped with herbs like Nirgundi, Eranda, & Neem, etc. After that the potli is dipped in herbal oil, this oil is heated for few minutes. The potli is used over the affected area of the body. The joints pain associated with systemic lupus erythematosus are treated with this procedure.
Shashti shali pind sweda: In this procedure, a potli filled with shashti shali rice are cooked in medicated oil. After that the affected area of the body is massaged with this potli. The skin irritation, inflammation, & itching in systemic lupus erythematosus patients are treated with the use of this procedure.
Abhayanga: The medicated oil is poured on the patient body after that massage is done. This massage helps in reducing irritation, pain, stiffness, & swelling in systemic lupus erythematosus patients.
Basti: The medicated oil or decoction is prepared after that in the form of enema this is given to the systemic lupus erythematosus patients. This procedure helps in the overall detoxification of the body. As it will help to remove all toxins out from the body.
Lepa: A Lepa is prepared with Licorice (Yashtimadhu) & milk. This Lepa is applied over the butterfly rash of your face. The cold potency of the herb reduces the itching, irritation, & swelling of the skin.
Some healthy tips:
Avoid milk and milk products
Drink plenty of water
Drink coconut water daily
Have proper sleep of 6-8 hours
Walk for 30 minutes daily
Avoid spicy and processed food
Add more fiber into your diet
Avoid non vegetarian diet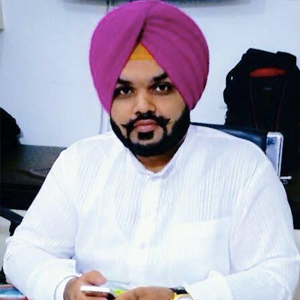 Vaidya Karanvir Singh is the younger Vaidya in Chandigarh Ayurved & Panchakarma Centre. He is the fourth generation in his family who is practicing as a general consultant in Ayurved & Panchakarma treatment at Chandigarh. In his practice, he had treated more than 1000 plus patients worldwide.
Article by Dr. Karanvir Singh (M.D in AYURVEDA, PANCHAKARMA FAGE) and reviewed by Vaidya Jagjit Singh (B.A.M.S)