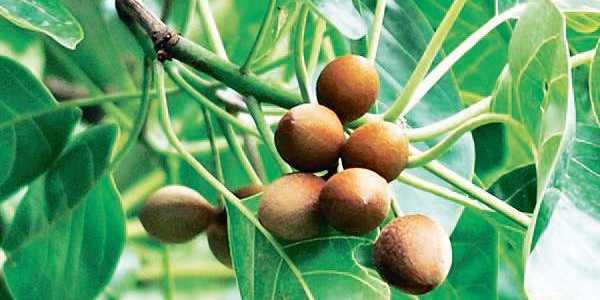 Baheda is a part of triphala. In the spring, after the leaves fall from the Bahera tree, a new branch or branch of copper color grows on it. Flowers blossom with this twig or shaka until the arrival of the summer season. Its fruits are ripe before spring. The rind of the fruits of Bahera is antipyretic. It has a great effect on diseases related to the throat and windpipe. The fall of its seeds ends pain and inflammation.
Behera, Amla, Haritaki are all kaphaka, vaginodha, milk purifier and digestive. Laxative is also done. It gives strength to the stomach. No other medicine that gives strength to the stomach is better than this. Its half ripe fruit is fibrous and digestive. Hair is beneficial for hair and marrow is beneficial.
According to Ayurvedic opinion
:
Beheda juice is sweet, pungent, light in nature, dry, warm in nature, sweet in vipak, tridicidal, stimulant, etallic, nutritious, hemostatic, pain-destroyer and beneficial for eyes. It is beneficial in constipation, stomach worms, breath, cough, hemorrhoids, indigestion, throat diseases, leprosy, vocal discord, rheumatism, skin diseases, lack of work power, hair diseases, colds and burning sensation of hands and feet.
Baheda Benefits to Cure Eye Disease
Consuming equal amounts of belleric myrobalan and sugar increases the light of the eyes.

Take sesame oil, oil of Bahera, juice of Bhangra and decoction of Vijayasara. Cook them in oil in an iron pot. By using it daily, the eyesight becomes brighter.
Grind the bark of beler and mix it with honey and apply it to destroy eye pain.
Mixing the powder of bengicus powder with honey and applying it like mascara provides relief in eye pain and swelling.
Mix the powder of the seeds of its seeds (Baheda churna) with honey and make a fine paste. Applying it like mascara every morning ends eye disease.
Baheda is supposed to relieve constipation. It makes Meda (stomach) strong, increases appetite, removes air diseases with the help of diarrhea, also removes bile defects, relieves headache, eliminates hemorrhoids, eyes and Makes the brain healthy and powerful, it eliminates phlegm and eradicates the whiteness of hair. Bahera – Destroys phlegm and bile and makes hair beautiful. It corrects hoarseness (strangulation). It destroys intoxication, blood disorders and stomach worms and is also very beneficial in tuberculosis (TB) and leprosy (leprosy, white spots).
Treatment of various diseases :
Burning sensation of hands and feet: – Grind the monkey (seeds) of Bahera with water and apply on hands and feet, it provides relief in burning sensation.
Burning: – Finely grinding the pulp of gooseberry and applying it on the body, it removes all types of burning sensation.
Phlegm: – * Drinking boiled leaves and double sugar decoction is cured by drinking it.
* Sucking a piece of bark of a bark in the mouth and sucking it cures cough and mucus is easily removed. The tickling of the cough stops. "
To increase the light of the eyes: – Mix equal quantity of the skin of the baheda and the sugar candy and take one teaspoon in the morning and evening with warm water, the eyesight increases in two to three weeks.

Constipation: – Grind half ripe fruit of Bahade. Taking one spoon of this water with a little water every day eliminates constipation and clears the stomach.

Breath or Asthma: –  Grind equal quantity of drums and baheda leaves and fill it with chillum or hookah and drink, it provides relief in breath and asthma.
* Keeping the rind of the deaf in the mouth also cures respiratory cough.
Grind the pulp of 250 grams Baheda fruit and sieve it, and then grind it with 10 grams of puffed salmon and 5 grams of real sonagaru and mix it. Now licking 3 grams of this prepared material with honey in the morning and evening every day provides benefit in breathing and it also ends asthma gradually.

Diarrhea (diarrhea): – Burn the fruits of the baheda and collect its ashes. Mixing one fourth quantity of black salt in it and taking one spoon two or three times in a day is beneficial in diarrhea.

Grind 2 to 5 grams of the bark of Bahera tree and 1-2 cloves in 1 teaspoon of honey and lick the patient 3-4 times a day, the diarrhea stops.

By eating roasted Baheda, chronic diarrhea stops. "
Dysentery: – Jaundice is cured by taking one spoon powder of the skin of behera with honey twice a day regularly.
Pimples: – Applying seed oil of kernel on the pimples at bedtime daily, pimples and face become clear.iratory disease. "
To increase strength: – The body becomes strong and powerful by taking Amla marmalade twice a day daily.
On the obstruction of children (latrine stop): – Grind the fruit of the bark with a stone and take half spoon of it with one spoon of milk to the child, it clears the stomach.
White leprosy (leprosy) and dysentery: – The decoction of the bark of the deaf tree destroys the leprosy and dysentery.
Cough of breath: – Take a deaf and put ghee on it and keep it on the fire with the help of flour. After this, take out the baheda and take out its bark. This bark alone removes very fast breath and cough. Put some bark in the mouth and suck it. Khata, chilli and oil should be avoided while using it.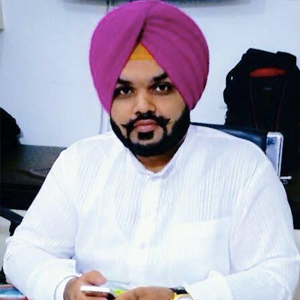 Vaidya Karanvir Singh is the younger Vaidya in Chandigarh Ayurved & Panchakarma Centre. He is the fourth generation in his family who is practicing as a general consultant in Ayurved & Panchakarma treatment at Chandigarh. In his practice, he had treated more than 1000 plus patients worldwide.
Article by Dr. Karanvir Singh (M.D in AYURVEDA, PANCHAKARMA FAGE) and reviewed by Vaidya Jagjit Singh (B.A.M.S)