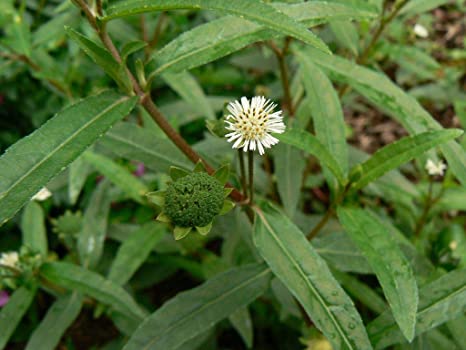 It (bhringraj) is a very useful medicinal plant which is used to treat many types of diseases occurring inside or outside the body. Ayurveda doctors often advise the patient to take Bhringraj for many stomach ailments including hair fall, hair growth, liver, kidney.
In India, Bhringraj (Eclipta alba) is recognized by many names like Bhangra, Thistles, Maka, Falls Daisy, Markav, Angarak, Bangra, Kesuti, Babri, Ajajara, Ballari, Mockhand, Trailing Eclipta, Eclipta, Prostrata etc. 
In Ayurveda, Bhringraj (bhringraj in Hindi) is also known as Kesaraja. It has been used for years to prevent hair fall, hair darkening and skin disease treatment. In fact, Bhringraj (Eclipta alba) is an herb, whose job is to keep the body healthy. Ayurvedic physician Dr. Deepak Kumar is explaining about the advantages, disadvantages and uses of Soni Bhringraj.
Medicinal properties of bhringraj
There are many types of anti-oxidants inside it, such as flavanoids and alkaloids, which work to remove harmful substances that harm the body.
It works to protect the liver from various types of harmful substances and keeps the liver healthy. The anti-microbial property of bhringraj uses also protects the liver from viral infections such as hepatitis C.
Not only this, it is effective in preventing inflammation in the body. The nutrients present in the growth of hair inside it, along with increasing the quality of hair, enhances hair.
Bhringraj Powder Properties
Anti-microbial

Anti-inflammatory

Analgesic

Anti-oxidant

Protective

Anti-aging

Anti-virus

Anti-hemorrhage

Blood pressure
How to take Bhringraj
Bhringraj can be used in three ways. According to the advice of a doctor, you can make a paste by using its leaves and adding oil to it.
You can also use bhringraj oil in its powder or you can get relief from problems by eating capsules of bhringraj uses available in the market, but before taking the advice, consult a doctor.
Bhringraj is a useful herb that strengthens the immune power of the body and protects the body from various infections. According to Ayurveda, if Bhringraj is consumed continuously for 3 to 4 months, then the immunity power of the body is strengthened. You can take 2 to 3 grams of Bhringraj powder with honey after taking light food, twice a day.
Ayurvedic properties
Rasa- katu, tikta
Guna-laghu, ruksha
Virya-ushna
Vipaka-katu
Benefits of Bhringraj
There are many benefits of consuming Bhringraj. Effective in skin cuts, peeling and wounds etc.: Due to the medicinal properties, Bhringraj is very effective in skin disorders such as skin cuts, peeling, wounds or injuries.
Help to increase immunity capacity (use of bhringraj for immunity power):
It helps in the production of cells (white blood cells) that strengthen the immunity power of the body. It works by increasing the white blood cells (WBCs) that protect our body from infection.
Useful of bhringraj in cough and vata disorder
There is a nutrient inside Bhringraj which works to reduce phlegm and gout disorder.
Use of bhringraj in liver and kidney disease: Bhringraj ke fayde is also called false daisy. It is beneficial for liver as well as kidney. Its root is used to flush out the substances that harm the body and keep the physical functioning dynamic.
Use of bhringraj in fatty liver and jaundice:
It has anti-bacterial and anti-inflammatory properties. Which benefits in diseases like fatty liver, jaundice etc.
Consumption method: You can take bhringraj benefits twice a day. You can take Bhringraj powder with water after eating light food. For best results, consume it for at least 1-2 months.
Use of bhringraj in skin infection:
 Bhringraj is an herb that contains anti-inflammatory. It protects the skin from infection.
Consumption method: In the event of other disorders including skin biting, peeling, bruising, apply a paste of bhringraj paste or apply this paste mixed with some oil and place it on the wound or injury.
Useful in indigestion, constipation and other stomach problems:
The anti-inflammatory element inside it works by keeping the liver healthy, facilitating the functioning of the stomach, which makes the intestine smooth. Works and relieves indigestion, constipation and other stomach troubles. It is also beneficial in preventing inflammation in the body.
Lack of appetite, effective in acidity According to Ayurveda Bhringraj is also useful in treating problems like digestion, constipation and loss of appetite.
Intake method: For this, you should take 15-20 ml Bhringrajasav (with bhringraj uses in Hindi) and with the same amount of water, in the afternoon and after dinner.
Side effects of Bhringraj (bhringraj ke nuksan):
Excessive intake can cause stomach problems. Similarly, during pregnancy and breastfeeding stage, do not take bhringraj ke nuksan only after consulting a doctor.
If you are suffering from diabetes and your sugar level is increased then the consumption of Bhringrajasava should be avoided. If you have any kind of problem (bhringraj ke nuksan) during the consumption of Bhringraj, contact the doctor immediately.
According to the research, so far no authentic facts have been found about the side effects of bhringraj. Therefore, you can take Bhringraj in these diseases, but for this, consult a doctor.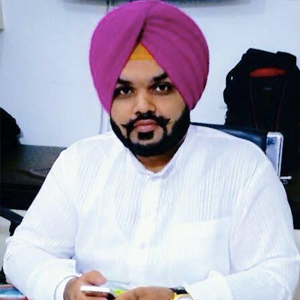 Vaidya Karanvir Singh is the younger Vaidya in Chandigarh Ayurved & Panchakarma Centre. He is the fourth generation in his family who is practicing as a general consultant in Ayurved & Panchakarma treatment at Chandigarh. In his practice, he had treated more than 1000 plus patients worldwide.
Article by Dr. Karanvir Singh (M.D in AYURVEDA, PANCHAKARMA FAGE) and reviewed by Vaidya Jagjit Singh (B.A.M.S)