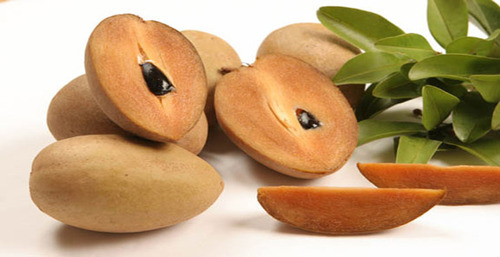 Chiku is exceptionally sweet and delicious fruit along with lots of nutritional values. Chiku is one of the best fruits to provide quick energy as it is packed with fructose and sucrose and is called a natural energy boosting food.
This sweet fruit is the store house of so many nutrients, which is good for maintaining  healthy well being. It is a rich source of antioxidants, vitamin A, C and E, copper, iron, etc.
BOTANICAL NAME – Manilkara  zapota
ENGLISH NAME – Sapodilla, nose berry, beef apple, Bully tree
HINDI NAME – Chikoo
MEDICINAL PROPERTIES
It has

sweet taste(rasa)

, is

light in nature,

has

cold potency

and sweet after digestion taste(Vipaka)

It

balances vata and pitta dosha

, so very

useful in constipation

, and

gastritis

It

increases kapha

, so

should be avoided/consumed in limits by

people with

kapha  prakruti

or aggravated kapha
PROMOTES GIT HEALTH
It balances increased pitta due to its sheet virya(potency) and keeps our gut healthy and prevents it from inflammation.
The natural compound tannins present in sapota have polyphenol which neutralizes acid secretion in the gut. Its powerful antiparasitic, antiviral, anti-inflammatory properties soothe the irritated GIT, is useful in gastritis and other bowel issues. It is rich in fibre so aids digestion and works as  laxative  provides relief from constipation.

Minerals such as calcium, phosphorus, copper and iron present in sapota helps in bone strengthening. Regular intake of chikoo fruit can improve bone quality. Sometimes Lack of copper in our diet can increase the risk of osteoporosis, chikoo has copper in it so it prevents osteoporosis, promotes muscle and tissue strength.
Sapota has  rich amount of vitamins C, A and antioxidants that play an important role in boosting immune system, scavenge free radicals, promoting skin health and lowers risk of other health troubles. 
Sapota  has rich amount of fructose and sucrose that  is an instant source of energy to the body. It is considered an ideal fruit to be taken during a workout session. So it is the right choice of fruit for growing children and pregnant women, as they have increased demand of nutrients to lead a healthy life
Chikoo is a great fruit for enhancing skin health and beauty. The rich amount of vitamins A, C, E and K in this fruit keep the skin hydrated and rejuvenates our skin cells. The polyphenols, flavonoids and antioxidants prevent skin wrinkles, improves the complexion, slow down ageing rate. The milky secretion obtained from sapota is beneficial in clearing warts and fungal infections in skin.
The combination of Vitamin A and C in Ayurveda gives skin a healthy glow.
CONTROLS HIGH BLOOD PRESSURE
Sapota is loaded with amazing amount of potassium, it helps in lowering sodium levels, promotes blood circulation and regulates the blood pressure.
LOWERS THE RISK OF CANCER
As Sapota is enriched with antioxidants, so it is one of the best fruits which can lower the risk of various types of cancer. Vitamins A and B aids in maintaining the mucus lining of lungs healthy and lowers the risk of lung and oral cancers. And dietary fibre in chikoo helps to keep the gut healthy and prevents colon cancer.
High content of tannins makes chikoo an important anti-inflammatory agent, which helps in improving the overall health of the digestive tract by preventing the diseases like esophagitis, enteritis, irritable bowel syndrome, and gastritis.
REDUCES SIDE EFFECTS OF AGING
Consumption of sapodilla fruit in daily diet reduces the signs of aging, both visibly, and internally. Vitamin A and other antioxidants present in chikoo scavenges the harmful free radicals.
High iron content also helps to stop the depletion of hemoglobin content of blood. 
WHEN SHOULD WE AVOID EATING CHIKOO?
As it is madhur, madhur, sheet(sweet in taste and cold potency) it increases kapha dosha. So it should be avoided during, cough, cold, patients with asthma, allergic rhinitis or any other respiratory ailments should avoid eating the fruit.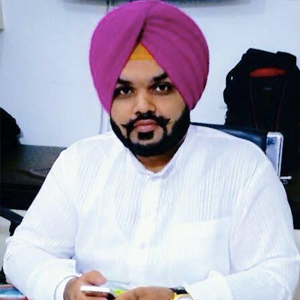 Vaidya Karanvir Singh is the younger Vaidya in Chandigarh Ayurved & Panchakarma Centre. He is the fourth generation in his family who is practicing as a general consultant in Ayurved & Panchakarma treatment at Chandigarh. In his practice, he had treated more than 1000 plus patients worldwide.
Article by Dr. Karanvir Singh (M.D in AYURVEDA, PANCHAKARMA FAGE) and reviewed by Vaidya Jagjit Singh (B.A.M.S)