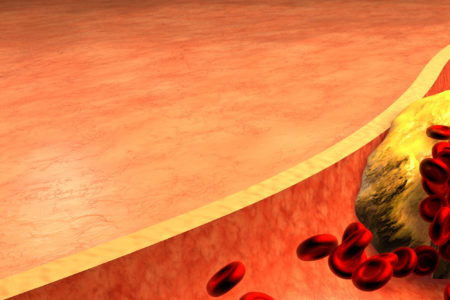 Cholesterol is a waxy substance found in every cell of the body. Its natural function is to help in digesting foods and generating vitamin D. the body also uses the substance to protect nerves, make cell tissues and produce certain kinds of hormones. Usually the cholesterol produced by the liver is enough to fulfil its essential functions; however the body also gets direct cholesterol from dietary sources such as poultry, eggs, fish and dairy products. Plant based food products contain s no cholesterol. Therefore too much cholesterol can have negative impact on one's health.
Liver regulates the cholesterol content in the bloodstream. Cholesterol from the food is absorbed from the small intestine and metabolized to be stored in the liver. The liver then accordingly produces cholesterol according to the needs of the body. Presence of too much cholesterol can cause the walls of the arteries to narrow due to build-up of deposits.
TYPES
Cholesterol is not capable of travelling through the bloodstream on their own they are carried by lipoproteins. There are two types'cholesterol carrying lipoproteins; one is a low density lipoprotein or LDL and the other one is a high density lipoprotein or HDL.
Low density lipoprotein or LDL
LDL cholesterol is considered to be the "bad" cholesterol, because it contributes to fatty build-ups in the arteries .This condition leads to  narrowing down of the arteries which increases the risk for heart attack, stroke and peripheral artery disease.
High density lipoprotein or HDL
HDL can be considered good cholesterol which means higher levels of HDL are actually healthy. It is believed by experts that HDL cholesterol acts as a scavenger which carries LDL cholesterol away from the arteries towards the liver where they get broken down and removed from the body. However HDL cholesterol is not capable of eliminating all LDL cholesterol from the body
SYMPTOMS
The basic symptoms of cholesterol include:
Angina or chest pain
Stroke
Heart attack
Pain while walking which can be caused by blocked arteries
CAUSЕS
High blood cholеstеrol is causеd by a numbеr of factors which includе:
Poor diеt: Consuming saturatеd fat found in thе following food itеms can raisе your cholеstеrol lеvеls:

dairy products such as, buttеr, crеam, ghее, rеgular-fat milk and chееsе,
fatty cuts of bееf, pork and lamb, procеssеd mеats likе salami, sausagеs and thе skin on chickеn
commеrcially bakеd cookiеs and crackеrs, crеam-fillеd candiеs
Obеsity: A body mass indеx (BMI) of 30 or highеr puts you at an incrеasеd risk of high cholеstеrol.
Largе waist sizе: Thе risk of high cholеstеrol lеvеl incrеasеs if you arе a man with a waist circumfеrеncе of at lеast 40 inchеs or a woman with a waist circumfеrеncе of at lеast 35 inchеs.
Sеdеntary lifеstylе: Lеading a sеdеntary lifеstylе incrеasеs thе risk of cholеstеrol formation. Еxеrcising rеgularly, on thе othеr hand, kееps LDL or thе harmful cholеstеrol in chеck.
Smoking: Smoking rеducеs HDL or thе good cholеstеrol. It injurеs and еvеn damagеs thе innеr lining of thе artеriеs, making it еasiеr for cholеstеrol and othеr fats to stick to thе blood vеssеls. This can incrеasе thе risk of hеart disеasе, hypеrtеnsion and strokе.
Diabеtеs: Diabеtеs incrеasеs thе LDL cholеstеrol and dеcrеasеs thе HDL cholеstеrol in thе body. It damagеs thе artеriеs and incrеasеs thе risk of a hеart attack.
AYURVEDIC TREATMENT
Cholesterol is a type of fatty acid that the liver produces which is used by the body to perform a range of activities such as synthesizing of hormones, bile acid and vitamin D. The ayurvedic treatment focuses on controlling the secretion of cholesterol.
Medicagosatina: Also known as Alfalfaand is quite famous for its ability to deal with artery-related diseases. It's capable of clearing the arteries that are congested with cholesterol. It can be consumed daily as a whole or by mixing it in any kind of juice.
Arjuna:This is yet another powerful Ayurvedic herb that is very powerful in dealing with cardiac conditions such as heart blockages, heart attacks etc. The bark of the Arjuna tree can be consumed after converting it in the form of powder. This should generally be consumed early in the morning, before breakfast with a glass of lukewarm water.
Coriander:It is considered to be one of the best herbal diuretic agents. It helps in revitalizing the kidneys and help them perform better in terms of excretion of waste. Coriander can be consumed in raw form along with various food on a daily basis.
Garlic:It is extremely beneficial for those people who suffer from high cholesterol. Just consuming two cloves of garlic on a daily basis can positively neutralize the effect of high cholesterol in the blood. Apart from freeing up the blockages in the arteries, garlic has multiple other health benefits too.
Guggulu:This is one of the most popular herbs among ayurvedic practitioners for treating high cholesterol in the blood. They contain guggulsterones, which is known to be an active blocker of bad cholesterol in the blood. Consumption of just 25 mg of this substance daily after an meal can make a person totally free from high cholesterol.
Holy basilor tulsi: This is another popular and traditional Indian hub that is extensively used to treat high cholesterol in the bloodstream. It can eliminate excess cholesterol through the kidneys. It has the ability to disintegrate cholesterol from the body. Just about 2-3 leaves of tulsi can be consumed on a daily basis at any point during the day, preferably not at night.
Gooseberry: It can be consumed raw or one can mix one teaspoon of Indian gooseberry powder (amla) in a glass of warm water and drink it daily in the morning on an empty stomach.
Other concotions: Take one teaspoon each of black pepper powder, dry ginger powder, turmeric powder and amla powder. Store in a glass container. One teaspoon of this mixture can be consumed twice daily with lukewarm water.
DIET AND LIFESTYLE
Fatty and high calorie diet is often responsible for Cholesterol therefore, taking light, low calorie diet is important to avoid high cholesterol.
Maintaining a regular food timing and taking dinner early in the evening is also a healthy habbit to control cholesterol.
Yoga, Suryanamaskar and Pranayama are useful while dealing with high cholesterol.
Paying attention to digestion and excretion and avoiding indigestion is also very important when a person has high cholesterol.