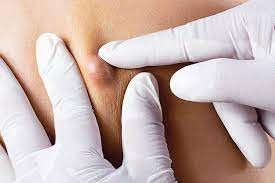 A cyst is a benign (non-cancerous), round, dome-shaped structure that grows under the skin and appears on your skin. It can be filled with liquid, pus, or another substance. Cysts often feel firm and will distend the overlying skin. Any individual can experience a cyst and they can present on any part of your skin or mucous membrane, however, they are most commonly found on the neck, face, and chest. They are often small and slow-growing.
Causes OF Skin Cyst-
The cause of many types of cysts is unknown. The causes of the following types of cysts are listed below:
1.Epidermoid cysts: Caused by proliferation of epidermal cells within the dermis.
2.Epidermal inclusion: Occurs in response to an injury. The injured skin gets tucked in and forms a sac that is lined by healthy epidermal cells that continue to mature.
3.Trichilemmal cyst: This is an inherited condition.
4.Steatocystoma: Occur due to an inherited disorder affecting the sebaceous (oil or fat) duct within the hair follicle.
5.Dermoid cyst: A developmental error.
6.Ganglion cyst: Caused by degeneration of the mucoid connective tissue of a joint.
7.Fluid-filled cyst in a mucous membrane: Occlusion of the opening of a mucous gland in the (lip, vulva, vagina).
8.Pseudocysts: Formed by occlusion of the follicle by keratin and sebum. These cysts are not surrounded by a capsule and are common in individuals with acne.
Other factors that can cause cysts are:
1.Infection
2.Chronic inflammatory condition
3.Tumors
4.Genetic condition
What are the signs and symptoms of Cyst?
1.Pink, or skin-coloured
2.Firm
Most cysts are symptomless, however in the event of infection you can experience the following and you should seek medical attention:
1.Pain
2.Swollen
3.Red
4.Foul-smelling with pus
5.Oozing and crusting
What are the Types of Cyst?
1.Epidermoid cyst: These cysts occur on the face, neck, trunk, and any areas with little hair. They present as firm, round, and skin-coloured nodules (elevated bumps greater than 1 cm) and commonly appear during adulthood.
2.Trichilemmal cyst (Pilar cyst): These cysts commonly present on the scalp, however they can also appear on the face, neck, trunk, and extremities. These cysts are firm, round or oval nodules which contain white keratin. Affected individuals often have multiple cysts and they often present in middle-aged individuals.
3.Steatocystoma (steatocystoma simplex): These cysts appear on the chest, upper arms, axillae, neck, scrotum, and vulva. These cysts are movable, smooth, and flesh-coloured/yellow and are between 3-30 mm in diameter. They often present in adolescents and individuals in their 20s.
4.Dermoid cyst: This type of cyst can include skin, teeth, cartilage, and bone. Most present on the face, neck, scalp, and most commonly around the eyelid, forehead, and eyebrows. It is often skin-coloured and can be either hard or soft. This benign tumour forms during birth and may not present until adulthood.
5.Ganglion cyst: This often presents on the dorsal wrist (back of the hand/wrist) and it often appears in young to middle-aged adults, however they are three times more common in women. They range from 2-4 cm in diameter and are firm.
6.Pseudocyst: These cysts are not surrounded by a capsule and commonly present in acne. They often occur on the face, chest, and back.
How long does it exist?
Minor cysts will resolve on their own and others will require surgical removal by a doctor. Some cysts can remain unchanged for a long time or may return in the future.
What remedies can be done at home?
1.Hot water compress: Soak a cloth in heated water and apply this cloth to the cyst for about 20 minutes. Repeat this several times a day.
2.Tea tree oil
3.Castor oil
4.Apple cider vinegar
5.Aloe Vera
NOTE: Do not try to remove the cyst or pop it yourself. This will increase your chance of getting an infection.
MEDICAL TREATMENT-
1.Incision and drainage: Swollen cysts can be drained by your doctor.
2.Intralesional injection: Usually performed with triamcinolone (glucocorticoid)
3.Infected cysts: Your doctor will prescribe antibiotics to treat the underlying infection.
4.Cancerous cysts: Your doctor will surgically remove your cyst which may leave a scar on your skin.
Diagnosis of Cyst
Cysts have typical clinical characteristics and can be identified visually. If a cyst is surgically removed your doctor will often perform a histological examination.
Differential Diagnosis
1.Dermal nevus: a well-defined raised bump on the skin
2.Cherry hemangioma: a raised bump on the skin that occurs as a result of abnormal development of blood vessels
3.Pyogenic granuloma: a skin bump that occurs as a result of a vascular tumor
4.Molluscum contagiosum: a viral infection that causes raised bumps on the skin
What to follow and avoid
5.Avoid touching, scratching, puncturing, squeezing or draining the cyst.
6.Drain and heal the cyst naturally by putting a warm cloth on that area.
7.In order to avoid the infection you should keep the affected area clean.
8.You can use Turmeric as it is very effective in breaking the cyst and bring the affected area into a normal state. For this you can Boil half teaspoon of turmeric with 1 cup of water and when it cool down, drink this mixture. It should be done for at least 10 days or make a paste of turmeric and water and apply it directly on the cyst.
9.Stay hydrated or Drink plenty of water as it helps to eliminate the toxins out from the body.
10.Maintain hygiene i.e. keep the affected area clean.
11.Try to use a clean and washed cloth to clean the cyst.
12.For cleaning the hair on the affected skin, you must use hygienic blades and wax.
13.Cyst pops by its own- wash it properly with the running water and clean it with antibacterial soap.
14.Avoid squeezing or scratching of the cyst to bring out the pus as it passes the infection to the other body parts as it may also lead to bleeding.
15.Avoid direct sun exposure.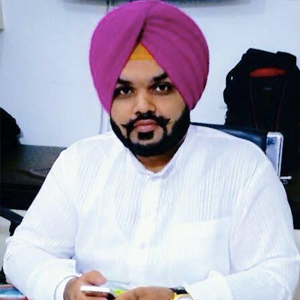 Vaidya Karanvir Singh is the younger Vaidya in Chandigarh Ayurved & Panchakarma Centre. He is the fourth generation in his family who is practicing as a general consultant in Ayurved & Panchakarma treatment at Chandigarh. In his practice, he had treated more than 1000 plus patients worldwide.
Article by Dr. Karanvir Singh (M.D in AYURVEDA, PANCHAKARMA FAGE) and reviewed by Vaidya Jagjit Singh (B.A.M.S)