Papaya Recipe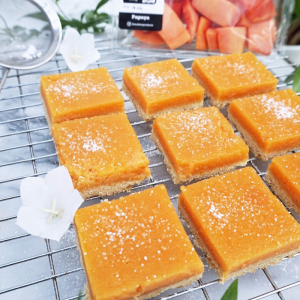 Papaya is an amazing fruit that is rich in carbohydrates, protein, papaya, potassium, proteins, fiber, Vitamin A, B9, & C. The carotenoids in it show antioxidant properties that remove toxins out from the body. It keeps your digestion healthy, fights against harmful bacteria, & prevent from cancer. Not only your health is maintained but the damage to your skin like wrinkles & sagging skin is also controlled with this fruit.
1) Recipe no: 1 (Papaya Barfi)
:
Ingredients required: a) 1 ripe, medium shape, & finely grated papaya.
b) 100gm powdered almond.
c) 250gm Khoya.
d) Sugar 1/2 cup.
e) Few saffron strands.
f) Ghee 3 tablespoons.
g) Few saffron strands.
h) Rose essence 2 drops.
Method of preparation:
1) Add ghee in a pan & papaya. Stir it for 5 minutes & saute it on high flame.
2) Now add almond powder & cardamom powder in it. Cook it for 4 minutes on medium flame. Stir it to avoid burning.
3) Now add khoya, saffron, & rose essence in it.
4) Simmer the flame & add khoya in it.
5) Add sugar in it, stir the mixture till it becomes thick. Off the stove pour it on a greased plate.
6) Now refrigerate this Burfi till it seats down. Cut it in small diamond shape, garnish it with slivered almonds and saffron strands.
7) Eat this healthy & delicious Papaya barfi.
2) Recipe no 2 (Papaya salad):
Ingredients required:
a) Small raw green papaya (one).
b) Garlic cloves (six)
c) Chopped long beans (four).
d) Green chili (six).
e) Palm sugar (1 tbsp).
f) Lime juice (3 tbsp).
g) Soy sauce (2 tbsp).
h) Roasted peanuts (3 tbsp).
i) Fresh lettuce 1 small bowl.
Method of preparation:
1) Peel of papaya & put it in a bowl.
2) Prepare juice of garlic, long beans, & tomatoes. Add chilies in it.
3) Now in a cup dissolve sugar, lime juice, & soy sauce.
4) Mix all the ingredients & garnish it with fresh lettuce.
5) Eat this healthy salad once daily.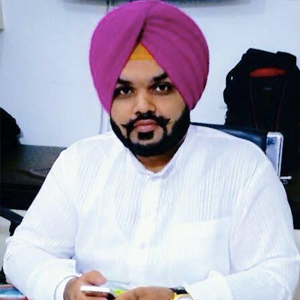 Vaidya Karanvir Singh is the younger Vaidya in Chandigarh Ayurved & Panchakarma Centre. He is the fourth generation in his family who is practicing as a general consultant in Ayurved & Panchakarma treatment at Chandigarh. In his practice, he had treated more than 1000 plus patients worldwide.
Article by Dr. Karanvir Singh (M.D in AYURVEDA, PANCHAKARMA FAGE) and reviewed by Vaidya Jagjit Singh (B.A.M.S)