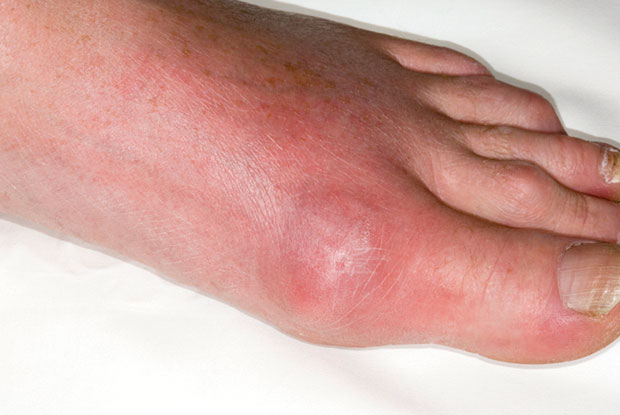 Gout is a type of arthritis in which crystals of sodium urate produced by the body can form inside the joints. Its most common symptom is sudden and severe joint pain accompanied by swelling and redness. It usually affects the big toe, but it can develop in any joint.
Symptoms can rapidly get worse over 6–24 hours and usually last 3–10 days (sometimes referred to as a gout attack). After this time, the joint will start to feel normal again and any pain or discomfort will eventually disappear completely.
Most people with gout develop further symptoms of gout in the future.
What causes gout?
Gout is caused by the accumulation of uric acid in the blood. Uric acid is a waste product that builds up in the body every day and is mainly excreted by the kidneys. It is made when the body breaks down chemicals in cells called purines.
If you produce too much uric acid or you excrete too little uric acid when you urinate, it tends to build up and small crystals can form in and around the joints.
These hard, needle-shaped crystals form slowly over many years. You wouldn't even know it was happening.
Crystals can cause the following two problems:
Some crystals can spread on the soft lining (synovium) of the joints, which causes the pain and swelling associated with gout.
Some crystals clump together to form hard and slowly growing tophi that can gradually damage joints and nearby bone; This eventually leads to irreversible damage to the joints that causes pain and stiffness when the joints are used.
Factors that increase the risk of gout include:
Age and gender: Gout is more common as you get older and is three to four times more common in men.
Being overweight or obese

Having high blood pressure or diabetes

Having gout in close relatives (gout is often familial)

Having long-term kidney problems that reduce the elimination of uric acid

Eating a diet rich in purines; such as eating sardines and liver frequently

Drinking a lot of beer or spirits – these types of alcoholic beverages contain relatively high levels of purines
Treating Gout
Preventing future attacks of gout: through a combination of lifestyle changes (such as reducing your weight if you are overweight) and taking a medicine to lower uric acid levels
When medication is taken as directed with recommended lifestyle changes, such as changing your diet and drinking less alcohol, many people are able to lower their uric acid levels sufficiently over time to allow those crystals to dissolve. can cause gout.
Who is affected?
Gout is more common in men than women. This is mainly because the female hormone estrogen, which is released during the female reproductive cycle, lowers a woman's uric acid levels by increasing the excretion of uric acid through the kidneys.
Symptoms of gout usually appear after the age of 30 in men and after the age of 60 in women. After menopause, uric acid levels rise in women and may also develop gout. The incidence of gout increases with age; It affects 1 in 14 older men and 1 in 35 older women.
Complications
Complications of gout are uncommon, but may include:
Kidney stones – high levels of uric acid can lead to the development of stones (uric acid and calcium stones) inside the kidney

Tophus formation – tophi are small hard lumps that are sometimes visible and easily felt under the skin

Permanent joint damage – due to ongoing joint inflammation between acute attacks, and the formation of tophi within the joint that damages cartilage and bone; This is usually only a risk if gout is left untreated for many years.
The most common symptom of gout is sudden and severe pain in one or more joints; Usually in your big toe. Gout is extremely painful.

Its symptoms often develop at night, although they can arise at any time. Other symptoms include:
Swelling (swelling) in and around the affected joint

Red, shiny skin over the affected joint

As the swelling subsides, a peeling, itchy and flaky skin on the affected joint

The intense pain caused by gout can make it difficult to walk and move. Even the slightest pressure of a bed cover or blanket can be painful.
 What joints are affected?
Seventy percent of people with gout experience their first attack in the big toe, and most people with gout will experience pain in this joint at some point.
However, while gout is most common in the big toe, it can affect any peripheral joint  and can occur in two or more joints at the same time.
Affected joints may include:
Midfoot

Ankles

Knee

Fingers

Wrists

Elbows
Pattern of symptoms
It is difficult to predict when the attack will take place. Symptoms can develop rapidly over a few hours and usually last for 3-10 days. After this time, the joint will start to feel normal again and any pain or discomfort should eventually disappear completely.
More than half (62%) of all people with gout experience a re-attack within a year. You may experience symptoms every few weeks, months or years, but it is impossible to predict when that condition will recur. Some people experience only a few attacks in their lifetime.
When to seek medical advice
Always see your doctor if you suspect you have gout, especially if it has not been diagnosed before. It is important that a diagnosis be confirmed because sometimes a more serious condition, such as an infected joint, can cause similar symptoms.
You may also need treatment with prescription medication that only your doctor (or specialist) can provide.
When to seek immediate medical advice
If you have a temperature above 38C (100.4F) as well as joint pain and swelling, contact or call your doctor right away because you may have an infection inside the joint (septic arthritis).
Causes
Gout is caused by the accumulation of uric acid in the blood. Uric acid is a waste product that is created when the body breaks down chemicals in cells, known as purines.
Most uric acid is removed from the body through the kidneys. A small amount is excreted through the digestive tract.
Uric acid
Uric acid is usually dissolved in your blood and passes through your kidneys into your urine so that it can pass out of your body.
If you produce too much uric acid or excrete too little uric acid when urinating, it can build up and cause microscopic crystals to form, usually in a joint or surrounding tissue.
Crystals can spread from the cartilage of the joints to the joints where they trigger a reaction from the soft lining (synovium), which produces the intense pain and swelling associated with gout.
Risk factors
Certain things can increase the amount of uric acid in your blood, making you more likely to get gout. These risk factors fall into one of two categories:
Medical conditions known to increase uric acid levels, such as obesity, high blood pressure (hypertension), high lipid levels, and long-lasting obstruction of kidney function
lifestyle factors, such as diet or certain medications you may be taking
These risk factors are discussed in detail below.
Medicine
Certain types of medications can raise your uric acid levels and increase your risk of developing gout. These include:
Diuretics, which are used to treat high blood pressure (hypertension) or abnormal fluid accumulation in your body
niacin, which is used to treat high cholesterol
Gender
Men are more likely to develop gout than women because their uric acid levels rise during puberty. During menopause, women also experience similar increases in uric acid levels. This explains why symptoms start later in women than in men.
Diet
Foods naturally high in purines include:
Beef

Pork

Pork

Lamb

Seafood

Liver

Kidney

Alcohol
Alcoholic beverages increase the level of uric acid in the blood by increasing the production of uric acid in the liver and reducing how much of it is excreted in the urine.
Beer and spirits do this more than wine, and beer also contains significant amounts of purines. (Moderate consumption of alcohol—one or two glasses per day—should not significantly increase your risk of gout.
Sugary drinks
Research has shown a possible link between gout and certain sugary beverages.
Specifically, one study found that men who regularly drank sugary soft drinks and drinks with high levels of fructose (a sugar found naturally in many fruits) had an increased risk of gout.
Diet soft drinks were not found to increase the risk of gout.
Family history
Studies have shown that gout often runs in families. About one in five people with gout have a close family member who has gout.

High blood pressure (hypertension)

Diabetes, both type 1 diabetes and type 2 diabetes

Kidney disease

Having high levels of fat and cholesterol in your blood

Susceptibility
Attacks of gout most often occur in the joints of the feet and hands, possibly because the temperature in these joints is often lower than in the rest of the body, making crystals more likely to form.
It is still uncertain why some people are more susceptible to crystal formation and gout than others with equally high blood levels of uric acid. Many people with high levels of uric acid in the blood and tissues never develop gout.
Diagnosis
The most accurate way to diagnose gout is to examine your joints for the presence of crystals. However, your doctor may only need to look at your symptoms and medical history to make a diagnosis.
Many conditions can cause joint pain, swelling and irritation. Gout is just one of more than 200 different forms of arthritis (any condition that causes joint pain and problems).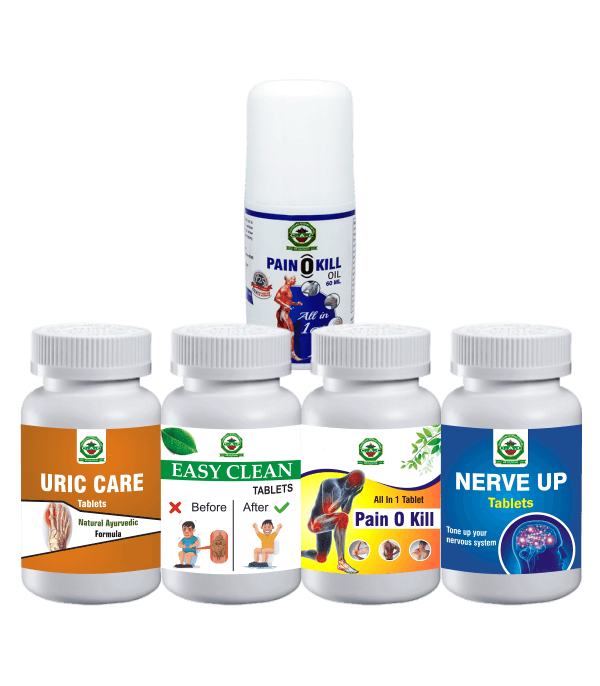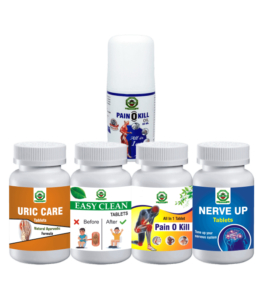 Gout Care Kit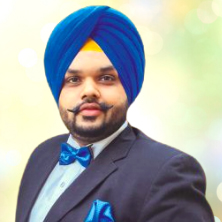 Dr. Vaidya Karanvir Singh is the younger Vaidya in Chandigarh Ayurved & Panchakarma Centre. He is the fourth generation in his family who is practicing as a general consultant in Ayurved & Panchakarma treatment at Chandigarh. In his practice, he had treated more than 1 Lakh Plus patients worldwide.
Article by Dr. Karanvir Singh (M.D in AYURVEDA, PANCHAKARMA FAGE) and reviewed by Vaidya Jagjit Singh (B.A.M.S)