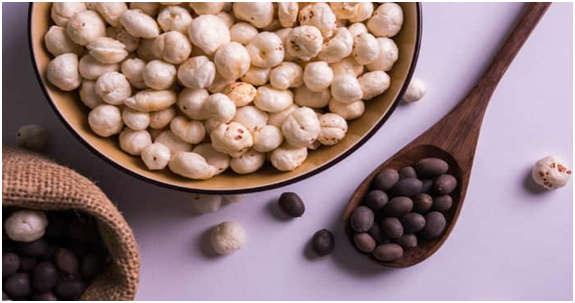 Health Benefits of Makhana (Lotus Seeds)
Makhana also called fox nuts or lotus seeds.
Fox nuts are full of nutrients.
It is crunchy, tasty, easy to prepare, economical and healthy.
Lotus seeds are obtained from the perennial plant, Euryale ferox, grown in wetlands and ponds.
Makhana is often offered to gods during a festival or religious functions as the seeds are considered auspicious.
It is a delicious food item and used to make porridges or sweet puddings for prasad during pujan or festivals.
You can ditch the processed food and snack on makhana as it is free of trans fat and are light on your tummy.
NUTRITIONAL INFORMATION OF MAKHANA
Nutritional value of 100 grams of makhana is-
Calories——————————-347
Protein——————————-9.7 gm
Fats ———————————–0.1 gm
Carbohydrates——————— 76.5 gm
Fiber———————————   14.5 gm
Total lipids (fat) ———————–    0.1 gm
Calcium———————————–   60 mg
Iron —————————————- 1.4 mg
HEALTH BENEFITS OF MAKHANA-
The health benefits of consuming Makhana are explained in detail below.
Inflammatory Properties
Lotus seeds are high in flavonoids, which are chemicals that have a positive effect on your body.
The flavanoid lower the cardiovascular risk and decrease inflammation.
They also have anti-bacterial properties and help you stay healthy.
Good for Teeth and Bone Health-
Makhana is high in calcium, which helps maintaining the health of your teeth and bones.
Eating it will make the bones stronger as it fulfills the recommended calcium requirement of the body.
Lotus seeds also helpful in people with joint problems and osteoporosis.
So, start eating Makhana now.
Anti-Ageing Properties
Fox nuts also has antioxidant properties.
Flavonoids present in the fox nuts is a good anti-oxidants.
It fights the free radicals and reduces the process of early aging.
Makhana improves the overall health.
Eating fox nuts will help inhibit the aging signs such as fine lines, wrinkles, and premature graying of hair.
Helps To Reduce Weight
Talking about the benefits of lotus seeds (Makhana) in reducing weight, its use can prove to get rid of problem of overweight.
Study suggests, ethanol extracts of makhana (fox nuts) can be useful in controlling fat cells in the body.
It can also lower the weight of fat cells.
Therefore, its use can prove helpful in lowering weight.
Rich Source of Protein
About 10.71 grams protein is found in 100 grams of Makhana (lotus seeds).
Therefore, its regular use can be more helpful to get rid of problems of protein deficiency.
Helps in Insomnia
Makhana is traditionally used for the problem of difficulty to sleep.
However, what properties of the lotus seeds are responsible for this benefit, at the moment precise scientific research is not available.
Good for Diabetic People
As makhanas constitute low calories and low glycemic index, it is excellent for the health of diabetic patients.
In short, Makhanas help regulate blood sugar levels.
Diabetic women are prone to heart diseases.
Therefore, Makhanas high magnesium content helps heart patients too.
Fox Nuts Maintains Female Fertility
The hormone-balancing properties of Makhana make it an excellent promoter of the female reproductive system.
Makhanas ensure that all female systems of reproduction and fertility are well maintained.
How to Use Makhana in Different Recipes
Makhana (lotus seeds) are actually tasteless and so whether it is salt or sweet, they take on the added taste.
Roast the seeds with a small amount of ghee on a low flame. Sprinkle salt, and the yummy snack is good to go
Makhana (lotus seeds) also be used in sweet dishes such as kheer and other dessert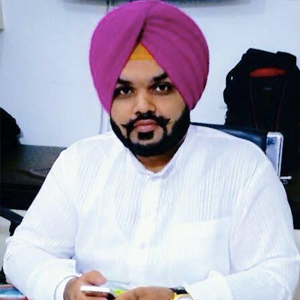 Vaidya Karanvir Singh is the younger Vaidya in Chandigarh Ayurved & Panchakarma Centre. He is the fourth generation in his family who is practicing as a general consultant in Ayurved & Panchakarma treatment at Chandigarh. In his practice, he had treated more than 1000 plus patients worldwide.
Article by Dr. Karanvir Singh (M.D in AYURVEDA, PANCHAKARMA FAGE) and reviewed by Vaidya Jagjit Singh (B.A.M.S)