Herbal Remedies for Hypertension, Ayurvedic Treatment – Causes & Symptoms
Our heart acts like a pumping organ and blood pressure can be experienced when blood exerts pressure against our blood vessels. Blood pressure is a changing phenomenon and is affected by a number of factors like activity, rest, exercise, temperature, cold, diet, emotional state, posture, medications etc. high blood pressure (Hypertension) is an indicative of many problems. Normal blood pressure of a healthy individual is 120mmHg systolic and 80mmHg diastolic.
CAUSES
Poor nutrition
Poor digestion
Stress and hectic lifestyle
Smoking
Excessive intake of intoxicants
Due to hardening of the arteries or abnormal condition of the blood vessels
Due to overweight
Due to metabolic disorders
Excessive intake of salt
Use of medicines for a long period of time
Use of steroids and birth control pills
Due to kidney problems
Insomnia
Hormonal disorders
Eating junk, fried, packed and processed foods in large quantity
SYMPTOMS
Loss of vision
Headache
Kidney failure
Heaviness in the body
Restlessness
Respiratory problems
Tiredness in the whole body
Sleeplessness or disturbed sleep
Increased heart beat and heart attack
Chest pain
Irritation and anger
Nose bleeding may also occur
Nausea and vomiting
Dizziness
Raised body temperature
Altered consciousness
AYURVEDIC VIEW AND TREATMENT ACCORDING TO CHANDIGARH AYURVED CENTRE
According to Ayurveda, Hypertension known as raktagata vata is defined as the elevated pressure of the blood in the arteries. The increase in blood pressure depends upon a person's age, sex, physical and mental activities, family history and diet.
Ayurveda believes that most of the food that we eat contains preservatives and chemicals that create digestive problems. Impaired digestion leads to the accumulation of toxins in the body which then mixes with the plasma and makes it sama that is heavy. The subsequent rakta dhatu thus formed is heavy and sticky. This heavy blood circulates through various channels and toxins start accumulating in the channels of the body. When toxins get accumulated in these channels, they cause narrowing of the channels. The blood then has to exert more pressure to circulate within the srotas or the channels, leading to the condition of high blood pressure.
Ayurveda treatment for hypertension aims at:
Correcting the ama dosha in the body
Improving and strengthening the digestive power
Eliminating the toxins from the body
Practicing yoga and pranayama to make the mind relax and stable
Single herbs useful in case of hypertension are:
Ashwagandha
Triphala
Jatamansi
Arjun
Rudraksha
Tulsi
Cinnamon
Cardamom
Garlic
Ginger
Celery seeds
Ayurvedic formulations needed in this condition are:
Sarpagandha Vati
Arjuna Ksheer Pak
Arjunarishta
Rudra Pearl Capsules
Lashun Rasayan
Lashunadi Vati
Chandra Prabha Vati
Mukta Vati
Hingvadi vati
Chitrakadi Vati
DIET AND LIFESTYLE
Avoid meat, eggs and other non-vegetarian foods
Limit the intake of salt in your diet
Avoid consuming alcohol and caffeine
Avoid smoking
Prefer eating Indian gooseberry, grape fruit, watermelon, garlic, lemon, parsley in diet
Do regular exercises
Practice yoga asanas in case of hypertension.
Avoid anger, anxiety, stress, tension, frustration and irritability as these factors further increases the hypertension.
HERBAL REMEDIES
Prepare the juice containing 3-4 garlic cloves, 10-12 basil leaves and one fourth cup of wheat grass. Drink this once a day.
Mix one teaspoon of onion juice with an equal quantity of honey. Take this once a day atleast for one week.
Mix one gram of garlic paste with a glass of buttermilk. Drink this buttermilk two times a day.
Chew 2-3 garlic cloves every day as it slows down the pulse rate and hence reduces the blood pressure.
Take one teaspoon of dried watermelon seeds and add one teaspoon of cuscus powder. Crush the mixture and have this twice a day.
Crush 4-5 Indian gooseberries and place the paste on a sieve. Press the paste to extract the juice. Take two teaspoon of this juice and add one teaspoon of honey. Mix well and drink this every morning.
NOT SATISFIED?
Click Here to consult Vaidya Jagjit Singh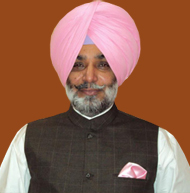 Vaidya Jagjit Singh is a 3rd generation Ayurved physician from his family and is the remarkable person responsible for setting up of the Chandigarh Ayurved and Panchkarma Centre in sector 32 and 22, Chandigarh and Zirakpur and he is also the first founder member of Guru Ravidas Ayurved University. He has done his B.A.M.S. from Shri Dhanwantri Ayurvedic College, Chandigarh. He is an admirable ayurvedic physician with specialization in Chronic ailments.
Article by Dr. Karanvir Singh (M.D in AYURVEDA, PANCHAKARMA FAGE) and reviewed by Vaidya Jagjit Singh (B.A.M.S)