Herbs for Natural Treatment of Sciatica (Sciatic Nerve Pain)
About Sciatica
A lot of people today suffer from nerve problems due to the sedentary lifestyle and unhealthy diets which cause impacts on their normal lives. The sciatic nerve is the longest one which runs from the buttock and the lower back of the leg till foot. It further divides the knees into two branches. There are various factors responsible for sciatic nerve problems which can result in severe complications. It is necessary to protect the nerve from injuries and other issues for reducing potential risks. Sciatica is an inflammation which occurs in sciatic nerves thereby affecting the quality of life.
The symptoms of sciatica may vary from one person to another person that requires special attention. At the same time, physicians will suggest a medical treatment depending on the conditions. However, some alternative options are available for restoring the sciatica disorder to lead a healthy lifestyle.
Causes of Sciatica
Sciatica is mainly caused by the following factors:-
Tumors
Disc prolapse
Pelvis infections
Pelvic fractures
Improper posture
Contraction of piriformis muscles
Osteoporosis
Rheumatoid arthritis
Osteoarthritis
Stiffness and tightening of muscles
Pregnancy
Tumors
Symptoms of Sciatica
Tingling and numbness in legs
Weakness of muscles
Difficulties in the foot and leg movements
Pains in thighs and legs
Impotence
Difficulties in urinating
Gripping sensation
Stiffness
Pulsation
How can Ayurveda help in Treating Sciatica?
Ayurveda is a holistic medical approach that can help for recovering from health disorders naturally with herbal plants and other procedures. According to Ayurveda, sciatica is primarily caused by the Vata dosha which aims at solving the problem immediately. Moreover, it believes that impaired digestion results in the formation of toxins which lead to the symptoms.
The Ayurveda treatment for sciatica involves cleansing body with herbs that can nourish the nervous system. Another thing is that it helps to alleviate imbalances effectively for ensuring optimal results. It utilizes herbal plants for enhancing the conditions of sciatica to live a problem less life. Patients who have the symptoms can benefit a lot with Ayurveda which helps for overcoming the complications. In most cases, Ayurveda doctors will suggest a procedure based on the conditions which ultimately give ways for undergoing major changes.
Herbs Used in Sciatica Treatment
1. Amalaki (Phyllanthus emblica)
Amalaki is the most used herb in Ayurveda for treating a variety of disorders. The antioxidant properties in the herb contribute more to remove free radicals from the body. It aids in promoting the digestive system which can help to lower hyperacidity problems. Another thing is that it plays an important role in improving the immunity and metabolism levels to keep health in a better state.
2. Haritaki (Terminalia chebula)
Haritaki is an important herb in Ayurveda treatment because it contains wonderful medical properties. It works well for the lowering the Vata dosha efficiently to stay away from sciatic problems.
3. Shallaki (Boswellia serrata)
Shallaki herbal plant is an excellent choice for balancing pitta and Kapha doshas that can help in minimizing inflammatory conditions to a greater extent. Furthermore, it gives ways for controlling the osteoporosis and rheumatoid arthritis to get relief from sciatica with better results.
4. Curcumin (Curcuma longa)
Curcumin herb plays an important role in reducing free radicals from the body to overcome the problems caused by arthritis problems. In addition, it makes feasible ways for balancing the energies to maintain nerves in a perfect state.
5. Ashwagandha (Withania somnifera)
Ashwagandha is well known for its medical properties that promote the overall health of a person. The herb helps to nourish immunity and digestive system which can help to eliminate sciatica disorder.
6. Guggul (Commiphora wightii)
Guggul is a wonderful herb which is rich in antioxidant, rejuvenating and purifying properties allowing the patients to recover from the sciatica problems.
7. Haritaki (Terminalia chebula)
Haritaki herb is used for various treatments in Ayurveda that show ways for improving the conditions of digestion system. Apart from that, it helps in increasing the functioning of immune system to stay away from potential threats.
All herbs are 100% safe allowing the patients to get relief from sciatica without any side effects.
Diet & Lifestyle
People who suffer from sciatica should avoid the intake of heavy foods which trigger the symptoms. It is advisable to take bananas, leafy vegetables and apples which facilitate the movement of bowels properly. In addition, it is a wise one to perform light exercises daily for reducing the symptoms.
Not Satisfied?
Click here to consult Vaidya Jagjit Singh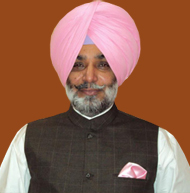 Vaidya Jagjit Singh is a 3rd generation Ayurved physician from his family and is the remarkable person responsible for setting up of the Chandigarh Ayurved and Panchkarma Centre in sector 32 and 22, Chandigarh and Zirakpur and he is also the first founder member of Guru Ravidas Ayurved University. He has done his B.A.M.S. from Shri Dhanwantri Ayurvedic College, Chandigarh. He is an admirable ayurvedic physician with specialization in Chronic ailments.
Article by Dr. Karanvir Singh (M.D in AYURVEDA, PANCHAKARMA FAGE) and reviewed by Vaidya Jagjit Singh (B.A.M.S)