HOW‌ ‌AYURVEDA‌ ‌HELPFUL‌ ‌IN‌ ‌BACK‌ ‌PAIN‌ ‌
INTRODUCTION-
Nowdays back pain is a frequent complaint. Men & women both are equally affected with back pain. Back pain can range from a dull, constant ache to a sudden, sharp pain and is considered as the costly health problems and number one cause of job disability.  Ayurveda is a natural healing system. It is the world's oldest holistic medicine. In Ayurveda science numerous back pain treatments are available.  
 CAUSES OF BACK PAIN
Pelvic inflammatory disease 

Stones in the urinary tract

Inflammation in the urinary bladder

Congenital spinal canal stenosis

Tumor in the spine

Spinal Tuberculosis 

Muscle spasm

and slipped disc

Sprain

,

Strain

and trauma etc.

Spina bifida (an abnormal development of the spine)

Lumbar spondylosis

Ankylosing spondylitis

Osteo-porosis
BACK PAIN SYMPTOMS-
Acute back pain suddenly appears and disappears. It can last as long as 3 to 4 months. Chronic back pain gradually develops and causes long- term health problems.
The most common back pain symptoms include-
Difficulty during walking and lifting

Increased discomfort after prolonged standing or sitting

Trouble standing up straight

Dull and aching pain located in your lower back

Burning or stinging pain ranging from yourlower back to your thighs

Muscle spasms along your back,hips and pelvis.
 TREATMENT APPROACH FOR BACK PAIN-
.
As per Ayurveda, space (Akash), air (Vayu), fire (Agni), water (Jala) and earth (prithvi) from the three energies, or doshas, that controls our bodies. Health issue occurs due to imbalance of our doshas.
Ayurveda treatments include herbal drugs and topical applications. You can also receive an Ayurveda oil massage (Abhayanga) or a medicated enema (Basti), kati basti and parisheka to correct your back pain.
PANCHAKARMA DETOX-
Panchkarma detoxes and rejuvenates the body.  It works to restore your immune systems, balance and overall well-being.

Panchkarma therapies detox cleanses the body of toxic materials caused by your environment bad nutrition and diseases.

Our bodies normally can remove waste marerials. But after long term poor lifestyle habits or genetic predispositions, internal homeostasis is interrupted.

This allows toxins to spread throughtout the body and cause discomfort.

Panchkarma treatments detox corrects your body's imbalances.

It eliminates toxins through your colon, sweat glands, lungs, bladder and intestines.

A successful detox reduces pain and discomfort throughtout your body.
ABHYANGA /MASSAGE –  
A full body massage done with herbal Ayurvedic oils. 

It relieves pains and aches in the back by lubricating the same, improves blood circulation and channelizes nerve ending.

Massage/ abhyanga therapy for your spine and back muscles to relieve back pain and stiffness.

Massage improves blood circulation, which aids in recovery of muscle soreness from physical activity. 

Abhyanga relaxes back muscles for an improved range of motion.
ABHYANGA WITH POTTALI SWEDA –
A treatment which comprises fomentation done using medicated herbs/powders; effective in lower back pain & other musculoskeletal conditions.  

In this procedure uses powders, herbs, rice, sand tied in a muslin cloth to make small satchels.

These powders, herbs, rice or sand sacks are then heated and lightly pounded over the body or specific parts of the body as needed.

This massage provides dry heat for aggravated Vata and vata kapha conditions.

This helps to pacify the aggravated vata thus relieving the associated pain immediately.
ABHYANGA PARISHEKA –
parisheka is the squeezing of warm medicated oil onto the body of the patient from a piece of cloth that is periodically soaked in a vessel containing the medicated oil.

This therapy is done after a traditional massage.

It helps improve muscle tone and strengthens them thereby providing the much needed support.

Abhyanga parisheka rejuvenates the tissue good for inflammatory pains.

Parisheka literally means squeezing.
KATI BASTI –
In Kati Basti specially prepared warm herbaliazed oil is poured over the lower back and retained inside a well created using black gram flour or whole wheat flour. 

It is helpful in lower back pain conditions like lumbar spondylosis, inter-vertebral disc prolepses, lumbago (low back ache), and sciatica.
BASTI/ MEDICATED ENEMA-
Vata doshas is responsible for 50% of our body's diseases. A medicated enema, also known as basti balances vata dosha.
It works your colon because your colon is what balances you vata.
Sneha Basti
Sneha Basti involves enema using medicated oil. 
It is used to treat lower backache, gout and rheumatism.
Kashaya Basti
Kashaya Basti involves enema using medicated decoction. 
It is used to treat lower backache, gout and rheumatism.
Get effective and safe Ayurvedic Treatment for back pain.
CHANDIGARH AYURVED & PANCHKARMA CENTRE'S BACK PAIN TREATMENT-
CAC prepare their own ayurvedic medicinal preparations created with the help of the experience and knowledge that they had got from their ancestors.

Our experience of over 85 years makes us the best at offering the services required to effectively heal.

Effective treatment avoiding the need of surgery.

A long tradition of effective healing for over 131 years.

Safety for long term use.

Better clinical outcomes.

Renewed confidence in life.

The treatment is natural and holistic.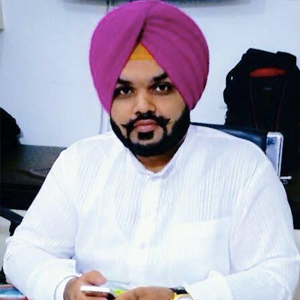 Vaidya Karanvir Singh is the younger Vaidya in Chandigarh Ayurved & Panchakarma Centre. He is the fourth generation in his family who is practicing as a general consultant in Ayurved & Panchakarma treatment at Chandigarh. In his practice, he had treated more than 1000 plus patients worldwide.
Article by Dr. Karanvir Singh (M.D in AYURVEDA, PANCHAKARMA FAGE) and reviewed by Vaidya Jagjit Singh (B.A.M.S)