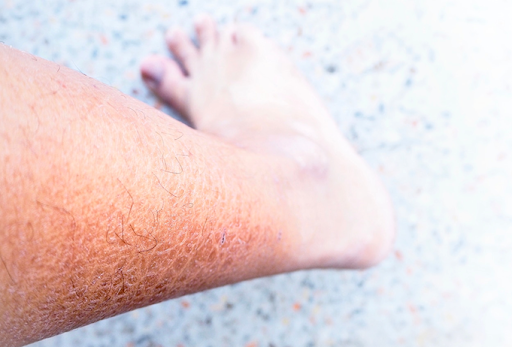 ICHTHYOSIS VULGARIS AND ITS AYURVEDIC MANAGEMENT
Acquired or inherited skin condition that develop when skin doesn't  shed its dead skin cells and skin surface becomes thick, dry and scaly. It is the most common and mildest form of Ichthyosis.  Icthyosis vulgaris is also called as "Fish scale disease".
This condition mostly begin in childhood mainly in the first year of life. Adults can also develop the disease. In most cases it is mild and confined to certain areas of the body. But some case are severe and cover large areas of body comprising back, legs , abdomen and arms.
WHAT ARE THE CAUSES OF ICHTHYOSIS VULGARIS ?
It is usually caused due to mutation of gene responsible for encoding Filaggrin a protein that helps to create skin's natural barrier. Without natural skin barrier skin cells begin to harden and thicken as they age and then they move to surface of skin where they become fixed scales.
Common cause for Acquired ichthyosis includes :
Hodgkin lymphoma
Sarcoidosis
Impaired thyroid function
Medication containing Nicotinic acid
HIV
Many targeted cancer therapy drugs
Medication with Kava as ingredient
Organ failure mostly kidney and liver ffailure
Hydroxyures
Some conditions can also cause Ichthyosis are :
Systemic conditions
Conditions that affect entire body
Use of certain medications
WHAT ARE THE COMMON SYMPTOMS OF ICHTHYOSIS VULGARIS ?
Symptoms of Ichthyosis vulgaris varies from person to person. Some of the common symptoms includes :
Itchy , dry skin
Rough, thick skin which looks dirty , generally noticeable on palms and soles of feet.
Extra lines on palms and soles may run deep in severe cases causing cracks in skin which may develop infection if cracks are deep enough .
Gray, White or brown scales appears on front of legs, back of arms, back , scalp or stomach.
If scales appear on face then it mostly appears on cheeks and forehead and sometimes edges of scales curls to make skin feel rough.
Inability to perspire adequately in severe cases leading to overheating of body.
Rough bump on thighs, arms and buttocks which are often mistaken for acne blemishes.
HOME REMEDIES FOR ICHTHYOSIS VULGARIS
Some of the things to do at home to manage symptoms of Ichthyosis Vulgaris :
Soaking in bath to help soften skin and gently remove scales using loofa or pumice stone. Avoid the usage of harsh soaps as they make cause dryness of skin.
Pat dry your skin with towel instead of rubbing your skin. Pat drying helps to keep some moisture in skin and avoid further irritation of skin.
Using lotions and moisturizer containing propylene glycol or urea right after bathing to helps keep most moisture in the skin.
Add moisture in air by using humidifier in dry winter season to counter dryness.
  AYURVEDIC APPROACH :
In ayurveda it can be correlated with Eka kushtha in which the skin resembles scales of fish. Due to Nidan sevan like intake of unwholesome fooed, Suppressing natural urges like vomiting etc, Intake of kapha vitiating food etc leads to  vititation of mainly Vata and kapha dosha along with pitta dosha . The aggravated three doshas in turn contaminates tvak(skin) , mamsa(flesh), rakta (blood), and ambu(body fluids) leading to development of the disease.
Herbs :
Neem
Patola
Amalaki
Khadira
Guduchi
Kutaja
Yashtimadhu
Raktachandana
PANCHKARMA :
Snehan
Vaman
Swedan
Virechan
Raktmokshan
Shirodhara
CHANDIGARH AYURVED CENTRE MEDICATION FOR THE TREATMENT Of ichthyosis vulgaris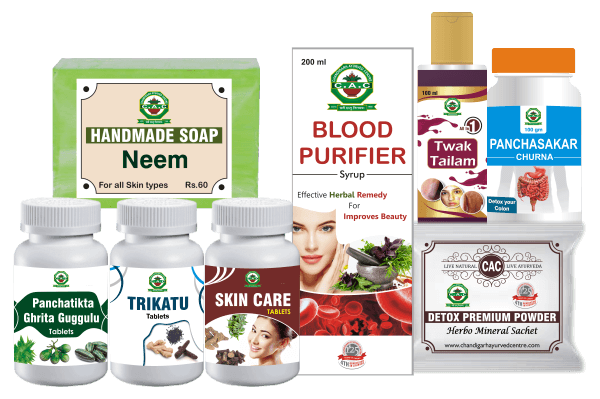 1. Detox Premium Powder:
This is a herbo-mineral preparation that contains ingredients like Parwal Pishti, Giloy satv, Shukta Pishti, Kamdudha Ras, Gandhak Rasayan, etc.
Parwal Pishti: This Pishti reduces inflammation, flaking, itching of the skin. The Pishti is composed of natural coral calcium processed with rose water.
Shukta Pishti: It helps to balance the Pitta dosha in the body. All signs and symptoms related to Psoriasis patients are managed with this article.
Giloy Satv: This satv is prepared from the herb Giloy (Tinospora cordifolia). The anti-inflammatory, antioxidant, and analgesic properties of this herb deal with psoriasis easily.
Kamdudha Ras: This herbal-mineral classical preparation balances Pitta dosha in the body.
Gandhak Rasayana: This herbal preparation is used since ancient times for all types of skin disorders.
Akik Pishti: This Pishti reduces all types of Pitta related disorder hence it gives good results in psoriasis.
Recommended Dosage: Take 1 sachet twice daily with plain water.
2. Blood Purifier Syrup :
It is ayurvedic syrup that consists of various natural ingredients such as Khadir Chall (Acacia catechu), Manjistha (Rubia cordifolia), Neem (Azadirachta indica), Giloy (Tinospora cordifolia), Harad (Terminalia bellirica), Baheda (Terminalia chebula), Amla (Emblica officinalis), etc. As the syrup purifies the blood by removing excess toxins it is very beneficial in maintaining proper circulation and improves the skin naturally.
Recommended Dosage – Take 2 teaspoonful twice daily.
3. Twak Tailam :
Twak tailam is very effective for the skin as it deeply nourishes the tissues and improves the skin luster. The tailam is composed of yashtimadhu (Glycyrrhiza glabra), manjistha (Rubia cordifolia), etc. The tailam supports skin health, helps in reducing uneven pigments, improves complexion, and helps in deep detoxification and blood purification without any side effects.
Method of Application – Apply over the affected area of the skin.
4. Skin care tablet:
skin care tablet is a pure ayurvedic formulation. It help to maintain the texture of your skin depending on the type of skin you have. It contains various herbs like Haridra khand, Panchnimb churna, Khadir chahal, Chirayta, Mulethi, Chopchini, Gandhak, Ajmoda that work very effectively on all skin types. Skin care is a blood purifying tablet. It cools and detoxifies the blood, increase blood circulation of the skin. It minimizes the blemishes, lighten sun tan, delay ageing of skin and heal skin problems.
Recommended Dosage: Take 1 tablet twice daily.
5. Panchatikta Ghrita Guggulu:
Panchatikta Ghrita Guggulu is an ayurvedic preparation mainly used for skin diseases. This tablet contains pure herbal ingredients such as Nimba(Azadirachta indica), Patola(Cucumis acutangulus), Guduchi(Tinospora cordifolia), Vasa(Adhatoda vasica), etc. This tablet promotes detoxification and rejuvenation. Panchatikta Ghrita Guggulu tablet is a natural source of anti – oxidant. It promotes engender vibrant and healthy skin.
Recommended Dosage–Take 1 tablets twice a day with normal water.
6. Panchsakar Churna:
Panchsakar Churna is an ayurvedic formulation that consists of five ingredients named as – Saindhav Lavana (Rock Salt), Swarnapatri (Cassia angustifolia), Shatapushpa (Anethum sowa), Shunti – (Zingiber officinale), Balaharitaki  (Unripe fruits of Terminalia chebula). Panchsakar Churna is naturally detoxifying, thus it removes the toxins from the body. It relieves inflammation and useful in all types of skin problems.The powder has an anti – inflammatory properties due to which it can reduces the swelling.
Recommended Dosage– Take 1 teaspoonful with lukewarm water at bedtime.
7. Neem soap:
Neem soap is natural and herbal handmade soap prepared from the standard extract of herb Neem (Azadirachta indica). Neem herb is widely used to cure acute to chronic Skin problems such as Pimples, Itching, Dryness, Blemishes, Dark spots, Pigmentation, Scars etc. It is such a wonderful herb that is easily available and shows Anti-bacterial, Anti-inflammatory, Antioxidant, Anti-microbial, Antifungal, Antiseptic properties. Neem cleanses the pores and protects the skin from various infections, Psoriasis, Eczema, Leprosy, Skin ulcers. It restores the health of damaged skin, tones skin complexion, prevents premature ageing, Wrinkles, Fine lines can protect against UV rays, and acts as a natural moisturizer for the skin.
Method of Application: Neem Soap can be regularly used on face and body, as a bath soap.
8. Trikatu Tablet:
Trikatu Tablet helps to eliminate excess Kapha or mucous from the body, supports respiratory system, manages weight, helps to take out impurities or ama from the body, supports healthy detoxification, reduces swelling. It shows anti-inflammatory, analgesic, expectorant, antioxidant properties. This tablet is made up of equal parts of three herbs such as Pippali (Piper longum), Shunthi (Zingiber officinale), & Marich (Piper nigrum) that maintains the metabolism in the body.
Recommended dosage: Take 1 tablet twice daily with normal water.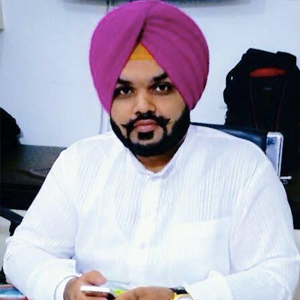 Vaidya Karanvir Singh is the younger Vaidya in Chandigarh Ayurved & Panchakarma Centre. He is the fourth generation in his family who is practicing as a general consultant in Ayurved & Panchakarma treatment at Chandigarh. In his practice, he had treated more than 1000 plus patients worldwide.
Article by Dr. Karanvir Singh (M.D in AYURVEDA, PANCHAKARMA FAGE) and reviewed by Vaidya Jagjit Singh (B.A.M.S)