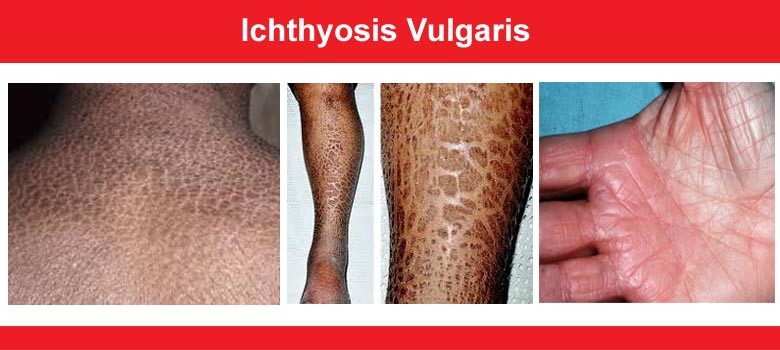 INTRODUCTION-
Ichthyosis Vulgaris is the most common skin disease where the skin's superficial layer becomes dry, itchy, thick, and scaly. Most cases of ichthyosis Vulgaris are hereditary and usually commence in early childhood.
CAUSES OF ICHTHYOSIS VULGARIS
Typically, ichthyosis vulgaris are caused by a mutation in the gene accountable for encoding filaggrin. Filaggrin, a protein that helps create the skin's natural barrier.
Most Common factors of acquired ichthyosis vulgaris are:
HIV
Sarcoidosis
Depraved thyroid function
Hodgkin lymphoma
Organ failure, especially liver and kidney failure
Nicotinic acid containing drugs
Kava containing medications
Hydroxyurea medicine
Many medications targeted cancertherapy drugs
The condition can also be caused by:
The use of certain medications
Systemic conditions
Conditions that affect the entire body
THE SYMPTOMS OF ICHTHYOSIS VULGARIS
Symptoms of ichthyosis vulgaris are
severely dry and itchy skin
Thickened, rough skin that looks dirty, typically on the soles of the feet and palms of the hand
Gray, brown or White, scales on extensor region of the limbs, dorsol part of arms, scalp, back or abdomen.
If scales seem on the face, typically, the forehead and cheeks.
If the cracks are recondite enough, an infection may develop.
Rough bumps on the arms, haunch and breech
The bumps are often mistaken for acne blemishes.
Incapacity to sweat sufficiently.
Extra lines on the palms of the hands and the soles of the feet
The lines may run deep in severe cases, causing cracks in the skin.
SOME EASY WAYS TO REDUCE THE POSSIBILITY OF WORSENING SYMPTOMS ARE:
Avoid direct exposure to cold or dry air environments
taking short showers or baths
limits the frequency of bathing
avoiding tanning beds or artificial tanning
apply a good moisturizer quickly after showers
harsh soaps, body washes, detergents, shampoos, and conditioners should be avoided
blotting, rather than rubbing the skin after exposure to water
heavily air-conditioned environments should be avoided
avoiding places controlled by centralized heating
using a humidifier
protecting the skin from wind or cold
use ideal sunscreen, those with added moisturizers
Hot tubs and pools should be avoided because that contain skin irritants and drying chemicals like chlorine.
AYURVEDA ASPECT OF ICHTHYOSIS VULGERIS
In Ayurveda, Ichthyosis vulgaris considerd as ayurvedic skin disorder Eka Kushtha.
Eka kushtha, a condition of skin disease out of 11 types of skin disorders (Kshudra Kushtha) that is described in classical ayurvedic text.
As per Ayurveda, Eka Kushtha disease is mainly caused by imbalanced Vata and Kapha dosha.
In Eka Kushtha condition, skin appears like fish skin and it spreads and affects huge area of the skin.
AYURVEDIC TREATMENT FOR ICHTHYOSIS VULGARIS
According to present day medicine's understanding, Ichthyosis is a hereditary skin disorder where skin's surface becomes thick, dry and scaly
Ichthyosis affects people of all ages, gender and races.
The prime aim of Ayurvedic management is to moisturize the skin (Twak) and deal with exfoliation process of the skin.
PANCHAKARMA TREATMENT (BIO-PURIFICATION)
Snehan and Swedan (Oilination and Steam)
Internal Oilination is needed to deal with the imbalanced Vata and Kapha dosha.
Several herbs processed medicated ghee is used to correct the metabolism and moisturizer the skin.
Coconut oil can be used as part of diet to moisturize the skin
Most used oil for external oleation is Dhanwantaram Tailam, Ayyappalakera Tailam Pamanthaka Tailam, Panchavalkadi Tailam.
Vamana (Medicated emesis)
Vamana karma is one of the best panchakarma procedures to even up Kapha dosha.
It expelled ama (toxins) from the upper GI tract.
Vamana karma can be done by using herbs such as Patol, Nimba, Vasa and Yashtimadhu.
Virechana karma (Medicated purgation)
Ama (Bio toxins) trapped into body tissues (dhatu) with time starts to disturb functions and structure of normal tissues.
Accumulated bio toxins are responsible for spreading of the disease in the body.
Ichthyosis vulgaris requires well-ordered expulsion of accumulated toxins (Ama) from the body.
Raktmokshan (bloodletting)
Blood is most predominant body tissue that got affected in the disease process.
Raktmokshan (bloodletting) is traditional Ayurvedic procedure used to drain out impure blood from your body.
Most of time Leech is used to suck out the toxic blood from the affected area.
Shirodhara
Shirodhara is a procedure of pouring medicated oils or decoctions on the forehead to relax and calm mind.
Mental health issues such as anxiety or stress plays significant role in skin disease.
Shirodhara has been used to restful mind in order to restore normal body function.
Shirodhara also reduces the dryness of skin.
That helps to balance kapha dosha involved in disease process.
It also helps fight depression and other emotional issues.
Vasti (Medicated enema)
Vasti is the best treatment to balance Vata dosha.
Medicated ghee or oils can be given as Anuvasan vasti (Oil enema) to treat the ichthyosis vulgaris.
AYURVEDA HERBS USED IN TREATMENT OF ICHTHYOSIS VULGARIS
Triphala
Bhringaraj (Eclipta alba)
Kutaki (Picrorhiza kurrooa)
Sariva (Hemidismus indica)
Yashtimadhu (Glycerhiza glabra)
Kumari (Aloe Vera)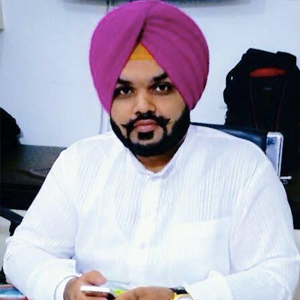 Vaidya Karanvir Singh is the younger Vaidya in Chandigarh Ayurved & Panchakarma Centre. He is the fourth generation in his family who is practicing as a general consultant in Ayurved & Panchakarma treatment at Chandigarh. In his practice, he had treated more than 1000 plus patients worldwide.
Article by Dr. Karanvir Singh (M.D in AYURVEDA, PANCHAKARMA FAGE) and reviewed by Vaidya Jagjit Singh (B.A.M.S)