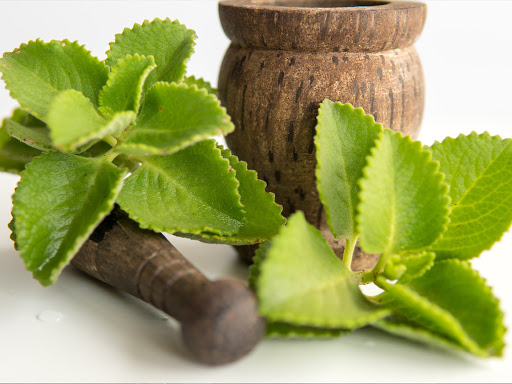 Commonly called 'Pani koorkka' in Malayalam, 'Karpuravalli' in Tamil, and 'Pathar choor' in Hindi, this plant has been traditionally used as a remedy for common ailments like cold, flu, fever and respiratory-related issues.
This plant can be easily grown at home, courtyards and can also be kept in pots. Propagation is via stem cuttings as well as seeds. This plant grows well in semi-shaded, dry environments and when well-drained. In Ayurveda, there are many references regarding the usage of Indian Borage as medicine. It is very easy to make various home remedies from this plant.
amboinicus is widely cultivated as a medicinal plant, potherb, ornamental, and condiment in tropical regions around the world. The aromatic leaves are used as a food additive or spice, flavouring meat, soups, fish, and local beer (Hanelt et al., 2001; Wyk, 2005). The leaves are also eaten as a vegetable, as well as for washing clothes, hair, and laundry due to its fragrance (Whistler, 2000; Wyk, 2005; Lukhoba et al., 2006). The herb is used as a folk remedy for burns and bites, internally as a carminative and antiasthma, and applied externally as an insect repellant, and is also often grown as an ornamental plant for its attractive leaves and flowers (Whistler, 2000; Hanelt et al., 2001). Plectranthus species are also used for dry season fodder (Lukhoba et al., 2006).
In Brazil, the species is often grown in subsistence agriculture (Wyk, 2005). It is used medicinally in Brazil for the treatment of skin ulcerations caused by Leishmania braziliensis, in Malaysia to treat burns and as a poultice for centipedes and scorpion bites, and in India, the juice of the leaves is used to treat skin allergies (Lukhoba et al., 2006). Leaves of Indian Borage are used to make medicines. These leaves are put on a hot tava which makes them transparent. After that, take them out and squeeze with your fingers to produce juice. Leaves can also be squeezed directly to take out the juice.
1. For relieving fever
1 tablespoon of pure juice for children, 2 tablespoons for adults.
2. As an expectorant
Boil the leaves for 5 minutes in 1 cup of water. Cool down this concentrate. 2 tablespoons for children and quarter cup for adults to squeeze out sputum from the respiratory tract, to cure cough, bronchitis, and nasal as well as chest congestion. This will be highly effective if taken daily, for people with asthma and allergic wheezing.
3. For upper respiratory infection
Mix the juice of leaves with organic rock sugar (called 'kalkkandam' in Malayalam and 'mishri' in Hindi), and give it to children and toddlers who have throat infection, cold and cough.
4. As a preventive measure
2 or 3 drops of pure juice of the leaves can be daily applied on the head (in children as well as adults) to get prevention from cough, cold, and common ailments.
5. For infants and toddlers
Mix the juice of leaves with little honey and apply on the mother's breast so that infants can take it while sucking milk. Little juice can also be applied directly to the infant's lips. This will give relief from common ailments like cold, cough, upper respiratory ailments and common fever.
6. As an antidote
Juice of the leaves can be applied directly for insect bites and similar things.
7. For curing infections and allergies
Juice of the leaves can be directly applied to wounds, infections, to get cured. The juice can also give relief from allergic skin reactions like itching.
8. As a lactating agent
The plant can improve lactation in breastfeeding mothers. Through this, the plant's medicinal properties will be transferred to the baby from the mother.
Other than this, Indian Borage has also been used as a flavouring agent in cooking. Though useful to adults, this plant is particularly popular for the medicinal benefits it provides to children. Basically, we can call this wonder herb an in-house child specialist.
Ajwain Leaves Can Be Put To The Following Uses:
Benefits of oregano in cough cold (Uses Of Ajwain Leaves: To Cure Cold And Cough 🙂
Ajwain Leaves Uses: Home remedy of oregano leaves can be used to relieve persistent cold and cough. For this, you can prepare boiling leaves of carmine in water. If you have a cold and cough, take some 10 or 12 oregano leaves, clean them with water and then pour them in a glass of water and keep them on low flame to boil. This decoction will be prepared for the common cold. Keep in mind that let it boil until the water reduces about three-fourths of its original volume. Take it off the heat, let it cool down a little and then drink it for relief from cold and cough. If you want, you can add a little honey to it.
Use oregano to make pakoras. Uses Of Ajwain Leaves: Use It To Make Pakodas:
You can deep fry the oregano by mixing it with spicy gram flour (besan) solution to make delicious and spicy pakoras. Which is known as Omavalli Bajaji (omavalli bajji). These pakoras can be eaten hot with ketchup.
To Make Chutneys And Dips:
Ajwain leaves can enhance your taste if it is added to some creamy curd to make it more tasty. Alternatively, you can prepare chutney by grinding fresh oregano sauce with some spices of your choice in a grinder. Chutney can also be eaten with pakoras, chips, paranthas with crisps.
To make refreshing green juice. 
To add flavor and nutrition to the juice, you can add oregano leaves to any fruit or vegetable juice of your choice. You can mix it in any green juice of your choice, to make it more tasty.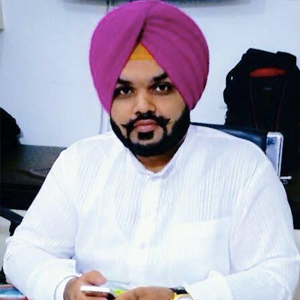 Vaidya Karanvir Singh is the younger Vaidya in Chandigarh Ayurved & Panchakarma Centre. He is the fourth generation in his family who is practicing as a general consultant in Ayurved & Panchakarma treatment at Chandigarh. In his practice, he had treated more than 1000 plus patients worldwide.
Article by Dr. Karanvir Singh (M.D in AYURVEDA, PANCHAKARMA FAGE) and reviewed by Vaidya Jagjit Singh (B.A.M.S)