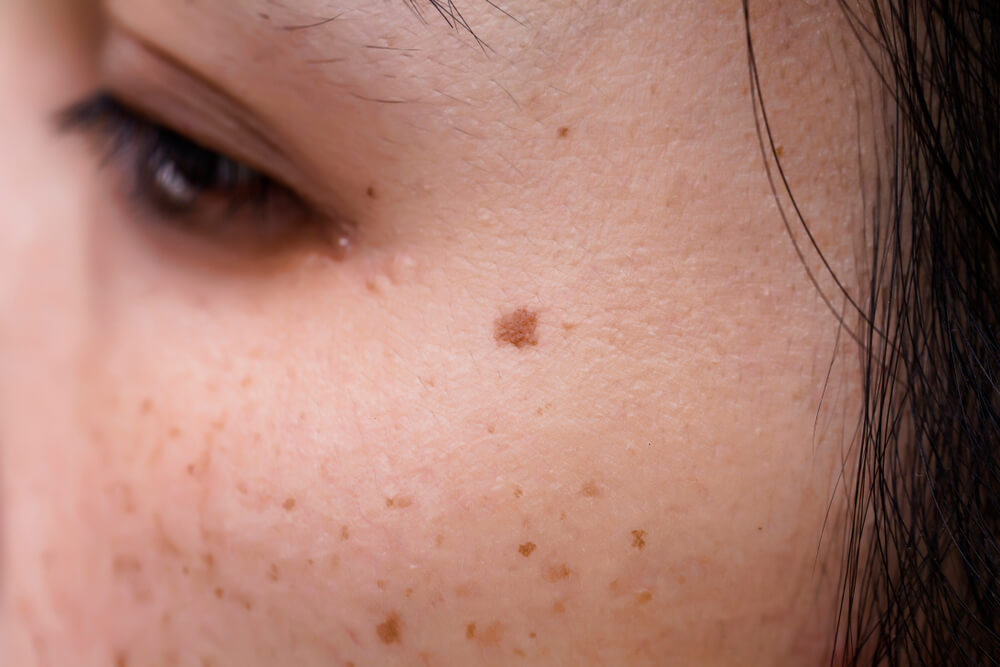 Lentigo is also known as lentigines or age spots, are benign or non-cancerous areas of discoloration (pigmented macules) that result due to increased activity of skin cells (epidermal melanocytes).
They appear as flat, dark, and irregularly shaped patches. The two main types of lentigo are lentigo simplex and solar lentigo. Any individual can experience lentigo lesions; however their frequency tends to increase with age. These lesions commonly appear on sun-exposed areas such as the face, shoulders, arms, and back of the hands. Mucosal melanotic macules (the form of lentigo affecting the mucosa) can appear on the lips and genitalia as one or multiple brown-black patches.
CAUSES OF LENTIGO
The cause of lentigo depends on the subtype:
The cause of lentigo simplex (the most common form) is unknown. It may appear at birth or develop during childhood. In solar lentigo, these spots are believed to appear due to sunburns and prolonged sun exposure (most common in fair-skinned people).
The remaining less common forms of lentigo can arise due to-
Psoralen and ultraviolet therapy
Use of tanning beds
Exposure to radiation
Genetic factors like inherited syndromes – Xeroderma pigmentosum, LEOPARD syndrome, Peutz-Jeghers syndrome, Cowden syndrome, Bannayan-Riley-Ruvalcaba syndrome, and Noonan syndrome.
What are the associated Symptoms?
Flat spots
Tan, brown, or black
Round or uneven edges
Asymptomatic
Subtypes of Lentigo
Lentigo Simplex:This is the most common form of lentigo and it may appear at birth or develop during childhood. These lesions present as sharply circumscribed, round or oval, brown-black areas that is usually smaller than 5 mm in They may appear on part of body.
Solar Lentigo:These spots are believed to appear due to sunburns and prolonged sun exposure. These lesions appear in sun-exposed areas, primarily on the face, the back of the hands, forearms, and upper trunk. There is an increased incidence in older adults and fair-skinned individuals. Solar lentigo presents as many tan or dark-brown spots with irregular borders that are usually greater than 1 cm in diameter.
Mucosal Melanotic Macule: This is a variant of lichen simplex that often develops on the oral mucosa (mouth and lips) and genitalia. It presents as one or multiple brown-black spots. They more commonly appear in females. These macules may indicate the presence of certain disorders and syndromes such as Peutz-Jeghers, Laugier-Hunziker, Bannayan-Riley-Ruvalcaba, and Hamartoma-tumor syndromes.
For how much time does it persist?
Most lentigo spots will not resolve on their own and usually increase in size and number with age. Lentigo simplex in children can spontaneously disappear over time.
What is the Treatment for Lentigo?
Over the counter treatments:
Creams containing the following compounds can help lighten lentigo:
Glycolic acid
Hydroxy acid
Hydroquinone
Kojic acid
Deoxyarbutin
Prescription medications:
Retinoids: Tretinoin (brands Retin-A, Retin-A Micro, Atralin, Renova, Avita), tazarotene (Tazorac, Avage), and adapalene (Differin).
Hydrocortisone: Common brand names are Cortaid and Nutracort.
Hydroquinone: Brand names include Lustra, Eldoquin, Melanex, and Epiquin Micro.
These creams lighten dark spots gradually over time, however, they usually produce sun sensitivity and skin irritation.
Some recommendations:
It is important to limit sun exposure. When in the sun a broad spectrum sunscreen should be applied and a hat and sun protective clothing should be worn. The following natural remedies can help lighten these spots:
Vitamin C applied daily (can also help protect your skin from UVA and UVB rays)
Vitamin E applied daily (can also help protect your skin from the sun)
Aloe vera applied daily
Apple cider vinegar applied daily
Honey applied daily
Orchid extract applied daily
Licorice extract applied daily
Medical Interventions:
Liquid nitrogen
Cryotherapy: Individually removing each spot by freezing them.
Lasers targeting melanin (Q-switched ruby laser): High intensity beams are used to remove spots.
Intense pulsed light (broadband light)
Chemical peels: A chemical solution is brushed onto the skin to exfoliate it. The dead skin cells are then peeled away.
Microdermabrasion: The top layer of the skin is exfoliated using a hand-held device.
Diagnosis-
It is usually diagnosed based on the clinical appearance. The doctor may use dermatoscopy to further examine your mole.
In very rare cases they may perform a biopsy and a histological examination.
Differential Diagnosis-
Actinic Keratosis: A growth that feels rough to the touch. It is considered precancerous.
Ephelides (Freckles): Light brown spots that appear on the sun-exposed areas of the skin during the summer months and can disappear over the winter.
Seborrheic Keratosis: Sharply defined, light brown and flat spots with a velvety or verrucous surface.
Lentigo maligna melanoma: this is a type of invasive skin cancer and is the least common type of melanoma.
CAC SPECIAL SKINCARE KIT
This kit is designed to clear out skin blemishes and helps to resolve other skin issues and make your skin healthier and glowing.
Detox Premium Powder:
This is a herbo-mineral preparation that contains ingredients like Parwal Pishti, Giloy satv, Shukta Pishti, Kamdudha Ras, Gandhak Rasayan, etc.
Parwal Pishti: This Pishti reduces inflammation, flaking, itching of the skin. The Pishti is composed of natural coral calcium processed with rose water.
Shukta Pishti: It helps to balance the Pitta dosha in the body. All signs and symptoms related to Psoriasis patients are managed with this article.
Giloy Satv: This satv is prepared from the herb Giloy (Tinospora cordifolia). The anti-inflammatory, antioxidant, and analgesic properties of this herb deal with psoriasis easily.
Kamdudha Ras: This herbal-mineral classical preparation balances Pitta dosha in the body.
Gandhak Rasayana: This herbal preparation is used since ancient times for all types of skin disorders.
Tal Sindoor: It contains ingredients like Shuddh parad, Aloe vera, Gandhak, etc that relieve redness in psoriasis patients.
Akik Pishti: This Pishti reduces all types of Pitta related disorder hence it gives good results in psoriasis.
Recommended Dosage: Take 1 sachet twice daily with plain water.
Blood Purifier Syrup:
It is ayurvedic syrup that consists of various natural ingredients such as Khadir Chall (Acacia catechu), Manjistha (Rubia cordifolia), Neem (Azadirachta indica), Giloy (Tinospora cordifolia), Harad (Terminalia bellirica), Baheda (Terminalia chebula), Amla (Emblica officinalis), etc. As the syrup purifies the blood by removing excess toxins it is very beneficial in maintaining proper circulation and improves the skin naturally.
Recommended Dosage – Take 2 teaspoonfuls twice daily.
Skin Care Plus tablet:
Skin care tablet is a pure ayurvedic formulation. It helps to maintain the texture of your skin depending on the type of skin you have. It contains various herbs like Haridra khand, Panchnimb churna, Khadir chahal, Chirayta, Mulethi, Chopchini, Gandhak, Ajmoda that work very effectively on all skin types. Skin care is a blood purifying tablet. It cools and detoxifies the blood, increase blood circulation of the skin. It minimizes the blemishes, lighten sun tan, delay ageing of skin and heal skin problems.
Recommended Dosage: Take 1 tablet twice daily.
Panchatikta Ghrita Guggulu:
Panchatikta Ghrita Guggulu is an ayurvedic preparation mainly used for skin diseases. This tablet contains pure herbal ingredients such as Nimba(Azadirachta indica), Patola(Cucumis acutangulus), Guduchi(Tinospora cordifolia), Vasa(Adhatoda vasica), etc. This tablet promotes detoxification and rejuvenation. Panchatikta Ghrita Guggulu tablet is a natural source of anti – oxidant. It promotes engender vibrant and healthy skin.
Recommended Dosage –Take 1 tablet twice a day with normal water.
Strawberry Face Cream:
The strawberry face cream is pure herbal cream that gives you a glowing complexion without any side effects. This face cream Delays aging, eliminates dead skin cells, cleanses the skin, improves complexion, and even tones your skin. The antioxidants present in strawberries delay the signs of aging like wrinkles and sagging skin. Vitamin C fights free radicals that cause damage to cells and collagen resulting in fine lines. Vitamin C in strawberries is essential for the production of collagen, which improves the skin's elasticity.
Recommended Dosage – Apply to the affected area twice daily.
Note- This treatment may differ from person to person according to the severity of the skin condition.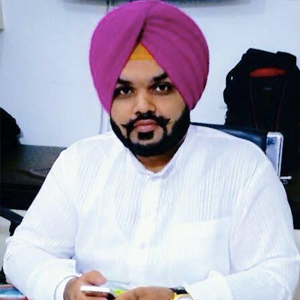 Vaidya Karanvir Singh is the younger Vaidya in Chandigarh Ayurved & Panchakarma Centre. He is the fourth generation in his family who is practicing as a general consultant in Ayurved & Panchakarma treatment at Chandigarh. In his practice, he had treated more than 1000 plus patients worldwide.
Article by Dr. Karanvir Singh (M.D in AYURVEDA, PANCHAKARMA FAGE) and reviewed by Vaidya Jagjit Singh (B.A.M.S)