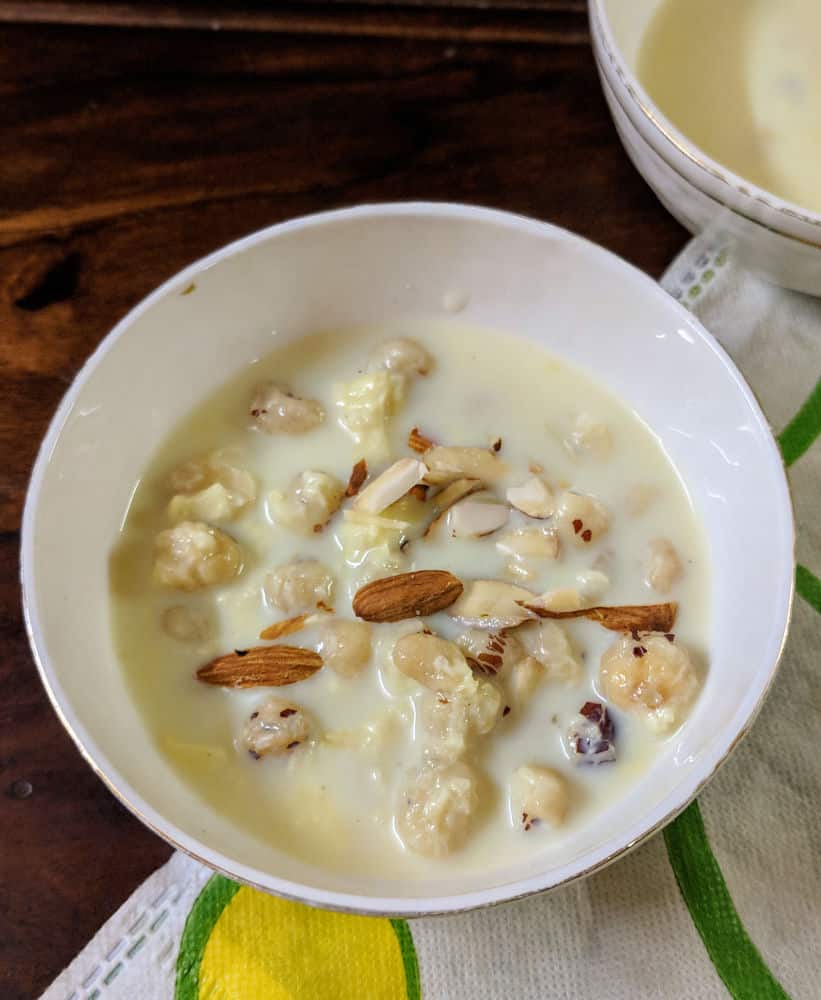 Kheer is very much liked in Indian desserts, whenever there is a chance of happiness in a house, kheer is made quickly. But today we are going to tell you the recipe of Makhana Kheer, not the recipe of rice pudding. Makhana is included in the food items that you can cook and eat during fasts like Navratri and Janmashtami. The festival of Navratri and Janmashtami are celebrated with great enthusiasm and satvik food is eaten during these fasts. This recipe of Salbhai Dot Cot Makhana Kheer is a healthy option that you can eat during the fast.
Fox Nut

1/2 cup cashew nuts

2 tsp ghee

Rock salt

1/2 tsp cardamom powder

3 cups milk

Sugar to taste

Dry fruits, sliced
Method of making Makhana Kheer
Roast the makhana and cashew nuts in a pan by adding some ghee and after that sprinkle a little rock salt over them.

As soon as it cools down, grind 3/4 of the butter and a little cardamom with cashews in a blender.

Take another deep pan, take 2 to 3 cups of milk in it and let it boil.

Add sugar to it, after that add Makhane mixture into it and mix well.

Now add the rest of the roasted Makhanas and cashews.

Stir continuously until it thickens.

After garnishing with chopped dry you can serve kheer hot or cold.
Key Ingredients: Makhana, Cashew, Ghee, Rock Salt, Cardamom Powder, Milk, Sugar, Dry Fruits
Makhana Benefits and Uses
Makhana (phool makhana) is delicious in food, but it also has countless benefits.
Benefits of Makhana in sugar (diabetes)
Today's lifestyle has become so bad that people get a lot of illnesses accidentally. Diabetes is also one of them. Due to lack of time, people give more priority to unbalanced food, due to which the sugar level in the body increases. It causes diabetes. The benefits of Makhana are also found in sugar. Make sugar-free kheer of fox nuts. Add Salam Mishri powder to it and feed it. It provides benefits in diabetes.
Benefits of Makhana in Post Pregnancy Pain
Women have severe pain after delivery. It is also unbearable. The properties of Makhana helps in relieving such pain. Make a decoction by putting Makhana leaves in 10-15 ml of water. Drinking this provides relief from post-natal pain.
Benefits of Makhana to Get Rid of Ear Pain
Ear pain occurs due to several reasons. This disease is seen mostly in children. Makhana seeds can be used to get relief from earache. Boil the seeds of Makhana in water and make it like a decoction. Put one or two drops of this decoction in the ear. This reduces ear pain .
Makhana Benefits to Get Relief from Rheumatoid Arthritis
Arthritis has become a common disease today. Due to arthritis, there is a lot of pain in the joints of the body, such as legs and hands. You can benefit from the quality of Makhana. For this, grind the leaves of Makhana tree and apply it on the painful place. It provides comfort 
Makhana Benefits in Burning Sensation
Many people have a burning sensation in different parts of the body, such as the feet or the soles of the feet. Mixing Makhane with milk and drinking it gives relief from this problem.
Makhana Helps to Fight Weakness in physical weakness
Complaints of physical weakness can occur for many reasons. You can get benefit in this by taking Makhana. Physical weakness is overcome by taking Makhana seeds.
Benefits of Makhana for Heart (Makhana Beneficial for Healthy Heart)
Makhana is beneficial for the heart. With its proper intake, it improves blood supply and also helps in preventing serious problems like heart attacks.
Benefits of Makhana in controlling blood pressure (Makhana Beneficial to Control Blood Pressure)
Makhana is beneficial for high blood pressure because it contains less sodium and more potassium, which reduces high blood pressure.
Benefits of Makhana in reducing insomnia 
The reason for not sleeping is the manifestation of vata dosha in the body. Makhane helps in getting sleep due to his master and gimmicky nature.
Benefit of Makhana for Kidney
Consuming proper amount of Makhana also helps in keeping the kidneys healthy. It helps to maintain the normal functioning of the kidneys by increasing the efficiency of the kidneys.
Benefit of Makhana to Get Relief from Hot 
Eating makhane is a good remedy to keep the heat away because makhanas have cold (cold) properties that cool the body heat and give relief.
 Makhana Beneficial for Gum for Gums
Makhans can be used to remove bleeding and inflammation from the gums as makhanas have astringent and cold properties that prevent blood flow.
Benefits of Makhana to avoid impotence 
Consumption of Makhana can also help to some extent in the impotence of men because it has the virtue of increasing the male power.
Use of Makhana to get rid of wrinkles 
The consumption of makhanas also helps in getting rid of wrinkles as it has balsamic properties. Which helps in maintaining oily elements in the skin, which helps in preventing wrinkles.
Makhana to prevent diarrhea 
Diarrhea is usually caused by a change in food or food poisoning. For this, along with making changes in diet, take Makhana.. Fry Makhana in ghee and eat it.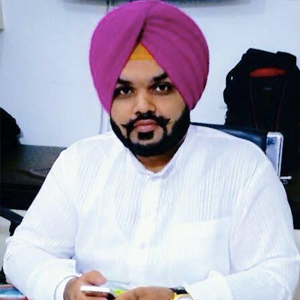 Vaidya Karanvir Singh is the younger Vaidya in Chandigarh Ayurved & Panchakarma Centre. He is the fourth generation in his family who is practicing as a general consultant in Ayurved & Panchakarma treatment at Chandigarh. In his practice, he had treated more than 1000 plus patients worldwide.
Article by Dr. Karanvir Singh (M.D in AYURVEDA, PANCHAKARMA FAGE) and reviewed by Vaidya Jagjit Singh (B.A.M.S)