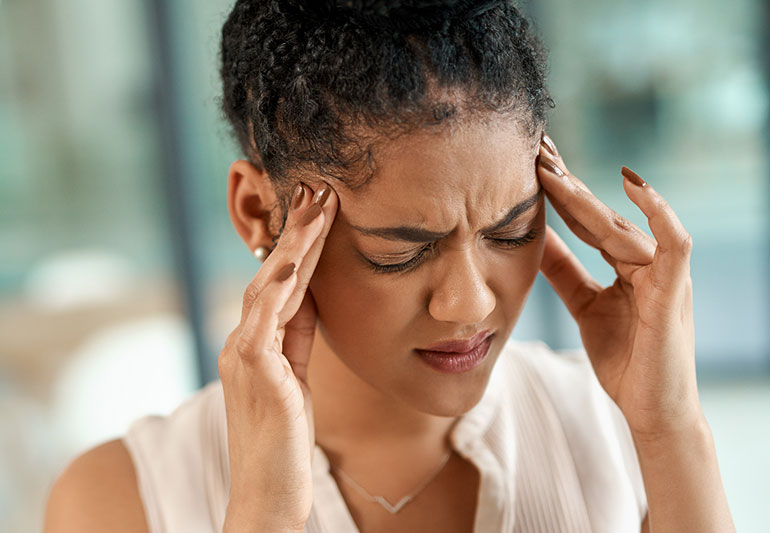 Managing Migraine with Ayurveda Naturally
How is migraine different from other headaches?
Migraine is a neurological condition that is most commonly associated with a strong headache. Migraine causes debilitating throbbing and pulsating pain usually on one side of the head that can leave person in bed for days. It is due to the excessive stimulation of the nerves and blood vessels of the brain. Headache is episodic and often occurs with vomiting, nausea, photosensitivity (sensitive to light), tiredness, visual disturbances, numbness, tingling, irritability, temporary loss of vision and many more. The triggering factors may include movement, acidic stomach, constipation, light, sound etc. Many researches have shown that it is the most disabling disease in the world.
Stages of migraine:
Migraine follows four stages in chronological order prodrome, aura, headache and postdrome.
Prodrome Phase:The prodromal stage lasts for few hours to few days. Sometimes you don't even feel it. This phase is also called as premonitory or
preheadache phase. This includes irritability, depression, difficulty in concentrating, nausea, fatigue, increased urination etc
Aura phase: This phase may last for 5 min or about 60 min. Most of the times this phase merges with headache phase and person don't feel aura phase. This phase includes numbness, tingling sensation, visual disturbances, weakness, speech changes etc
Headache phase: Headache may last for 72 hours or more. Sometimes the pain is mild and most of the times it is throbbing, drilling, ice picking sensation in the head. Typical pattern of headache starts from one side of the head and spread to the other side or complete head. The symptoms may include neck pain, stiffness, insomnia, nausea, vomiting, nasal congestion, sensitive to light or smell, giddiness etc.
Postdrome phase: It persists for one day or two day after the headache goes away. This phase is often called "Hangover phase". 80% people experience postdrome phase. The phase include depressed mood, euphoria, lack of comprehension, fatigue etc
Migraine causes as per Ayurveda:
Indigestion
Oily and spicy food
Suppression of natural urges
Emotional disturbances like anger, jealousy, stress, grief etc
Prolonged exposure to sunshine
Intake of dry (ruksha), pungent (katu rasa), salty (lava rasa)
Keynote:
Triggers: foods and activities that increases kapha and pitta dosha like baked food, caffeine, chocolate, fermented food, peanuts, processed food, foods that are heavy to digest, alcohol, smoking, birth control pills, change in sleeping patterns, fasting , bright light, strong perfumes and many other.
What Ayurveda says about Migraine?
Ayurveda is a holistic approach to health. While managing any disease it considers body, mind and soul. Ayurveda revolves around Doshas (body elements), dhatus (body tissues) and Agni (digestive fire). The imbalance of any of these is the basis of any disease. So to maintain hormony in the body these have to be taken care of.
Migraine is known as Sooryaavarta. Splitting this we get "Soorya" that means Sun and "Aavarta" means blockage or affliction. It defines that headache rises on sunrise, peaks in mid noon and decreases during evening. This is the typical feature of the headache but not true in every case. Symptoms may vary  from person to person and based on the body type and habits. In migraine elevated pitta dosha obstruct the flow of vata dosha causing pain in the head.
Symptoms of Migraine:
Throbbing and pulsating pain, mild to moderate to severe
Pain shifting from one side to other side of the head, back of the head
Sometimes pain in eye or temple, face, sinus, jaw or neck
Indigestion, nausea, vomiting, diarehoea or pain in abdomen
Loss of appetite
Feeling very warm or cold
Skin pallor
Dizziness or blurred vision
Tender scalp
Fever
Irritable and difficulty in sleeping
Increased urination`
Ayurveda therapies to manage migraine:
Application of herbal paste to pacify doshas of sandalwood, camphor or jatamansi known as shiro lepa
Shiro dhara pouring steam oil or decoction over scalp
Anu tail nasya
Shirovasti
Kaval graha (oil pulling)
Useful herbs yastimadhu (Glycyrrhiza glabra), Sariva (Hemidesmum indicus), bala (sida cordifolia), kumari (aloe vera) etc]
Godanti powder provides fast relief from migraine
Management of migraine with Chandigarh Ayurved Centre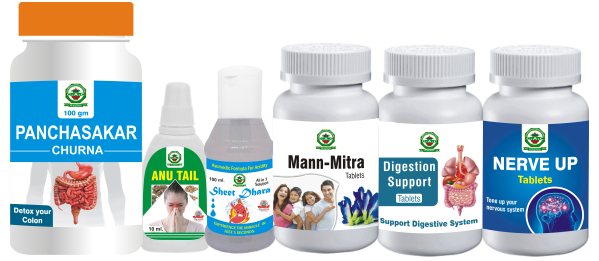 All Products Description in Detail
1. Nerve up tablet
CAC Nerve up tablet is a herbo-mineral tablet and is purely ayurvedic formulation.  CAC Nerve up tablets help in balancing the vata doshas. It reduces kapha dosha, and acts as nervine stimulant. It shows effective results in improving the central nervous system. It contains natural ingredients like shudha kuchala, shudha shilajeet, abhrak bhasma, praval pishti, shankh bhasma etc. These contains natural vatahar properties and helps in curing vata diseases.
Recommended Dosage – Take 1 tablet twice daily with normal water.
2. Panchasakar Churna
This churna is specially made to remove the toxins from the body on a regular basis. This herbal remedy is made up of ingredients such as Haritaki (Terminalia chebula), Swarna patri (Cassia angustifolia), Shatapushpa (Foeniculum vulgare), Shunthi (Zingiber officinale), and Saindhavan lavana (Rock salt). It balances all the doshas and reduces the symptoms of associated diseases.
Recommended Dosage – Take 1 tablespoon with Lukewarm water at bedtime.
3. Sheet Dhara Syrup
Sheet Dhara is herbo mineral and purely ayurvedic formulation. It works on all the three doshas of body but mainly act on pitta dosha. It contains Ajwaion, Kapur (camphor) and Mint leaves that help reduce Acidity and burning sensation in chest region with its cooling effects. It relaxes your mind also maintains Bloodpressure. CAC Sheet dhara help in controlling mood swings by which many women are affected nowadays. It also controls burping ,nausea and bloating.
Recommended Dosage – Take 1/2 or 1 teaspoon of sheet dhara twice daily empty stomach.
4. Digestion Support tablet
This tablet is unique blend of best digestive herbs like kutaz chal, bilav, dhania, mustak, shankh bhasm, piper mint, and dadim that maintain natural Ph balance in the stomach and aid digestion of all types of food. The herbs present in this control acidity, gas, flatulence and constipation. These all complex problems are root cause of all diseases. If digestive system is proper it leads to proper assimilation of the nutrients in the body.
As per Ayurveda digestive disorders are due to imbalance of Pitta doshas. The Ama formation leads to digestive disorders.
Dosage – 1 tablet twice daily with plain water
5. Mann Mitra tablet
Mann Mitra tablet is herbal and purely ayurvedic medicine. It is used in Ayurvedic treatment for psychiatric conditions and help to balance all the three doshas of body i.e vata, pitta, kapha. CAC Mann Mitra tablet improves intelligence and speech problems. It is helpful for making the nervous system strong and nerves as well. It contains various herbs like Bala, Vacha, Shankhpushpi, Nagkeshar etc that help you fight insomnia, anxiety, and stress.
Recommended Dosage – Take 1 tablet twice daily with normal water.
6. Anu Tail
Anu tail is herbo mineral and purely ayurvedic formulation. It is used for ayurvedic treatment procedure known as Nasya treatment in most of the disease involving Ear, Nose and Throat involving pain. It has Tridosha balancing properties but mainly help to balance your Kapha dosha that cause Headache, running Nose or Sinusitis. It strengthens Ear, Eyes, Nose, Tongue and Throat.
Recommended Dosage – 2 drops twice a day in both nostrils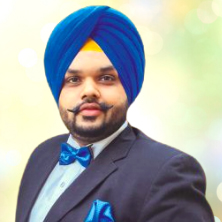 Dr. Vaidya Karanvir Singh is the younger Vaidya in Chandigarh Ayurved & Panchakarma Centre. He is the fourth generation in his family who is practicing as a general consultant in Ayurved & Panchakarma treatment at Chandigarh. In his practice, he had treated more than 1 Lakh Plus patients worldwide.
Article by Dr. Karanvir Singh (M.D in AYURVEDA, PANCHAKARMA FAGE) and reviewed by Vaidya Jagjit Singh (B.A.M.S)