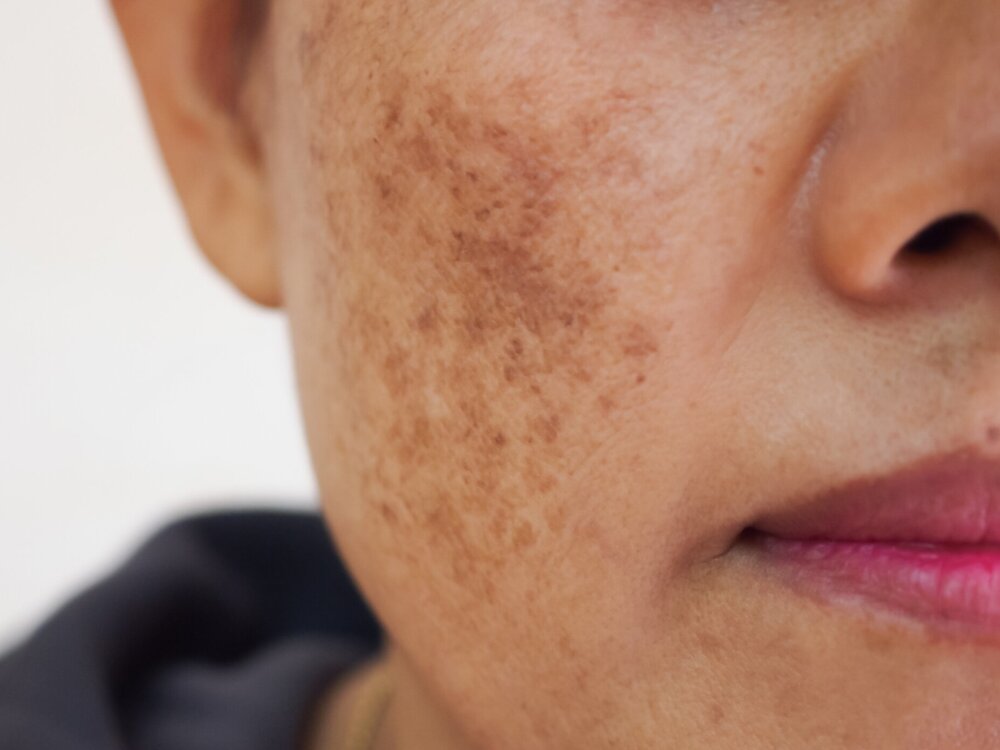 DESCRIPTION
Melasma is a skin condition which is characterized by brown, blue, gray patches or freckle-like spots on face. 

It also called mask of pregnancy or less common name for melasma is chloasma. 

Melasma happens because of overproduction of the cells that make skin color. 

It is common and harmless.

Affected face, including the cheeks, upper lip, forehead, as well as the forearms. 

Melasma usually fades after a few months.
WHERE DOES MELASMA MOST COMMONLY OCCUR
Nose, Cheeks, chin, upper lip and forehead. 

Sometimes occur in arms, neck and back. 

Melasma can affect any part of skin that is exposed to sunlight. That is why most people notice the symptoms worsen during the summer months.
HOW COMMON IS MELASMA?
It is a very common skin disorder especially among pregnant women. 

20 to 50% of pregnant women get it.

Between 1 to 33% of the population get melasma and it happens more often during a woman's reproductive years and rarely happens during puberty. 

It is usually occur between 20 and 40 years of age.
WHO IS AT RISK OF MELASMA?
Fairer-skinned people are less likely to be affected by melasma than compare to people with darker brown skin or those who tan well. 

Women are more prone to get melasma than men.

Pregnant women get melasma more than anyone else. 

People also at risk if taking oral contraceptives and hormones.
WHAT HAPPENS IN THE SKIN?
Skin is made up of three layers: 

Outer layer is the epidermis, 

Middle is the dermis, 

Deepest layer is the sub cutis. 
Skin is a largest organ and makes up about one-seventh of body weight. 

Skin act as barricade. It protects bones, muscles, organs and everything else from the cold, from germs, sunshine, moisture, toxic substances, injury and more. 

It also helps to regulate body temperature, prevent hydration and feel sensations like the warmth of the stove.

Epidermis contains cells called melanocytes that store and produce a dark color known as melanin. 

In light, heat, ultraviolet radiation or by hormonal stimulation the melanocytes produce more melanin and make skin darkens.
TYPES OF MELASMA
1. Epidermal – This type of melasma dark brown in color
A well-defined border, 

Appears under black light 

Responds well to treatment.



2. Dermal – Dermal melasma are light brown or bluish in color, 
A blurry border, 

Appears no differently under black light  

Does not respond well to treatment.



3. Mixed Melasma – Mixed melasma is the most common type of melasma.
It has both bluish and brown patches, 

Shows a mixed pattern under black light 

Shows response to treatment.
IS MELASMA CANCEROUS?
Melasma is not cancerous, 

It is a sign of cancer or skin condition that turns into cancer. 

There are skin cancers that may mimic melasma.
IS MELASMA PERMANENT?
Melasma is a typically chronic disorder. This means that it is long-lasting take 3 or more months. 

Some people have melasma for years or more their entire lives. 

Other people may have melasma for just a short time or during pregnancy.
CAUSES OF MELASMA
Anti-seizure medications

Contraceptive therapy 

Estrogen/Diethylstilbestrol

Genetics

Hypothyroidism

LED Screens

Pregnancy

Hormones

Cosmetics

Phototoxic drugs  

Skin care products

Soaps

Tanning beds
DO CERTAIN FOODS AFFECT MELASMA?
No foods or drinks are known to directly cause, magically cure or worsen melasma

To keep skin healthy try healthy-skin diet of foods rich in Vitamin D:

Almond milk

Eggs

Meat

Milk

Mushrooms

Oily fish

Orange juice

Yogurt
HOW DO DERMATOLOGISTS TREAT MELASMA?
Hydroquinone 

Tretinoin and corticosteroids 

Other topical medicines.  
CAC TREATMENT FOR MELASMA
Detox Premium Powder

– Detox premium powder is a very effective ayurvedic medicine to cure blemishes as it purifies the whole body by removing excess toxins from the body. The powder is composed of shukta pishti, giloy satv, gandhak rasayan, moti pishti, akik pishti, shankh bhasma, etc. The ingredient reduces all the signs and symptoms associated with the blemishes.


Recommended Dosage

– Take 1 sachet twice daily with normal water.

Skin Glow Kadha

– Skin glow kadha is an Ayurvedic proprietary that gives the best result in the treatment of acne, blemishes, rashes, and other common skin problems. The decoction is composed of dalchini, giloy, tulsi, chirata, haldi, mahaguni, bahera, etc. The ingredients have anti-aging properties and act as natural astringent that provides freshness to the skin, helps in improving the skin texture, restores the skin balance and naturally improves the quality of the skin.


Recommended Dosage

– Take 20 ml twice daily with an equal amount of water.

Blood Purifier Syrup

– It is ayurvedic syrup that consists of various natural ingredients such as Khadir Chall (Acacia catechu), Manjistha (Rubia cordifolia), Neem (Azadirachta indica), Giloy (Tinospora cordifolia), Harad (Terminalia bellirica), Baheda (Terminalia chebula), Amla (Emblica officinalis), etc. As




the syrup purifies the blood by removing excess toxins it is very beneficial in maintaining proper circulation and improves the skin naturally.


Recommended Dosage

– Take 2 teaspoonful twice daily.

Aloe Vera Gel

– Aloe Vera herb is well known for its medicinal properties and has multiple benefits in case of skin problems. The gel is made up of pure extract of aloe vera that has a mixture of rose petals in it. The gel has anti-inflammatory, anti-oxidant, anti-fungal, anti-bacterial properties and also provides a




coolant effect to the skin.


Method of Application

– Gently apply over the affected area of the skin.

Twak Tailam

– Twak tailam is very effective for the skin as it deeply nourishes the tissues and improves the skin luster. The tailam is composed of yashtimadhu (Glycyrrhiza glabra), manjistha (Rubia cordifolia), etc. The tailam supports skin health, helps in reducing uneven pigments, improves complexion, and helps in deep detoxification and blood purification without any side effects.


Method of Application

– Apply over the affected area of the skin.

Skin care tablet

– Skin care tablet is a pure ayurvedic formulation. It help to maintain the texture of your skin depending on the type of skin you have. It contains various herbs like Haridra khand, Panchnimb churna, Khadir chahal, Chirayta, Mulethi, Chopchini, Gandhak, Ajmoda that work very effectively on all




skin types. Skin care is a blood purifying tablet. It cools and detoxifies the blood, increase blood circulation of the skin. It minimizes the blemishes, lighten sun tan, delay ageing of skin and heal skin problems.


Recommended Dosage

– Take 1 tablet twice daily.

Panchatikta ghrita guggulu

– This tablet contains pure herbal ingredients such as Nimba(Azadirachta indica), Patola(Cucumis acutangulus), Guduchi(Tinospora cordifolia), Vasa(Adhatoda vasica), etc. these herbs shows Antioxidant, Anti-rheumatic, Anti-inflammatory, Analgesic, antipruritic, neuro-protective




properties. This tablet is effective in Indigestion, blood purification, blemishes, scars, asthma, and gout.


Recommended Dosage

– Take 1 tablet twice daily.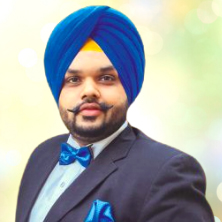 Dr. Vaidya Karanvir Singh is the younger Vaidya in Chandigarh Ayurved & Panchakarma Centre. He is the fourth generation in his family who is practicing as a general consultant in Ayurved & Panchakarma treatment at Chandigarh. In his practice, he had treated more than 1 Lakh Plus patients worldwide.
Article by Dr. Karanvir Singh (M.D in AYURVEDA, PANCHAKARMA FAGE) and reviewed by Vaidya Jagjit Singh (B.A.M.S)