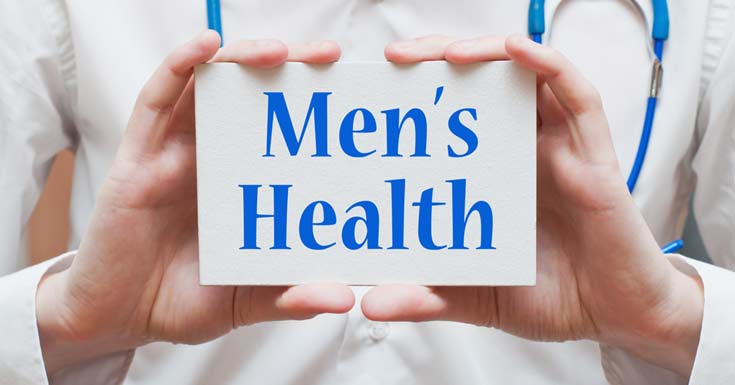 INTRODUCTION
Men are biologically designed weaker in comparison to women. On an average, men die five years earlier than their wives. Men care less about their health in comparison to women. They put their health at last. They think if they are playing their roles nicely in society, then they are healthy. They do not follow healthy lifestyle and do not go for regular health check-ups. They tend to drink more alcohol, consume tobacco and have unhealthy eating habits. This all make them more prone to health problems.
Some of the various health conditions which affect men are diabetes, heart problems, stroke, cancer, depression, etc. However, benign prostate enlargement and prostate cancer occur only in men. Many of the health problems are preventable if they do some of the dietary and lifestyle changes. Regular physical exercise, balanced diet, less alcohol consumption and regular health checkups can keep various diseases at bay.
SOME OF THE VARIOUS HEALTH CONCERNS RELATED TO MEN
CARDIOVASCULAR DISEASE
Atherosclerosis is the root cause of various other heart-related problems. Atherosclerosis is the hardening of arteries due to the deposition of cholesterol inside the walls of arteries. Cholesterol plaques are formed on the inner lining of arteries. This causes narrowing of the blood vessels leading to hypertension, blockage, stroke and heart attack. It is the one of the global health concern. The cholesterol plaque can get detached from the artery wall and can cause blockage in brain, heart or any other part of body. When the clot formation occurs in heart, it causes a heart attack.
Nearly 1 in 5 men die due to a cardiovascular disorder. Women have more amount of good cholesterol in their blood in comparison to men. So men need to take much care of themselves to reduce the risk of heart diseases.
With some of the following steps, cardiovascular diseases can be prevented:
Regular health check-ups
Regular cholesterol screening
Maintaining blood pressure
Regular physical exercise of near about 30 minutes a day
Stop cigarette smoking
Eat more fruits and vegetables
DIABETES
Diabetes is one of the major health concern now-a-days. It usually begins silently, with no symptoms at first. But the blood sugar levels increase with passing time leading to manifestation of the symptoms. Increased urination and thirst are the most common symptoms of diabetes. The increased level of glucose in blood act like a slow poison on the nerves and blood vessels. This leads to other health problems like heart attacks, blindness, stroke, kidney failure and amputations. Being overweight and bad eating habits are one of the most common cause of diabetes. So one should do regular physical exercise and eating healthy diet for maintaining weight. This helps in prevention of diabetes and reduces the chance of developing the disease by more than 50 percent.
RESPIRATORY DISEASES
Respiratory diseases start as a man starts smoking. Coughing is the first symptom which often leads to other fatal conditions like emphysema, chronic obstructive pulmonary disease (COPD), lung cancer, etc. Every year more men are diagnosed with respiratory problems due to increased smoking. Exposure to toxic fumes, fine dust, asbestos, etc. comes under some of the occupational hazards which also cause lung problems. Tobacco smoking is the cause of 90 percent lung cancers.
Men are more prone to smoking from an early age. One should quit smoking for the prevention or further aggravation of lung diseases.
LIVER DISEASE
Liver is the second largest gland in body. It helps in digestion of food and absorption of nutrients. It removes toxins from the body and filters drugs. Alcohol consumption is very common among men. Now-a-days boys of adolescent age start drinking with their friends and this habit continues further. Some of the common liver disorders which occur due to alcohol intake or some other reason are:
Liver cirrhosis
Hepatitis
Bile duct cancer
Alcoholic or non-alcoholic live disease
Genetic liver disease
Liver cancer
By not consuming alcohol, doing regular physical exercise and eating a balanced diet can help in preventing liver diseases.
PROSTATE CANCER
Prostate gland is a male reproductive organ. It helps in formation of semen. It is a walnut-sized glans which is present behind the penis. As men gets older, the prostate gland gets more prone to problems. Benign prostate hypertrophy (BPH) is the enlargement of prostate gland. It is very common among old men. This leads to dribbling of urine and frequent urination at night. When not treated at time, it can lead to prostate cancer. One in six men are diagnosed with prostate cancer during their lifetime. Most of the prostate cancers are slow to grow and cause metastasis. But some are aggressive in nature. Proper screening and blood tests can be helpful in the diagnosis of prostate problem.
ERECTILE DYSFUNCTIONING
Erectile dysfunctioning has also become very common among men now-a-days. It is not a life-threatening disorder but can indicate serious underlying health implication. Men above 40 years are affected by erectile dysfunction. The most common cause of it is atherosclerosis which is hardening of arteries. This shows that arteries throughout the body are not healthy. Men suffering from erectile dysfunction are more prone to depression. It is one of the first sign of cardiovascular disease.
CHANDIGARH AYURVED CENTER'S MEDICATIONS FOR MAINTAINING OVERALL HEALTH OF MEN
Here are some of the medications of Chnadigarh ayurved center which are used for men's health: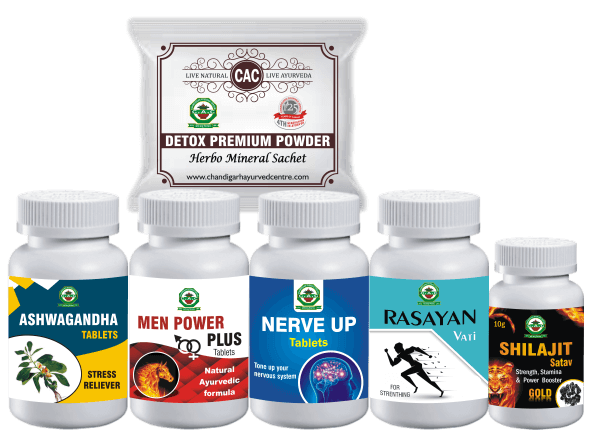 1. Detox Premium powder
Detox premium powder is a herbo-mineral preparation containing ingredients such as jahar mohra pishti, parwal pishti, shukta pishti, shankh bhasma, kehrva pishti, moti bhasam, giloy satv, kamdudha ras, etc. This herbal powder help in overall detoxification of the body, balances pitta dosha in the body, reduces inflammation, pain, sudden pain, and improves the overall health of women, etc.
Recommended dosage:Take 1 sachet twice daily with normal water.
2. Nerve up tablet
Nerve up tablet is a herbo-mineral tablet and is the purely ayurvedic formulation. CAC Nerve up tablets helps in balancing the Vata doshas. It reduces Kapha dosha, and acts as a nervine stimulant. It shows effective results in improving the central nervous system. It contains natural ingredients like shudha kuchala, shudha shilajeet, abhrak bhasma, praval pishti, shankh bhasma etc. These contain natural vatahar properties and helps in curing Vata diseases. It acts as CNS stimulant: speed up physical and mental processes. Works in Erectile dysfunction, Body weakness, and Insomnia
Recommended Dosage:Take one tablet twice daily.
3. Ashwagandha tablet
CAC Ashwagandha tablet is an herbal and purely ayurvedic formulation. Ashwagandha has been called the kings of Ayurvedic herbs. Its root has a horsey smell. It boosts your immune systemand relieves stress. It is made from the goodness of Ashwagandha also known as Indian ginseng. It helps you recover from anxiety and depression, boost your brain. It may also modestly enhance strength performance, improve glucose metabolism, increase testosterone levels It is a good antioxidant, anti-inflammatory, anti-diabetic, anti-cancer and anti-stress properties.
Recommended Dosage:Take one tablet twice daily.
4. Shilajeet  Satva
Shilajeet of 10gm packing is a herbo mineral and purely ayurvedic formulation. It balances all the three doshas of your body but mainly works on Kapha dosha.It is a blackish-brown powder or an exudate from mountain rocks found mainly in the Himalayas. It is an effective and safe supplement that has a positive effect on your overall health and well being. CAC Shilajit is available in the form of Shilajit Satva. It is a potent Immunity Booster and acts as an antioxidant, possesses anti-inflammatory properties. It has a tremendous effect on Male Harmones, Anaemia, Alziehmers disease, improves brain functions, Fatigueness, various Tumours and Cysts like PCOD in females.
DOSAGE: As directed by physician.
5. Men Power Plus tablet
Mostly at one age men may suffer from low self-esteem and become negative. This also occurs because they are facing problems in their sexual life. There might be early ejaculationand erectile dysfunction. A feeling of inferiority also occurs and they feel hesitate to visit a doctor or discuss this problem. It also affects their relationship and leads to fighting, divorce, loss of self-confidence, the stress in their personal life.
If a person has difficulty in having and keeping an erection more than 25% of the time, its a time for consultation. Ayurveda offers a great solution to this problem.
Uses:
Provide strength to the whole body and help to relieve erectile dysfunction naturally.
All herbs are aphrodisiac, helps to increase stamina.
The best source of male hormone precursors.
Can be used by bodybuilders
Relieve impotency
Self-confidence and increase sperm count and sperm quality
These herbs are antioxidant properties, the best supplement that works in anti-aging and provides strength.
Reduce serum glucose levels
Helps to relieve hypertension
Recommended Dosage:Take one tablet twice daily.
6. Rasayan vati
Rasayan vati is herbo-mineral ayurvedic formulation, which is 100% natural. Rasayan vati contains various herbs such as Aswagandha, Shilajeet, Amla, Kesar, Musali, Shatavar, Brahmi Abhrak Bhasam, Swarn Makshik Bhasam, Yashad Bhasam, Mukta pisti, Praval pisti, Jaiphal, Vang Bhasam, Dalchini, Javitri, Gokhru, Kaunch Beej, Saunth, Mirch, Pipli, Amla, Kesar, Manjith, Anant Mool, Brahmi, Musali, Swarn Vang, etc. These ingredients show antioxidant, aphrodisiac, anti-inflammatory, antipyretic, analgesic, immuno-modulator properties.
Recommended Dosage:Take one tablet twice daily.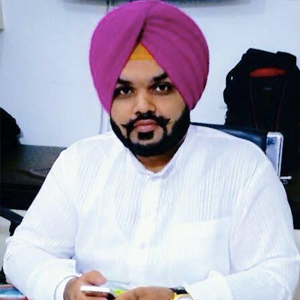 Vaidya Karanvir Singh is the younger Vaidya in Chandigarh Ayurved & Panchakarma Centre. He is the fourth generation in his family who is practicing as a general consultant in Ayurved & Panchakarma treatment at Chandigarh. In his practice, he had treated more than 1000 plus patients worldwide.
Article by Dr. Karanvir Singh (M.D in AYURVEDA, PANCHAKARMA FAGE) and reviewed by Vaidya Jagjit Singh (B.A.M.S)