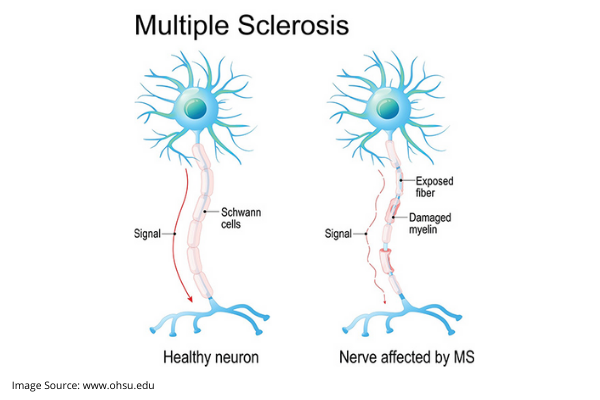 MULTIPLE SCLEROSIS TREATMENT ACCORDING TO AYURVEDA
Multiple Sclerosis is an autoimmune disease that affects the nervous system (Brain, Spinal Cord, and Optic Nerves) and disrupts communication between the brain and body. It can lead to severe problems such as facial paralysis, visual disorder, muscle control, balance, and other basic functions of the body. In this condition, myelin sheath of the nerves in central nervous system which covers and protects the nerve fibers of the brain and spinal cord is damaged.
SYMPTOMS OF MULTIPLE SCLEROSIS
1.Fatigue, weakness and tiredness
2.Muscle spasms/weakness
3.Impairment in muscle activity
4.Difficulty in walking
5.Loss of appetite, burps and bloating
6.Blurred vision/ double vision
7.Numbness or tingling sensations
8.Mood swings and cloudy thoughts
9.Poor bowel/bladder control
10.Inability in holding thing and tremors
11.Sexual weakness
12.Inflammation of the optic nerve
13.Digestive problems
CAUSES OF MULTIPLE SCLEROSIS-
The important cells of the body are destroyed by the immune cells results in the disruption of nerve signals to the intended target. And this causes the disease- multiple sclerosis.
According to Ayurveda this medical condition is caused by kapha and Pitta doshas. Pitta dosha can adversely affect the myelin sheath. In Ayurveda, Multiple Sclerosis is termed as Kapha Roga.
TYPES OF MULTIPLE SCLEROSIS
1.Relapsing-remitting Multiple Sclerosis
2.Primary-progressive Multiple Sclerosis
3.Progressive-relapsing Multiple Sclerosis
4.Secondary-progressive Multiple Sclerosis
DIAGNOSIS OF MULTIPLE SCLEROSIS
1.Neurological examination
2.Brain MRI scan
AYURVEDA ABOUT MULTIPLE SCLEROSIS
1.The ayurvedic treatment for Multiple Sclerosis is based on this observation.
2.The improper digestion can lead to the mixing of undigested food (Ama) with accumulated doshas (toxins) in the body.
3.The condition of the patient will depend on the amount of the mixture collected in the body.
4.Ayurvedic treatment of Multiple Sclerosis depends on the severity of toxins (Ama) in the body.
SHODHANA CHIKITSA (PURIFICATION THERAPY)
1.This therapy refers to any Ayurvedic cleansing (detoxification) therapy that is used to remove excess doshas and ama (toxins) from the body.
2.Shodhana chikitsa also known as body detoxification therapy.
3.Pure herbal oils and medicines are used in this procedure.
4.This is particularly recommended in cases where toxins have accumulated to the point that the body is unable to expel them naturally.
Shodhana chikitsa (panchkarma) treaments are-
1.Langhana (fasting)
2.Lekhana (scraping fat)
3.Vamana (induced vomiting)
4.Virechana (therapeutic purgation)
5.Basti (enema using medicated oils)
6.Rakta Moksha (therapeutic bloodletting)
7.Nasya (nasal cleansing with herbs and oils)
SHAMANA CHIKITSA (PALLIATIVE CARE)
1.Shaman chikitsa is used for a longer period to cure the illness.
2.This therapy is generally prescribed for weak or young patients only.
3.These medications help to correct imbalances of rogas, agni, and dhatu through simple oral and
External Applications.
There are several types of Shaman chiktsa. They are-
1.Deepana
2.Pachana
3.Kshudha nigrah
4.Thrisha nigraha
5.Vyayam
6.Atap sevan (heat service)
7.Marut sevan (wind service)
INCREDIBLE HERBS FOR MULTIPLE SCLEROSIS
ASHWAGANDHA (WITHANIA SOMNIFERA)-
1.This Ayurvedic herb is known by many names, including-Indian ginseng Asana, withania somnifera etc.
2.Its berries, roots, and extracts are used for anxiety, chronic pain, fatigue, inflammation and stress relief.
3.Ashwagandha can effectively treat multiple sclerosis or its symptoms because of its brain protective ability.
TURMERIC
1.Turmeric is a popular spice containing curcuminoids which can interact and modulate multiple cell signaling pathways and prevent the development of various autoimmune neurological diseases including MS.
2.Curcumin is a potent antioxidant and anti-inflammatory agent that could modulate cell cycle regulatory proteins, enzymes cytokin related disorders including MS.
PEPPERMINT
1.Peppermint has long been used to promote digestive health, treat muscle and nerve pain, relieve headaches and ease nausea or stress.
2.Peppermint is clinically helpful for the treatment of Multiple sclerosis.
CHAMOMILE
1.Chamomile is very good Source of antioxidants.
2.It can ease tension and relax muscles by reducing inflammation.
3.Chamomile also used in skin conditions, sleeplessness or anxiety, stomach upset and gas or
diarrhea.
4.Its common use and availability in a variety of forms make chamomile a popular remedy for multiple sclerosis.
VITAMINS FOR MULTIPLE SCLEROSIS
Following vitamins play a significant role in the treatment of multiple sclerosis.
1.Vitamin A
2.Vitamin B-1 (thiamine)
3.Vitamin B-6
4.Vitamin B-12
5.Vitamin C
6.Vitamin D
7.Vitamin E
DIET AND LIFESTYLE
1.Detox regularly with the help of Ayurveda detox principles.
2.Healthy exposure to natural sunlight
3.Control sodium intake.
4.Keep your body well hydrate
5.Consume water rich fruits and vegetables.
6.Increase your antioxidants intake
7.Consume foods that are rich in antioxidants such as fruits and green vegetables
8.Avoid fatty foods, packaged and processed food etc.
9.Limit acidic foods
10.Keep yourself stress free, calm and relaxed.
11.Avoid Self Medication such as pain killers', anti-inflammatory medicines sleeping pills etc.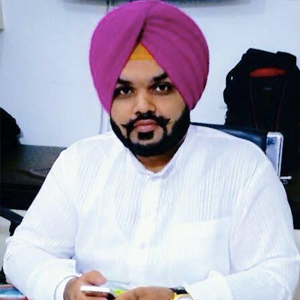 Vaidya Karanvir Singh is the younger Vaidya in Chandigarh Ayurved & Panchakarma Centre. He is the fourth generation in his family who is practicing as a general consultant in Ayurved & Panchakarma treatment at Chandigarh. In his practice, he had treated more than 1000 plus patients worldwide.
Article by Dr. Karanvir Singh (M.D in AYURVEDA, PANCHAKARMA FAGE) and reviewed by Vaidya Jagjit Singh (B.A.M.S)