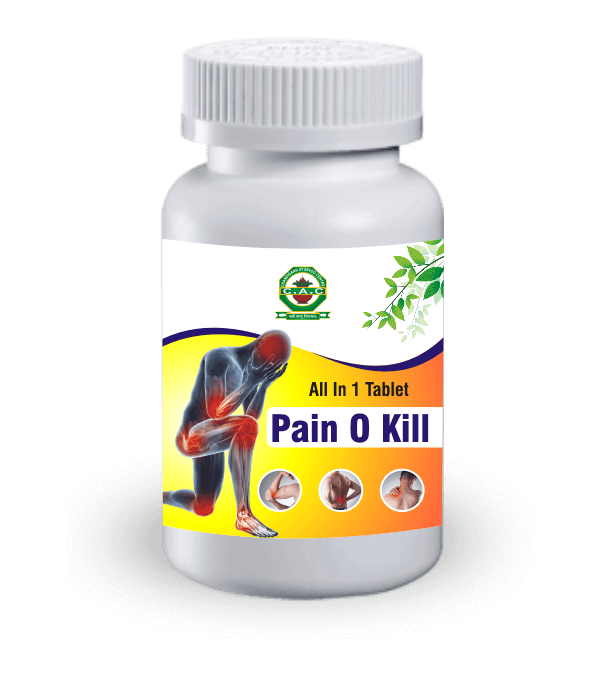 Pain‌ ‌O‌ ‌kill‌ ‌Tablet‌ ‌
CAC Pain o kill tablet is ayurvedic and purely herbal formulation. It help to relax your muscles and muscles cramps thus relieving pain. It balances all the three doshas of your body thus maintaining proper blood circulation. It provides soothing effect to the affected area of pain. It contains various herbs like Jivanti, Musta, Usher, Bilwa, Shatavri  and Kantakari. All these herbs are natural pain relievers.
Ingredients of Pain O kill tablet
Each tablet of Pain O kill contains 
Jaiphal (Myristica fragrans)                                      150 mg

Shallaki (Boswellia serrata)                                      350 mg

Shudh Guggulu (Commiphora mukul)                   200 mg

Shigru (Moringa oleifera)                                         150 mg

Nirgundi (Vitex negundo)                                         200 mg

Vatsanabh shudh (Aconitum ferox)                        20 mg

Shudh hingul (Ferula narthex)                                 10 mg
 Uses of pain o kill tablet:
Knee pain

Rheumatoid arthritis

Backache

Cervical spondylitis

Osteoarthritis

100% natural & safe product

This herbal product is formulated under the guidance of MD Ayurveda expert

Natural & Herbal formula for overall health
DESCRIPTION OF INGREDIENTS
Jaiphul possess anti-inflammatory compounds like monoterpenes, sabinene, terpineol and pinene that lowers inflammation by hindering the action of the inflammatory enzyme. Jaiphal powder comprises essential volatile oils like myristicin, elemicin, eugenol and safrole with powerful anti-inflammatory properties is well-known to ease muscles and joints pain and lessen swelling.
Studies indicate that Shallaki is useful to reduce pain, improve knee-joint disorders and help patients with Arthritis of all types. Shallaki is useful for all joint related problems. This is because of its Vata balancing property. Shallaki has analgesic abilities due to the presence of certain constituents. These constituents inhibit the mediators responsible for inflammation and pain, thereby managing the pain associated with inflammation.
Guggulu is a destroyer of the aggravated Vata and Kapha doshas, both of the doshas reason for joint pain and swelling. Herb of Guggulu benefits ailments resulting from a distortion in vata or air like Arthritis, sciatica, paralysis etc
Shigru targets key enzymes that facilitate the release of pro-inflammatory chemicals in the joints to help suppress inflammation and pain. The antioxidant phytoconstituents present in Shigru alleviate gouty inflammation of the joint by inhibiting the key enzyme that is involved in excessive uric acid production.
Arthritic pain is a condition in which pain is felt in the joints in both osteoarthritis or rheumatoid arthritis due to the aggravation of Vata dosha. Nirgundi helps in the management of this pain due to its Vata balancing property.
Vatsnabh have properties like anti-arthritic , diaphoretic, diuretic, sedative, a nerve stimulator, analgesic, anti-inflammatory, antidote, and cardiac stimulant. These properties help to manage diseases like pyrexia, indigestion, anorexia, spleen disorders, gout, cough, Asthma, vision problems, night blindness, eye infections, inflammation, otitis, headache, sciatica, backache, and joint disorders.
Shudh Hingula is used to calm the Kapha and pitta dosha of the body. It cleanses the toxicities out of your body, making your immunity system strong and healthy And is very effective in joint pain management which include rheumatoid arthritis, osteoarthritis etc.
ABOUT PRODUCT:
Chandigarh Ayurved Centre products are 100% safe and natural. MADE IN INDIA.

This product is formulated under the guidance of MD Ayurveda expert.

Natural and herbal products for overall health.

Free from preservatives and chemicals.

125 years of serving mankind through ayurveda.

Serving society  4

th  

Generation in Ayurveda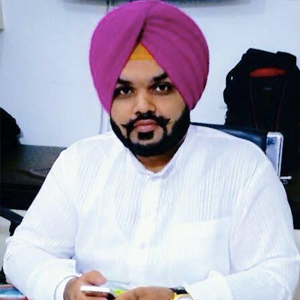 Vaidya Karanvir Singh is the younger Vaidya in Chandigarh Ayurved & Panchakarma Centre. He is the fourth generation in his family who is practicing as a general consultant in Ayurved & Panchakarma treatment at Chandigarh. In his practice, he had treated more than 1000 plus patients worldwide.
Article by Dr. Karanvir Singh (M.D in AYURVEDA, PANCHAKARMA FAGE) and reviewed by Vaidya Jagjit Singh (B.A.M.S)