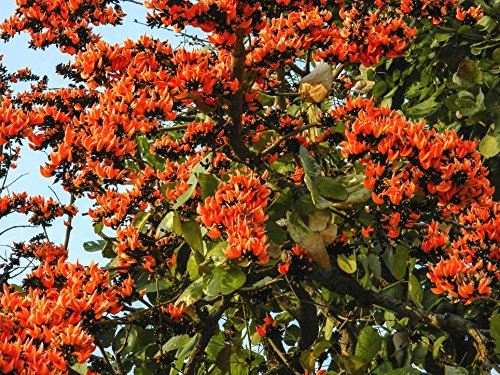 What is Palash?
Palash flower is used to treat many diseases. They are also known as Tesu Flower. They bloom in the spring. They are white, yellow and orange in color. Its botanical name is Butea monosperma. It has analgesic, aphrodisiac and anti-fertility properties, due to which it is used to make medicines in Unani, Homeopathy and Ayurveda.
In Vedic period, the major use of Palash was for Yajna deeds. The use of Palash paste in Kaushikasutra is described for ascites (abdominal swelling). Palash is mainly used in the treatment of leukemia or diabetes, Emprosthotonus, haemorrhoids or piles, diarrhea, blood pressure (bleeding from ear and nose), leprosy, etc. in Brihatrayi.
Palash has a zigzag, 12–15 m tall, deciduous tree of medium size. Its leaves are large, tri-leafy (the middle letter is large and the two leaves of the side are small) and clear veined. Its leaves are used to make both sides and plates. In the summer, a juice comes out when its skin is decayed, which is red in color, and on drying, it is black-blooded, brittle and shiny.
Palash flower helps to reduce thirst, reduce phlegm, increase sensation, helps control diabetes. The fruits of Palash are pillar and cerebellum. Palash gum helps to reduce acidity and increase strength. It is beneficial in candidacies and cough. The leaves are used to reduce swelling and reduce pain. Panchang is supposed to reduce the puffiness. Palash root juice reduces night blindness and inflammation of the eye. It also increases the light of the eyes.
The stem work of Palash helps to increase strength.
Bark of Palash root is beneficial in pain relievers, haemorrhoids or piles and ulcers or ulcers.
Name of Palash Tree in Different Languages
Palash's botanical name Butea monosperma (Lam.) Taub. (Butia monosperma) Syn-Butea frondosa Roxb occurs. Total of Tesu flower: is Fabaceae (Fabaceae). Palash is called The Forest flame in English. But its name is different in different languages, like-
Palash in-
Sanskrit –Palash, Kinshuk, Parna, Blood Flour, Ksharshrestha, Vatatoy, Brahmavriksha;

Hindi- Dhaka, Palash, Paras, Tesu;

Urdu-Palash Papra 

Odia-Polaso 

Kannada– Modugu, Muthuga;

Gujrati- Khakda (Khakda);

Tamil-Palasu 

Telugu– Moduga;

Bengali-Palash gach;

Nepali-Palasi (Palasi);

Marathi-Palas;

Malayalam– Kimshukam, Palasi.

English- Bastard teak, Bengal kino, butea gum;

Persian-Palah
What is Palash used for?
Relief in diarrhea: Gum of Palash tree is used for relief of diarrhea. Palash gum is used to get rid of diarrhea. It is given to the patient by mixing cinnamon and poppy seeds in gum. By doing this, the patient gets relief from diarrhea problem. If you are using Palash seeds, it is advisable to mix the paste of the seeds with goat milk and consume it two to three times a day. You must take advice from herbal experts before consuming Palash, as it is possible that you are allergic to something.

Removes intestinal worms: Palash seed powder is used to remove stomach worms.

Treats Diabetes: Palash tree leaves are used to control sugar.

Eliminates sore throat: Palash leaves are used as a mouthwash for sore throat.
Provides relief in skin disorder: For the relief of eczema problem, itching and other skin disorders, its seed paste should be applied regularly on the affected area. Use of Palash works to relieve skin disease. Applying seeds of Palash to the skin gives relief from the problem of itching. It can also be used to relieve skin disorder.
Preventing nasal bleeding: Palash flowers can be used to prevent nasal bleeding. Soak 6 to 7 flowers in water overnight. The next morning, add some amount of sugar to that salt. Now give it to the patient. Doing this relieves the problem of nasal bleeding.
Remove Lecorrhea: Its leaves are also beneficial in the management of Leucorrhea. Its decoction is used regularly to wash the genital parts for relief.
Menstrual cramps: Shankhpushpi made from its flowers is beneficial in impotence and menstrual cramps.
Ulcers: The fruits and seeds of its plant are used to treat skin ulcers, piles.
Provides energy: The body gets energy by consuming Tesu flower.
Cures water deficiency: Its intake does not allow the body to lack water. That is why it is advisable to take it in diarrhea as well.
Regulates blood circulation: This herb is also helpful in controlling blood circulation. Before using Palash, get information from Herb Expert.
In wound healing: If the seeds of Palash are applied on the wound, the healing process of the wound is accelerated. 
For the beauty of the ankles: Palash is used to get relief from torn ankles. Use it according to the instructions given by the expert.
Piles problem relief: Palash plant is used to get rid of Piles problem. Ash (about 20 grams) of Palash plant is mixed with hot ghee and given to the patient. Use this ash only under the supervision of herb experts. Also fresh leaves of Palash are also consumed with ghee. At the same time, it can be advised to take it with curd as well. If you have problems with Piles and want to use Palash, then it is better to first get information from herbal experts and then use Palash as per their advice. The information given here is not a substitute for medical advice.
Urinary disorder: Use of Palash benefits when urinary disorder occurs. Palash buds should be dried after breaking them. Now it should be washed and then some quantity of jaggery should be added. After this, according to the expert, the patient should give his fixed quantity. Doing this relieves the problem of urinary disorder.
Use of Palash is also helpful in these problems:
Removes kidney stone

Ringworm

It is used in cataract (cataract).

Chronic Fever Relief

Poor bleeding in periods

Works as an antidote to snake bite

Relieves skin diseases

Vajayana removes the hassle of discharge

Removes any kind of infection in the stomach
How does Palash work?
Its roots, stems, flowers, seeds and fruits are rich in medicinal properties. Its flowers are rich in glucosides, butin, neteroside and butrin. Its seeds contain mudoja oil and kino-tree oil. This oil has many medicinal properties. The gum obtained from this tree is rich in galac acid and tannic acid. Its leaves are used as a tonic.
It has antimicrobial, anti- fertility, antiemetic, antidiarrheal, wound healing, hepatoprotective, antitumor, antidiuretic and antinflammtory properties.
How safe is it to use Plash?
The limited use of Palash is safe. However, it should be consumed only under the supervision of a doctor. Avoid using Palash following circumstances:
Do not consume it if you have a pregnancy or breast feeding. Its consumption can prove to be dangerous for both mother and child.

It can be harmful to use for a long time. Long-term consumption may cause kidney disease or anemia.

If you have a medical condition, avoid using it.

If you are a diabetic patient, do not use it without doctor's advice.

If you are taking any medicine, then inform the doctor before consuming Tesu flower. Because many drugs can interact with it.

Herbal intake is not always safe. More research needs to be done on this. If you are taking it, do it under the supervision of your doctor.
Side effects
More research needs to be done on the side effects caused by consuming Palash. At present, there is no sufficient information about this. Herbal use is not always safe. Therefore, always use it under the supervision of a doctor or expert. If you notice any kind of side effect after taking it, then stop taking it. Also, consult your doctor or herbalist about this.
Doses
The dose of Palash may be different for every patient. It depends on your age, medical condition and many other factors. It is better to consult your doctor or herbalist for the proper dosage. Never schedule a dose by yourself. This step of yours can also prove to be fatal. It is better that your doctor or herbalist prescribe this herbal dose for you.
Palash is available in the following forms:
Stem bark powder

Gum

Decoration of bark

Fresh leaf juice

Flower powder

Seed Powder

Extracted oil from seed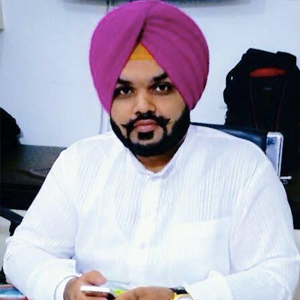 Vaidya Karanvir Singh is the younger Vaidya in Chandigarh Ayurved & Panchakarma Centre. He is the fourth generation in his family who is practicing as a general consultant in Ayurved & Panchakarma treatment at Chandigarh. In his practice, he had treated more than 1000 plus patients worldwide.
Article by Dr. Karanvir Singh (M.D in AYURVEDA, PANCHAKARMA FAGE) and reviewed by Vaidya Jagjit Singh (B.A.M.S)