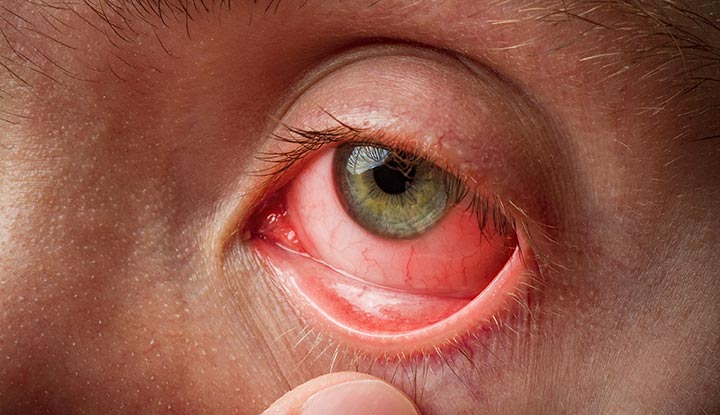 WHAT IS PINK EYE?
Pink eye is also known as conjunctivitis. It is an inflammation of the conjunctiva of the eye. Conjunctiva is the transparent outer membrane which lines the white part of eyeball and eyelids. It protects the eye from dirt and micro-organisms. There are present very fine blood vessels in it. When these blood vessels get inflamed, they become more visible. This condition is known as pink eye as the eye appears reddish or pink. The most common cause of pink eye is bacterial or viral infection or any kind of allergy. Children are more commonly affected.
Pink eye is contagious but it is not fatal. It rarely causes damage to the eye vision. It can be easily treated with medicines and by following certain precautions.
WHAT ARE THE CAUSES OF PINK EYE?
The common causes of pink eye are:
Bacteria
Virus
Any allergy
Entry of any foreign object in the eye
Chemical splash in eye
Blockage of tear duct
Chemical irritants like smoke, shampoos, chlorine in swimming pool
Fungi, parasites or amoeba
Contact lenses
SYMPTOMS OF PINK EYE
The common signs and symptoms of pink eye are:
Redness in one or both eyes
Itching
Gritty feeling in eyes
Excessive watery discharge from eyes
Crust formation over eyelids, especially after sleep
Burning sensation in eyes
Increased sensitivity to light
Swelling of eyelids
HOW TO PREVENT ITS FURTHER SPREAD?
Pink eye can be prevented by following some of the following steps:
Avoid touching eyes with hands
Wash hands regularly
Using a clean towel and wash cloth daily
Don't use eye cosmetics like mascara, kajal
Do not eye cosmetics
Change pillow covers regularly
HOW PINK EYE IS DIAGNOSED?
The doctor will do a proper eye examination of the patient. He will ask symptoms of the disease to the patient. He may perform some of the following tests to the patients:
External eye tissue examination
Vision test
Examination of the inner eye
Conjunctival tissue smear test
AYURVEDIC TREATMENT OF PINK EYE
Here are some of the medications of Chandigarh ayurved center which are used for the treatment of pink eye: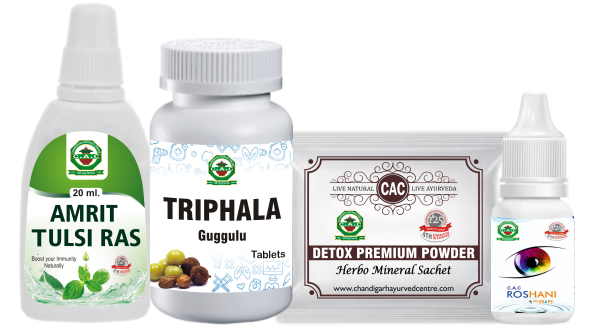 1. Triphala Guggulu
Triphala guggulu is a traditional Ayurvedic herbal formulation consisting of the dried fruits of three medicinal plants –Haritaki (Terminalia chebula), Amalaki (Emblica officinalis), and Bibhitaki (Terminalia bellirica). Triphala can correct the imbalance of doshas as well as bring them to normalcy along with a specific vision promoting effect. It helps in the conjunctivitis. Triphala is very beneficial for the improvement of eye vision, relieves the headache, eye strain, burning sensation in the eyes etc.
Recommended Dosage– Take 1 tablet twice a day with normal water
2. Detox Premium Powder
The powder contains a combination of natural and pure herbs which is the best remedy for the treatment of all eye problems. This mixture contains ingredients such as – Tal sindoor, Gandhak rasayan, Akik pishti, Jahar mohra, Moti pishti. The powder is used for the treatment of eye floaters and eye infections. It helps to treat cloudy vision, blurred vision, difficulty in seeing in the dark, fuzzy spots etc.
Recommended Dosage–Take 1 sachet twice a day with normal water.
3. Amrit Tulsi Ras
This herbal preparation is in drops form prepared from five types of Tulsi. Shama Tulsi (Ocimum sanctum), Rama Tulsi (Ocimum gratissimum), Kapoor Tulsi (Ocimum canum), Shwet Tulsi (Ocimum basilicum), Nimba Tulsi (Ocimum citriodorum) that provides good result in all allergic reactions. This is effective in Dry eye, eye infection and conjunctivitis.
Recommended Dosage –Take two to three drops twice daily.
4. Roshani Eye drops
Roshani eye drop is pure Ayurvedic formulation used in problems like frequent travel, work on a computer, and lack of sleep. This eye drops contains herbal ingredients like Nimba (Azadirachta indica), Bhringraj (Eclipta alba), Punarnava (Boerhavia diffusa), Haritaki (Terminalia chebula), Shwet Chandan, Rakta chandan, Tulsi (Ocimum sanctum), Haridra( Curcuma longa), Gulab (Rosa damascena), Adrak (Zingiber officinale), Bahera (Terminalia bellirica), Pudina (Mentha spicata), Saindhavan lavan, Phitakari, etc. This eye drop soothes up the eyes, prevents infections and clears off particles in the eyes, improves vision. This eye drop is beneficial in diseases like conjunctivitis, double vision, night blindness, cataract or glaucoma, etc.
Recommended Dosage– put one drop in each eye in the morning and at bed time.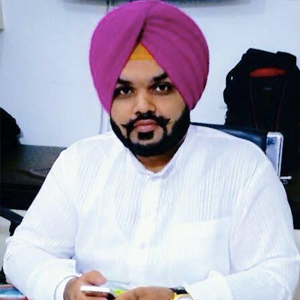 Vaidya Karanvir Singh is the younger Vaidya in Chandigarh Ayurved & Panchakarma Centre. He is the fourth generation in his family who is practicing as a general consultant in Ayurved & Panchakarma treatment at Chandigarh. In his practice, he had treated more than 1000 plus patients worldwide.
Article by Dr. Karanvir Singh (M.D in AYURVEDA, PANCHAKARMA FAGE) and reviewed by Vaidya Jagjit Singh (B.A.M.S)