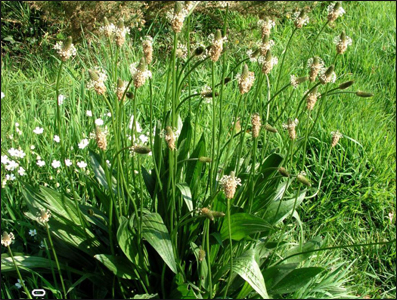 Plantago Lanceolata belongs to the family Plantaginaceae which is a species of flowering plant. It is low growing plant which is small and glabrous with several rosetters . 
Roots of the plant are coarse fibrous and it has shallow crown root system . 
Seeds of this plant are oblongoid that is it split into two equal half's .
Synonames of this herb are Ribwort Plantain , Narrowleaf Plantain , English Plantain , Ribleaf , Lamb`s Tongue and Buckhorn 
This is a perennial herb with leafless silky hairy flower steam . 
CLASSIFICATION:-
KINGDOM:- Plantae 
PHYLUM:- Spermytophyta 
FAMILY:- Plantaginaceae
GENUS:- Plantago 
SPECIES:- Plantago lanceolata
COMMON NAME :-Ribwort Plantain 
AYURVEDIC PROPERTIES :-
RASA :- Madhur ( Sweet )
GUNA :- Guru (Heavy), Snigdha (moist ) 
VIRYA :- Cold (Sheet )
VIPAKA :- Undergo sweet taste after digestion 
EFFECT ON TRIDOSHA :- Help to overcome increased Vata and Pitta Dosha 
PART TO BE USED ARE :-  Leaves and Seeds
USES ARE :-
1 Laxative Properties :- Seeds of this plant have polysaccharides which has laxative property , it help to release water which help in stimulate peristalsis and facilitate bowel movement . It is also useful in treatment of parasitic warm.
2 The leaves of this plant are useful to kill intestinal or ulcer worms , leaves are used in powdered form . 
3 Cure Piles and Diarrhea 
4 Cure Inflammation of Eye :- Juice of this herb mixed with water poured into the eyes reduces the swelling .
5 Cure skin issues :- This plant is very useful in skin problems like itching , swelling , rashes etc. 
6 It help in stopping the bleeding and repair of the tissue , ointment or lotion is used. 
7 To Cure Respiratory Disorders :- The leaves of the plant are used to treat respiratory disorder like asthma . 
8 AntiCancer AND Cytotoxic Properties
9 Cure Urinary tract Infections :- This plant has diuretic properties which help to solve the body`s renal issues .
10  Hepatic and Splenic Effect :- The extract of the plant is applied locally which help to improve liver functioning and also cure the obstruction in hepatic and spleen paths . 
11 Neurological Effect :- This plant is useful in reducing neurological pain by locally applying oil or massage .Also help to treat epilepsy .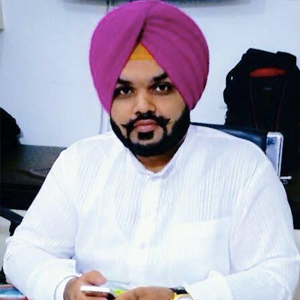 Vaidya Karanvir Singh is the younger Vaidya in Chandigarh Ayurved & Panchakarma Centre. He is the fourth generation in his family who is practicing as a general consultant in Ayurved & Panchakarma treatment at Chandigarh. In his practice, he had treated more than 1000 plus patients worldwide.
Article by Dr. Karanvir Singh (M.D in AYURVEDA, PANCHAKARMA FAGE) and reviewed by Vaidya Jagjit Singh (B.A.M.S)